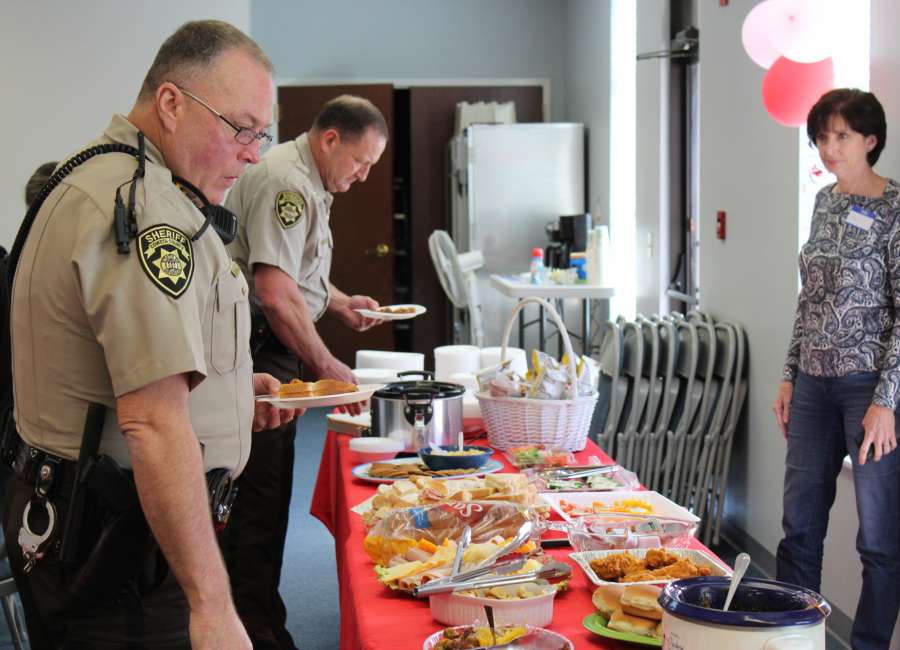 Sharpsburg Baptist Church showed their love for first responders by hosting a free appreciation lunch on Valentine's Day.
"We appreciate what they're doing and want to express that to them," said the church's pastor, Dr. Wallace McAbee.
According to McAbee, the church has had a barbecue for deputies and has taken hot meals to the fire departments in the past.
The fire department, sheriff's office and EMTs were all notified of the event through an email invitation, said McAbee.
The lunch, featuring homemade food, was put on by the church's Adults on Mission (AM) organization.
According to Yvonne Pleasant, a member of the church and AM, the group has about 10-12 members.
"We're on a mission devoted to the community, and we do mission projects all over the world," she said.
"When we do projects like this, the whole church pitches in and helps us. For the last few years we've done something every year for the first responders," McAbee said.
Included on the festively decorated tables were small stuffed bears, hair barrettes and bracelets. Each of the items featured a Bible verse attached to it.
According to Jane Thompson, a member of the church, the items were handmade by women in the church and are a part of the church's worldwide outreach.
SBC's missions and outreach include several trips to Kentucky, Nicaragua and Ukraine.