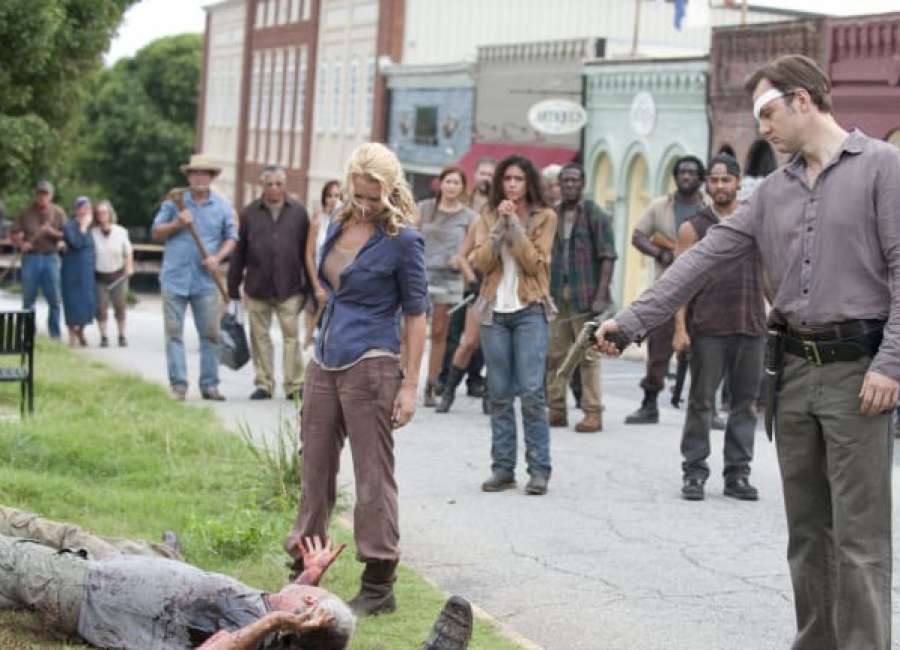 While movie filming can bring both tangible and intangible benefits to the communities where filming takes place, it can also bring hardship and inconvenience to the residents and businesses affected by road closures and other impacts.
The city of Newnan has put filming projects on hold while city officials work out better ways to handle filming applications and the impacts on local businesses, particularly business downtown.
In Senoia, where long-term filming of "The Walking Dead" has been a financial boon, the city has procedures in place to minimize impacts.
When a production company makes an application for filming that requires road closures, the application is reviewed by the police chief and city manager, and then comes before the city council, said Mayor Jeff Fisher.
The council requires that the production company notify all of the residents and business that will be affected.
"And in many cases, it's not just a simple notification – it's a form of compensation," Fisher said. "So when they come before us at a council meeting, that is one of the questions we're going to ask  – have all of the residents been notified in advance?"
If the answer is "no," the council would either deny the permit or approve it pending notification of the residents, Fisher said. In addition, "we want to give everybody the ability to come up and speak at the meeting whether they are for or against it."
It has been several years since there has been major filming that has affected streets downtown, Fisher said. In 2012, when Main Street became a major set for "The Walking Dead," "many, many businesses were very dissatisfied because we didn't know what to expect. Nothing like this had ever been done before," Fisher said. At the time, Fisher served on the council.
Many Senoia residents spoke at length at council meetings related to the downtown filming, and the production company representative spoke to those affected.
"They came up with some formulas and some compromise that everyone was in agreement with," Fisher said. "If they had not done that the chances are really high that we would not have allowed that to take place.
"For the most part people have been very acceptive to this and accommodating and understanding to it," Fisher said. "We have proven our point that we are willing to work with you within reason."
But it took a few years to work the kinks out. "You have not seen any of the issues over here like you did in those first two-and-a-half or three years. But you don't know that stuff until after the fact," Fisher said.
The city typically doesn't get involved in the negotiations between production companies and businesses, but those negotiations take place before a permit is issued – not after.
"When it doesn't get worked out – that's when we end up stepping in," Fisher said.
Sometimes the council will approve a permit, pending agreements with residents and businesses. But the production company has to prove that things have been worked out before the actual permit is issued, Fisher said.
In Newnan, things often work the opposite way. Downtown jeweler Jeff Morgan told The Newnan Times-Herald that he worked out an agreement with the production company for "Jumanji 2," but the company later reneged on the offer.
A situation like that is "when the city should get involved," Fisher said. "To me that is taking advantage of the public – you need to hold them to their word."
Sometimes, particularly with television productions, things have to be figured out quickly, though feature films my have a month or two notice, said Scott Tigchelaar, who for many years ran Senoia's Riverwood/Raleigh studio, which has since been purchased by AMC. Tigchelaar is also a real estate developer who built and owns many buildings in downtown Senoia.
If there are last-minute changes, Senoia has a mechanism in place to handle them. Police Chief Jason Edens functions as the liaison between production companies and the city, Tigchelaar said. "They have given him the authority to handle last-minute needs and changes… they don't have to have a called meeting," Tigchelaar said.
Newnan will have to decide if the city wants to be in the film business and, if they do, a way to best handle it, Tigchelaar said.
"There's going to be a learning curve," he said. For the next couple of years, it might be in the city's best interest to appoint one person to deal with all filming-related issues. That person would deal with applications, give directions to production companies and make sure issues are worked out before an application comes before the city council.
"The city council should give that person the responsibility for how these things turn out. And that person will get smart real quick," Tigchelaar said. "Like any business, there's going to be a learning curve."
Senoia has a filming application procedure that's pretty good, Tigchelaar said, and some very experienced people to deal with issues.
"I encourage Newnan to get their head around it and figure out a way to make it work for the citizens and the production companies," Tigchelaar said.
"They just want to know the rules and then they'll operate within the rules," Tigchelaar said. "Having said that, you can't overburden the production with red tape, because Newnan would get a reputation within the industry – not to film there because it's just too hard."
The people putting together those rules need to have an understanding of how productions work and what their needs are. "Otherwise you set up all these rules and it doesn't work for anyone," Tigchelaar said.
But there have to be rules and there needs to be someone in the city overseeing productions, according to Tigchelaar.
"In the absence of rules they're going to run amok," he said.
Most of Senoia's interactions have been with Mike Riley, location manager for "The Walking Dead."
"Mike Riley… was very conscientious and very careful about the merchant's feelings," said Suzanne Helfman, chair of the Senoia Downtown Development Authority. "I think he gave them an opportunity, if they had issues, to talk with him and come up with a solution.
"Maybe that's just the personality of who they are working with," she said. "I understand what the concerns of being a merchant are," she said, and production companies need to take those feelings into consideration and find a solution that works for everybody.
Tigchelaar was also full of praise for Riley, who has years of experience in location management.
"Now – not every location department is that good," Tigchelaar said.
Part of the issue is a shortage of experienced crew in Georgia  "That is going to evolve over time and get better," Tigchelaar said. But right now, there may be someone who has been a location assistant on two or three films and "all of a sudden they are in charge of locations on the next project," he said, because they are the most experienced people available.
Helfman said she has been following the issues in Newnan. "I find it interesting that it has become a sort of 'us against them' type thing as opposed to how we can all work together to make this a great experience for everybody," she said.