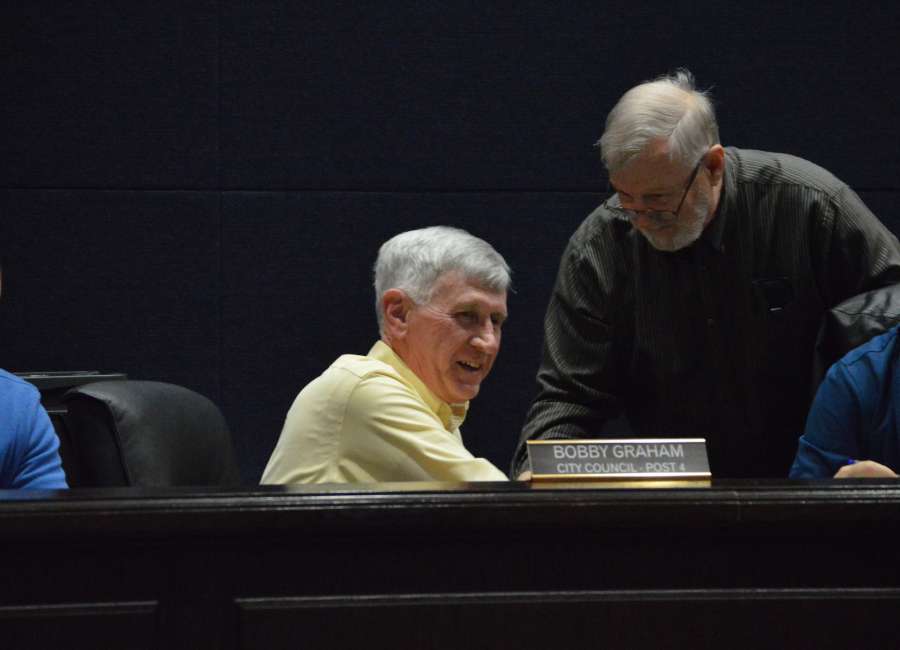 Senoia Councilman Bobby Graham, who has served on the council for 12 years, announced Monday night that he will be leaving at the end of February.
Graham said the primary reason that he is leaving the council is so that he and his wife, Deborah, can spend more time with their grandchildren, who live in Kansas.
Graham's current term expires at the end of 2019, said Mayor Jeff Fisher. A new council member will be appointed to serve out the unexpired term, with an election to be held in November.
The council plans to fill the vacancy following a 30-day application period.
Anyone who wishes to be considered for the council post should send a letter of intent to city hall by March 21. The letter can be sent to City Manager Harold Simmons, hsimmons@senoia.com ; Community Development Director Dina Rimi, drimi@senoia.com ; or delivered to city hall, 80 Main St.
Fisher said he plans to have the seat filled by the first council meeting in April.
The council is also accepting letters of intent through March 21 from residents interested in serving on the city's tree commission. The tree commission hasn't been active for about 12 years, Fisher said at Monday night's Senoia City Council meeting.
In its previous iteration, the tree commission had three members. Fisher said the number of members for the new commission hasn't been determined. "We'll wait and see who the truly interested parties are," he said.
Fisher said he hopes to see a lot of residents submit their names for the council seat and the tree commission. "Having people not put in for it would be disappointing – it means people aren't taking interest in their community," the mayor said.
Graham made his announcement during the public comment portion of the meeting.
He said that when he and his wife first moved to Atlanta, their plan was to "move away from the big city as soon as I completed college." Instead, they ended up in the Atlanta area for 30 years.
"We finally ended up settling here in Senoia, and I could honestly say it was the first time since I left North Carolina that I actually felt like I was home," he said.
Shortly after they arrived in Senoia, the Grahams started getting involved in city activities, particularly the Downtown Development Authority.
"I want to encourage anybody who doesn't to volunteer, either on our boards or at one of the events that we have," Graham said. Participating with the DDA "really has been a positive thing for us in our lives."
The Grahams had been in Senoia less than two years when he had the opportunity to begin serving on the council he said.
In his 12 years, it has been exciting to see the city change while it still retained its small town feeling, Graham said. He thanked city staff and the DDA.
"Our staff gets it done even when it's hard, and I appreciate that," Graham said. And the DDA has been a major part of the city's success, he said.
He also mentioned Senoia recently being named a Live Work Play city by the Georgia Municipal Association and Georgia Trend magazine.
"That is something we should all be proud of," he said.
Simmons said that in all the places he has worked, it's rare for all city employees to care about and respect their mayor and council.
"It has been a pleasure and an honor working with you sir," he said to Graham. "When the staff found out that you were leaving, their hearts were saddened… but thank you for being the person that you are."