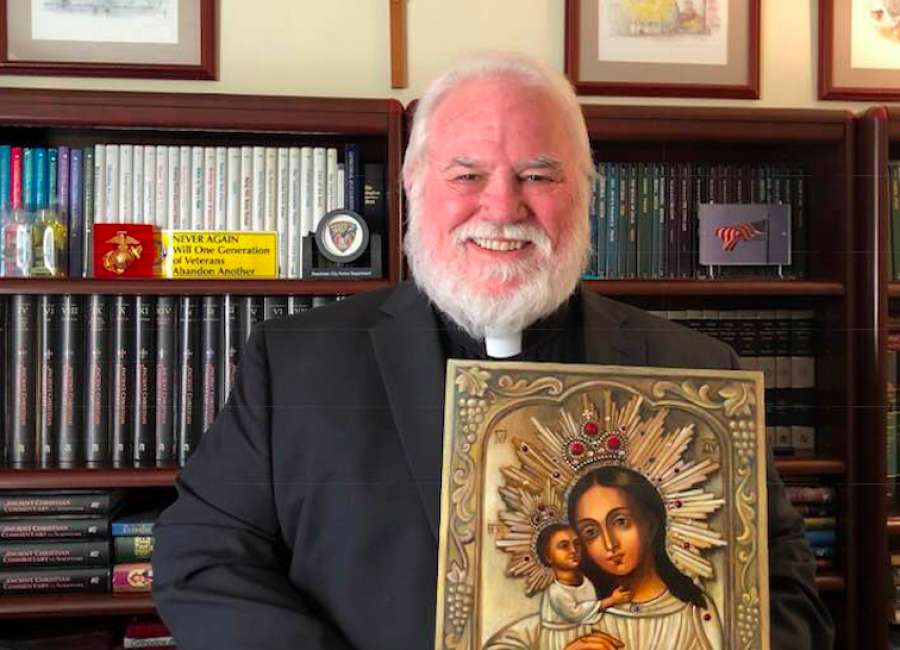 Elaborate icons of religious figures have decorated churches in Russian and Eastern Europe, and now one has a place of honor at a Coweta church.

A Russian Orthodox icon depicting the Virgin Mary and the Christ Child was presented to the Cathedral of Christ the King near Sharpsburg recently.
"A Fayetteville family, who wished to remain unnamed, visited several cities in Russia recently and visited the Kazan Cathedral in St. Petersburg," said Bishop David Epps, who added the Kazan Cathedral "holds a historic place in Russian history."
Construction on the cathedral began in 1801 and was completed in 1811.
"Although the Russian Orthodox Church disapproved of the plans to build a replica of a Catholic basilica in Russia's then-capital, plans went ahead due to the support of political figures," Epps said.
In 1812, Napoleon invaded Russia and General Mikhail Kutuzov asked Our Lady of Kazan for help. After the war, Russians saw the cathedral primarily as a memorial to their victory over Napoleon.
In 1876 the Kazan demonstration, the first political demonstration in Russia, took place in front of the church.
After the Russian Revolution of 1917, authorities seized and closed the church. In November 1932 it was reopened as the pro-Marxist Museum of the History of Religion and Atheism.
"Services returned to the church in 1992 and, in 1996, the cathedral was returned to the Russian Orthodox Church. As of 2017, it functions as the mother cathedral of the metropolis of St. Petersburg," Epps said.
The family who donated the icon attended services at the Kazan Cathedral and decided to purchase an icon to bring back to the United States.
"In the beginning, the staff did not want to sell the icon but when it was learned that the icon would be displayed in a church in the United States, they were thrilled," Epps said.
During the presentation and dedication, Epps, who is pastor of the Cathedral of Christ the King and bishop of the Diocese of the Mid-South of the Charismatic Episcopal Church, said the icon will be a permanent reminder that "even in the darkest of times, God is still present and is working on behalf of his people."
The bejeweled icon now is displayed in the sanctuary of the church.
Paintings of religious figures are used in all major religions. Orthodox churches have a history of using icons in worship, dating at least to the third century. The most common subjects in Orthodox iconography are Christ, Mary, saints and angels.
The icon at Christ the King is typical in that it depicts two main figures.