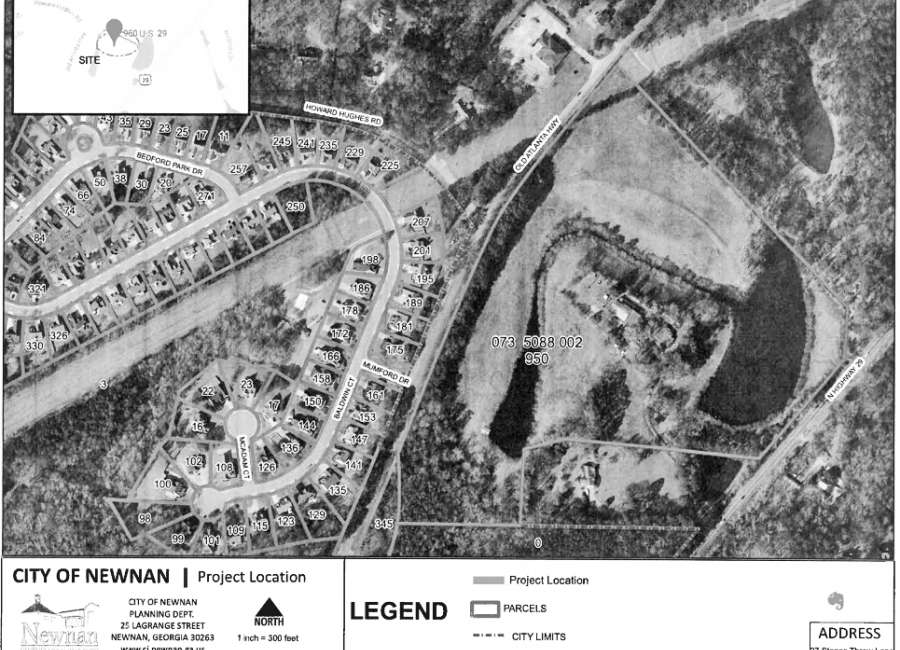 A request for annexation could potentially bring in a 40-lot subdivision into the Newnan city limits.

On Tuesday, representatives from three properties seeking rezoning will appear before the Newnan City Council.
Dennis Drewyer, acting on behalf of Cathryn and William Sullivan, is requesting the annexation of over 30 acres located at 950 North Highway 29 into the Newnan city limits.
The tract is currently the site of a single family home. Drewyer is requesting a zoning designation of RS-15 (suburban residential single family dwelling district - medium density) for the property to allow the construction of a 40-lot subdivision, with a minimum lot size of 15,000 square feet.
If the council votes for annexation, the request would be forwarded to the planning commission for a zoning recommendation.
Drewyer will also speak to council regarding rezoning 24 acres on McIntosh Parkway, requesting a change from RU-7 (Mixed Urban Residential Single-Family Dwelling-High Density) to MXD (Mixed Use District) for the purpose of developing 125 residential units, consisting of 25 attached villas and 105 cottages.
Plans for the proposed "McIntosh Village" would included professional offices, storefront offices with lofts along with townhomes, cottage lots, green space, pocket parks and access to the LINC.
The property would be directly north of the Newnan Lakes area and south of Torero Trail.
The council will also hear from Walter Drake to rezone .32 acres at 9 Ellis St./ 65 Fair St. from CHV (Heavy Commercial District) to RU-I (Urban Residential Dwelling District).
The requests from the Ellis Street and McIntosh Village projects are listed as "information only" on the agenda. The Newnan City Council meets Tuesday, Feb. 12, at 2:30 p.m. at City Hall.