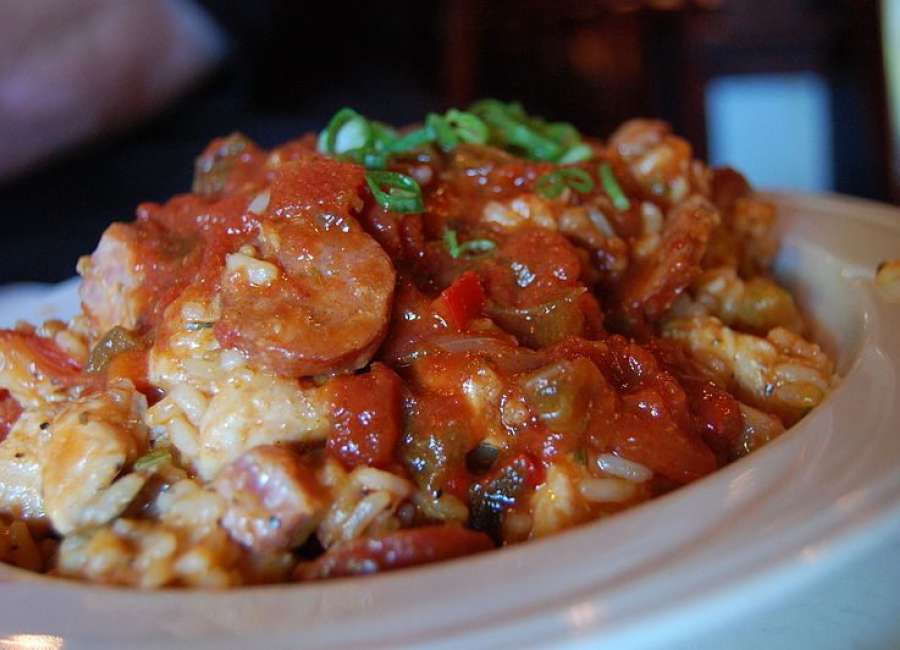 Mardi Gras is next week on March 5. Here are some recipes to celebrate the day.
Mardi Gras Jambalaya
Ingredients:
1 (5-pound) duck, trimmed of fat and cut into 8 pieces
1 teaspoon salt, plus more for seasoning duck
1/2 teaspoon freshly ground black pepper, plus more for seasoning duck
2 tablespoons vegetable oil
1 pound andouille or other spicy smoked sausage, diced
2 cups chopped yellow onions
1/2 cup chopped green bell peppers
1/2 cup chopped red bell peppers
1/2 cup chopped celery
1/2 teaspoon cayenne
2 tablespoons Emeril's Original Essence
2 cups peeled, seeded, and chopped tomatoes
1 tablespoon chopped garlic
3 bay leaves
2 teaspoons minced fresh thyme leaves
2 quarts chicken stock or canned low-sodium chicken broth
3 cups long-grain white rice
1 pound small shrimp, peeled and deveined
1 cup chopped green onions (green and white parts)
1/2 cup minced fresh flat-leaf parsley
Recipe:
Season the duck pieces with salt and pepper.
Heat the vegetable oil in a large heavy pot over medium-high heat. Add the duck, skin side down, and sear for 5 minutes. Turn and sear on the second side for 3 minutes. Remove from the pot and drain on paper towels.
Add the sausage to the fat in the pot and cook, stirring, until browned, about 5 minutes. Add the onions, bell peppers, celery, salt, cayenne, 1 tablespoon of the Essence, and black pepper and cook, stirring often, until the vegetables are softened, about 5 minutes. Add the tomatoes, garlic and bay leaves and cook, stirring, until the tomatoes give off some of their juices, about 2 minutes.
Add the thyme, stock, and duck. Bring to a boil. Reduce the heat to medium-low, cover, and simmer, stirring occasionally for 50 minutes.
Remove duck pieces from the jambalaya and cool slightly. Skim the fat. Discard skin and bones and shred duck meat.
Add the rice and bring back up to a simmer, cover and cook until the rice is barely tender, about 10 minutes.
Return the duck meat to the mixture. Season the shrimp with the remaining 1 tablespoon Essence. Add the shrimp to the pot, return to a simmer, and cover. Remove the pot from the heat and let sit, covered, for 15 minutes.
Add the green onions and parsley to the jambalaya and stir gently. Remove and discard the bay leaves. Adjust the salt, pepper and cayenne to taste. Serve directly from the pot.
(Recipe courtesy: foodnetwork.com)
King Cake
Ingredients:
1 stick butter
2/3 cup milk
1/2 cup sugar
2 teaspoons salt
4 teaspoons dry yeast
1/3 cup warm water
4 eggs
6 cups all-purpose flour
Cream Cheese Filling:
8 ounces cream cheese, room temperature
Pinch salt
1 cup sugar (confectioners' variety preferred)
5 tablespoons all-purpose flour
1 lemon, juiced
1/8 teaspoon vanilla
2 eggs
1 can cherry pie filling
1 can blueberry pie filling
2 plastic babies
Glaze Ingredients:
2 cups sugar, confectioners' variety preferred
1/4 cup butter, softened
Yellow food coloring
Purple food coloring
Green food coloring
Colored Sugar Ingredients:
1 1/2 cups sugar
Yellow food coloring
Purple food coloring
Green food coloring
Recipe:
In a saucepan, melt butter, milk, 1/3 cup sugar, and salt. Let cool to lukewarm.
In a large bowl combine 2 tablespoons sugar, yeast, and water. Let stand until foaming appears, about 5 to 10 minutes. Beat eggs into yeast, and add milk mixture. Stir in 5 cups of the flour, 1/2 cup at a time. Use reserved cup of flour for kneading surface.
Knead dough until smooth, about 5 to 10 minutes. It will probably take the whole cup of reserved flour.
Place in large bowl greased with nonstick spray, turn once to grease the top, cover and let rise in a warm place until doubled in size, about 1 1/2 to 2 hours.
Beat together the cream cheese, salt, sugar, flour, lemon juice, vanilla, and eggs until smooth. Set aside.
On flat surface, punch down dough and divide in half. Turn 1 portion of dough out onto a lightly floured surface and roll to a 28 by 10-inch rectangle. Do not roll too thin.
Spread half of the cream cheese filling lengthwise down the dough. Spread 1/2 of each pie filling on top of the cream cheese mixture. Place 1 baby anywhere in the filling.
Roll dough, starting at the long side. Gently place dough roll seam side down on a lightly greased baking sheet. Bring ends of dough together to form a circle. Tuck 1 end inside the other, moisten with water and pinch edges together to seal. Cover, and let rise in a warm place until doubled in size, about 1 hour.
Preheat oven to 350 degrees F, and bake for 20 minutes or until golden brown.
Repeat directions with other half of ingredients.
In a bowl, combine sugar and butter, and stir until mixture is smooth. Separate mixture into 3 containers, and add food coloring. Mix until desired color is reached.
In 3 lidded containers, add 1/2 cup of sugar in each, and add 1 food coloring to each container, cover, and shake vigorously.
On a serving plate, ice the cake one strip at a time from center of ring to outside. Each stripe should be about 2 inches wide. Spread colored icing on cake and sprinkle colored sugar over icing. Repeat with each color of icing and sugar until entire cake is covered in icing and sugar topping.
(Recipe courtesy: foodnetwork.com)
French Quarter Beignets
Ingredients:
1 1/2 cups lukewarm water
1/2 cup granulated sugar
1 envelope active dry yeast
2 eggs, slightly beaten
1 1/4 teaspoons salt
1 cup evaporated milk
7 cups bread flour
1/4 cup shortening
Nonstick spray
Oil, for deep-frying
3 cups confectioners' sugar
Recipe:
Mix water, sugar and yeast in a large bowl and let sit for 10 minutes.
In another bowl, beat the eggs, salt and evaporated milk together. Mix egg mixture to the yeast mixture. In a separate bowl, measure out the bread flour. Add 3 cups of the flour to the yeast mixture and stir to combine. Add the shortening and continue to stir while adding the remaining flour. Remove dough from the bowl, place onto a lightly floured surface and knead until smooth. Spray a large bowl with nonstick spray. Put dough into the bowl and cover with plastic wrap or a towel. Let rise in a warm place for at least 2 hours.
Preheat oil in a deep-fryer to 350 degrees F.
Add the confectioners' sugar to a paper or plastic bag and set aside.
Roll the dough out to about 1/4-inch thickness and cut into 1-inch squares. Deep-fry, flipping constantly, until they become a golden color. After beignets are fried, drain them for a few seconds on paper towels, and then toss them into the bag of confectioners' sugar. Hold bag closed and shake to coat evenly.
(Recipe courtesy: foodnetwork.com)
Chicken and Pineapple Skewers
Ingredients:
1 cup ketchup
1/4 cup low sodium soy sauce
1/4 cup honey
1 tablespoon yellow mustard
1/4 cup brown sugar
2 whole garlic cloves
1 lemon, juiced
8 boneless skinless chicken thighs
1 fresh pineapple
16 wooden skewers, soaked in water for 30 minutes
Extra-virgin olive oil, for brushing
Kosher salt and freshly ground black pepper
Recipe:
In a saucepan over medium heat, add the ketchup, soy sauce, honey, mustard, sugar, garlic and lemon juice. Bring to a simmer and cook gently until thickened, about 10 minutes. Set aside and cool.
Heat an outdoor grill or a grill pan. Cut each chicken thigh into 2 pieces. Peel the pineapple and cut it into 1 1/2-inch chunks. Alternating between the chicken and pineapple, thread the pieces onto the skewers. Brush them with olive oil and season them with salt and pepper. Remove the garlic cloves from the barbecue sauce and discard; put about half the sauce into a small bowl for later. Brush skewers with some of the sauce. Cook them on the grill, basting regularly with the barbecue sauce, until cooked through, about 10 to 15 minutes. Serve with reserved barbecue sauce on the side for dipping.
(Recipe courtesy: foodnetwork.com)
Andouille Sausage Creole
Ingredients:
1/4 cup vegetable oil
1/4 cup all-purpose flour
1 1/2 cups chopped onions
1 tablespoon chopped garlic
1 large green pepper, chopped
1/2 cup chopped celery
3/4 cup sliced green onions
1 (14.5-ounce) can diced tomatoes
1 (8-ounce) can tomato sauce
1 (6-ounce) can tomato paste
1/2 teaspoon red pepper flakes
1 1/2 teaspoons seasoning salt
2 bay leaves
1 cup water
1 teaspoon hot pepper sauce
1 tablespoon lemon juice
2 teaspoons Worcestershire sauce
1 1/2 pounds andouille sausage, sliced
1 tablespoon freshly chopped parsley leaves
Recipe:
Combine oil and flour in a Dutch oven; cook over medium heat, stirring, until mixture is golden colored about 10 to 15 minutes. Add onion, garlic, green pepper, celery and green onions. Cook, stirring often, 10 minutes or more until vegetables are tender.
Stir in tomatoes, tomato sauce, tomato paste, red pepper flakes, seasoning salt, bay leaves, 1 cup of water, hot sauce, lemon juice, Worcestershire sauce and sausage. Bring to a boil, lower the heat and cover. Simmer for 30 minutes, stirring occasionally. Remove the bay leaves. Garnish with parsley and serve over grits, if desired.
(Recipe courtesy: foodnetwork.com)