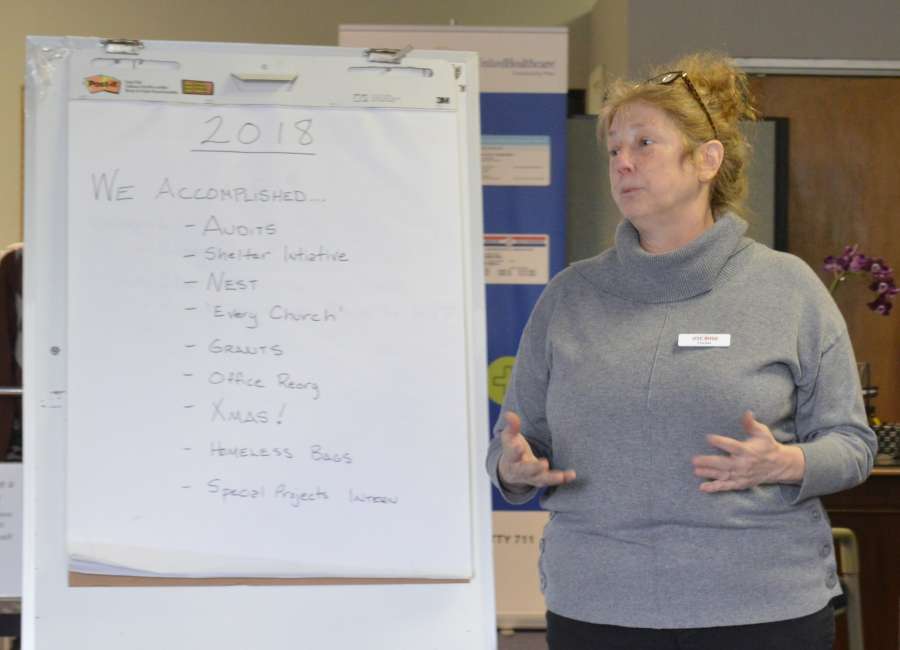 By SARAH FAY CAMPBELL
sarah@newnan.com
In the early days of One Roof Ecumenical Alliance Outreach, there were nearly 40 churches that supported it. 
"Now, we're down to 13," said Frankie Hardin, executive director of the organization. 
She hopes to bring those former supporters back in with an initiative she is calling "Every Church, Every Child."
One Roof was founded in 2007 when several local churches came together to form a coalition that would work to serve Coweta's needy and house multiple services under "one roof." 
The organization currently provides limited financial assistance including putting homeless Cowetans in hotels and helping with medication and utility payments. One Roof has a large thrift store that enables it to provide clients with clothing and household items, and provides vouchers for the Coweta Community Food Pantry, which Hardin also runs. 
According to Hardin, One Roof was founded by pastors who saw there were needs going unmet in the community and wanted to have one place to send people.
The organization receives funding from churches, individuals, businesses and grants, and from the thrift store, but right now the need is greater than the funding. 
Hardin spoke of a mother and two children who were living in their car who recently came to One Roof for help. 
"I had to turn them away. I'm beyond maxed out," she said. 
One Roof has outstanding bills at local hotels from housing people. She spoke of another young man who came to One Roof. He's got a job but no home and no car. And there was nothing she could do for him. 
"I would really love to see every church sign on and begin supporting the ministry," she said. "I want every pastor and every congregation to look inside their hearts and decide that every human life in Coweta County has value and that we're all in this together." 
Ideally, she hopes every person in the community will contribute in some way to One Roof's mission. 
Hardin said she sent out about 30 letters to churches in November, and plans to try again soon. 
"Thank God I've got a board that gets it, that isn't afraid of the homeless population, that isn't afraid to think big," she said. 
Hardin recently updated supporters and board members on last year's accomplishments at One Roof's annual meeting and open house. 
In addition to the financial assistance, One Roof partnered with Coweta County Fire Rescue for Christmas gifts for local children. 
"We ultimately put together a list of 22 families," she said.
There also have been some changes made to the office to make it a more pleasant place, including some children's toys for kids to play with while they wait. 
Hardin said she has been working with other groups on sustainable housing issues. The Newnan Emergency Shelter Team has opened the NEST Newnan warming center at Newnan City Church, located at 17 First Ave. The warming center provides overnight accommodations when temperatures are forecast to drop to 35 or below. 
She said volunteers from local churches are needed to staff the warming center.
Last month, One Roof participated in a homeless count and gave out comfort bags to homeless people who were encountered during the count.  
Hardin said One Roof has gotten some new grants this year, which have been very important, and if anyone wants to help One Roof apply for grants, that would be welcome. 
For more information about One Roof, email director@oneroofoutreach.org or call 770-683-7705.