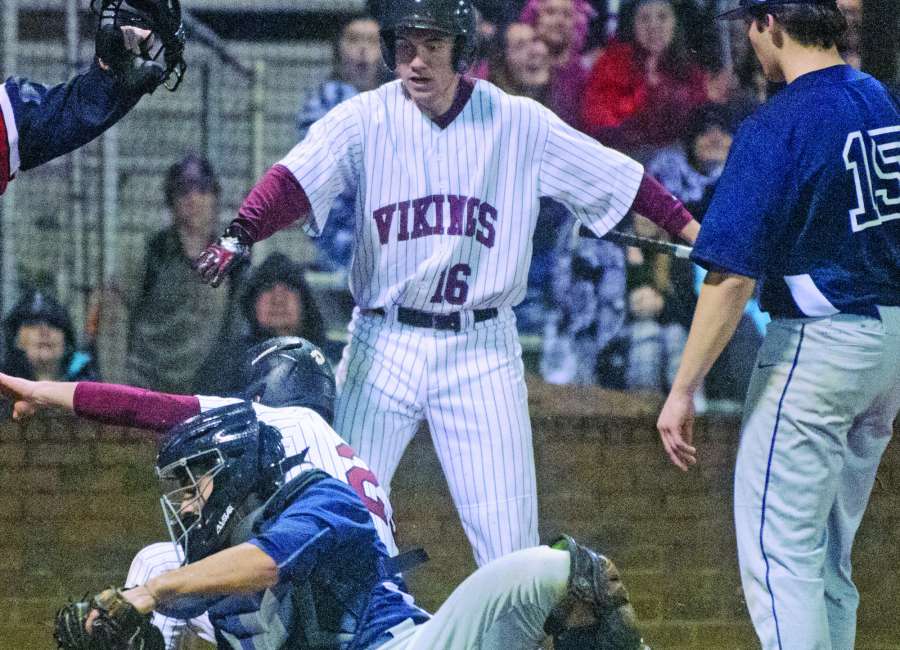 By Chris Goltermann
The first game of the high school baseball season rarely feels polished. And as she often does in the spring, Mother Nature didn't help matters on a soggy opening day for Northgate and Newnan at Greg Hamilton Field.
But the Vikings had less difficulty handling elements at the finish than the Cougars en route to an 11-1 victory in six innings with an ending that was a bit of a shock to local fans anticipating a nip-and-tuck affair.
It was through three innings with both Dalton Brooks and Jaxon O'Neal yielding just one run through three innings, with O'Neal quickly settling into a groove much as he did last year at Newnan en route to All-County Co-Pitcher of the Year honors.
After allowing two hits in the bottom of the first, one of which to Northgate's Shawn Ragan en route to a 3-for-3 debut this spring, the Cougar senior southpaw struck out six consecutive batters — the latter trio on 10 pitches in the third — before departing with Newnan ahead 1-0.
Northgate, however, found a way to score all 11 runs over three at-bats en route to the mercy rule, using five hits and a myriad of miscues from the Cougars to turn a nailbiter into a route.
Brooks held strong, combining with fellow senior Robert Smith. Newnan's only run came unearned of an error and a questionable call on freshman Jett Lovett's stolen base at second where a throw arrived ahead of the play.
For a Northgate roster monopolized by juniors and seniors including two of last year's top starters on the mound — All-County Co-Pitcher of the Year Ryder Willard and Georgia State commit Reid Fagerstrom — the effort by Brooks and Smith, both starters in the infield a year ago, was a sign toward the Vikings overall depth.
Brooks got the win, striking out four and allowing four baserunners, the latter trio among two walks and a hit batsman. Smith pitched a scoreless inning of relief, stranding Newnan runners at second and third with a strikeout to end the top of the sixth in what became Newnan's last chance of a comeback.
Brooks stayed consistent with his fastball, keeping it on the outside of the plate while limiting the Cougars to Thomas Collins' infield single where the junior beat shortstop Elliott Vickery's long throw to open the top of the fourth.
Others connected, but right toward the gloves of Vikings, including in the first when Newnan sophomore Michael Maginnis smashed a line drive right at second-baseman Christian Dyer for an inning-ending double play with teammate Woody Waters aboard second.
"I'm real proud of our guys and their performance. We got great pitching and Dalton, and Robert Smith came in and threw real well," Northgate head coach Todd Herrington said. "I thought we really made some good plays defensively. If we don't make some of those plays, it's a different ballgame."
Newnan wasn't as fortunate, causing as much of its own problems through three errors, four wild pitches and eight walks split among three relievers.
Senior lefty Logan Hudson, whose heroics in Game 3 last year to close a first-round series against Roswell carried the Cougars into the Class 7A Sweet 16, seemed most affected by the wet weather, which ranged from an early sprinkle to a steady shower by the time he entered in the fourth.
Ragan and Fagerstrom set up a four-run go-ahead rally in the inning with consecutive one-out singles. From there, a walk and two wild pitches led by pinch-runner Jake Queen coming across with the tying run.
The rain made anything in the air an adventure at times for both teams. Northgate capitalized when a high fly to deep right dropped in for two go-ahead runs as Lovett tried to locate it between lights and raindrops.
It allowed junior Andrew Baldwin to race all the way to third before scoring on another wild pitch before Newnan could get out of the inning.
The Vikings capitalized again with two outs in the fifth. Everett Davis' throw after cleanly fielding a grounder came in just off line enough to scoot past first baseman Nick Crossing, with two more runs coming in.
Pinch-hitter Myles Cook, who was the hero in Northgate's walk-off scrimmage win on a two-run single, knocked in his first official RBI of 2019 with a double to the left-center gap off Newnan reliever Anthony Darrow, whose three runs allowed all came unearned.
"You can't make errors," Cougars head coach Marc Gilmore said. "We counted about seven, eight mistakes and I don't care who you play, you're not going to beat good teams like that."
Both teams are looking for return trips to the GHSA state playoffs this spring, with Northgate out to better last year's fourth-place finish after stumbling a bit at the close of 2018.
"The biggest thing I wanted to see out of this year's team was a focus on leadership and good character. That was the two biggest things we need," Herrington said of a roster of eight seniors and 13 juniors. "This group [of seniors] has been with me all four years."
Newnan, which defeated Heard County 13-8 in Friday's scrimmage, graduated one of Gilmore's largest senior classes since being promoted to head coach in 2014. Pitching remains at its peak, however, in O'Neal, a Gordon signee, Hudson and Jake Martin, who signed with Georgia Southern.