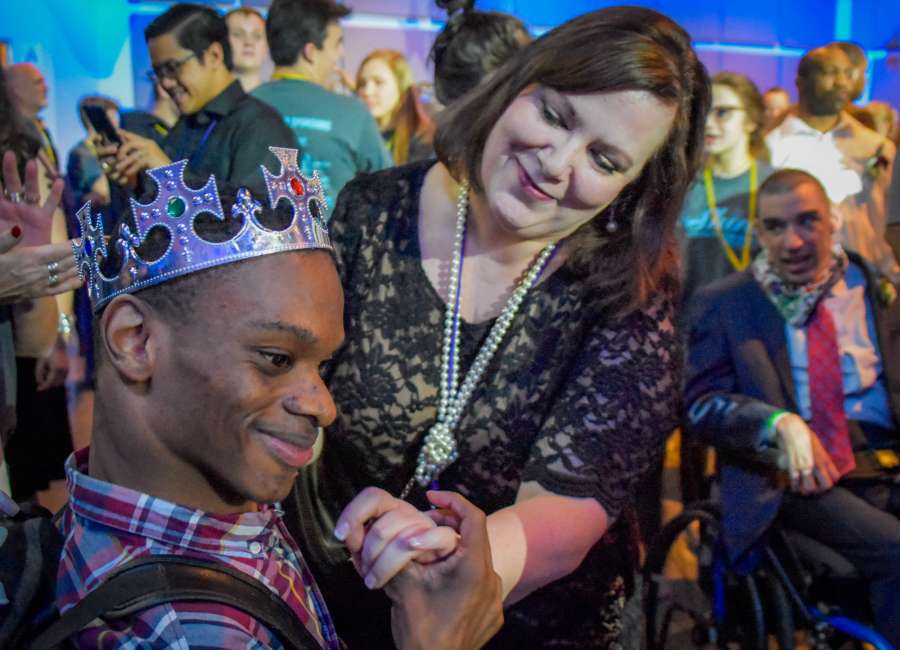 It was truly a "Night To Shine" for the hundreds who packed the dance floor at SouthCrest Church for a special night.

The event features all the magic of prom for people with special needs. The event was held at more than 600 churches all over the country and is sponsored by the Tim Tebow Foundation.
This was the third year the church has hosted the event. 
Each guest entered the event on a red carpet, flanked on both sides by an adoring crowd and paparazzi. Once inside, the royal treatment continued for the guests, who could experience hair and makeup stations, shoe shining areas, limousine rides, corsages and boutonnieres.
Paired with a "peer buddy" whose job is to make sure the guest has an unforgettable experience, guests enjoyed a catered dinner, prom favors, and a dance floor.
The karaoke room – which was the place to be – was where prom attendees got their chance to perform their own renditions of the songs they would later dance to on the floor.
At the end of the evening, Amber Clay was one of the many peer buddies who placed a crown or a tiara on her guest's head. Decked out in her blue evening gown, the event was just another way for her to continue giving back to those with special needs.
"When I was younger, I spent a lot of time volunteering reading to special needs kids and I have family members with Down Syndrome," she said. "I had so much fun – it was an amazing event."
Carmen Monteagudo, a member of SouthCrest, said she was grateful for the opportunity to volunteer.
"It's so incredible to see the impact of our community getting together with other churches and participants for an event like this," she said. "It's all about our guests, but it really ends up being a blessing for all the volunteers."
For event coordinator Rachel Henderson, the night was a culmination of many hours spent organizing and planning.
"Sleep has been minimal, but when you see those smiles, you forget all about that," she said. "From a church perspective, it's a physical manifestation of the pure love of Christ. Everyone is the same – there are no differences and to me, that's what it encapsulates.
By the end of the night, the event hosted 226 guests who traveled as far away as Thomaston, Greenville, Pine Mountain, Griffin and one guest even came from Canada. Over 600 volunteers helped ensure an unforgettable experience for everyone.
"It really shows the need for this event in our community," Henderson said. "We had a tremendous team of volunteers and sponsorship is continuing to grow."
Initially, the Tim Tebow Foundation funded the event, but each year, the funding from the Foundation decreases in order to ensure local donations keep the event a success.
Between the party favors, transportation, food and entertainment, Henderson estimated it costs around $150 for each guest, making it close to a $45,000 event, which shows no sign of slowing down.
So far, local donors have kept the event running.
The night was particularly poignant for Henderson who, along with so many others, are touched by special needs people in their lives. Citing her aunt who passed away at age 50, Henderson said the event marks a new day – an era her aunt never experienced.
"She never had a prom, a wedding, or anything specifically just for her. In her generation, there was no acceptance," Henderson said. "To be able to do something like this now where there is acceptance and a place for everyone, it makes all the work worthwhile."