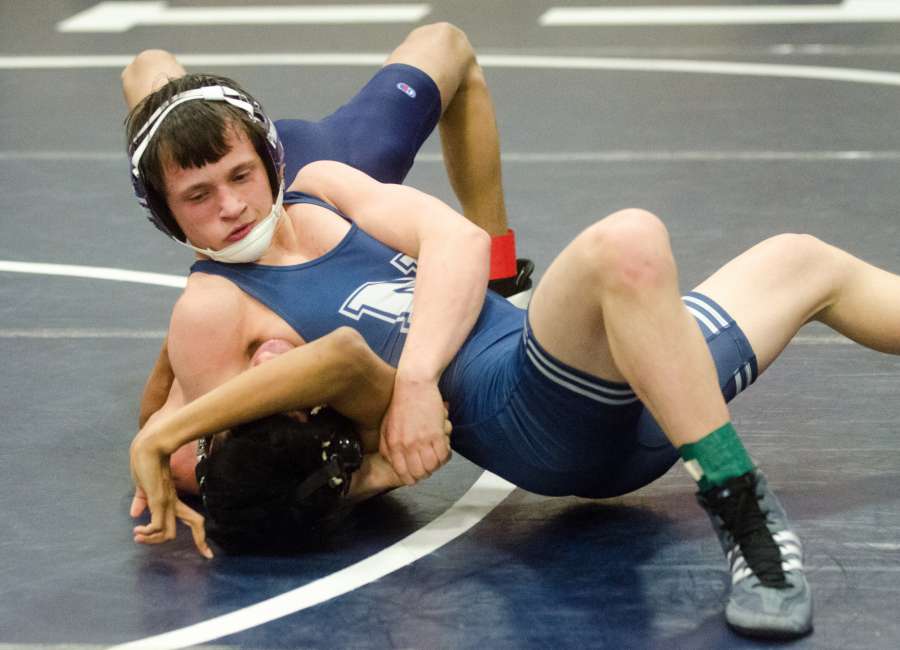 BY Chris Goltermann
Cowetascore
Had it been an election night, this year's Area 2-7A Traditional Wrestling Tournament would have been deemed "too close to call," as it carried on into the wee hours Friday at Newnan High's old gym.
As it was, only a handful of people even knew how few points separated county rivals Newnan and East Coweta by the end of Friday's finals after combining to win 13 of a possible 14 weight classes.
In scoring terms in high school wrestling, the difference was determined in a single decision — namely three points.
Depth and maturity helped keep the Cougars on top while completing a sweep of the season's three major events locally — county championships, Area 2-7A Duals and Area 2-7A Traditional Tournament — for the second straight year.
Newnan's 220 1/2 points, which included a fix of a scoring error prior to reaching the finals, barely held off East Coweta's 217 ½, with the championship still up for grabs heading into the last three weight classes of the finals.
With the Indians leading by six following senior Alex Derico's impressive win at 182 pounds, Newnan teammates Carson Knight and Austin Garmany reeled off consecutive weight class titles at 195 and 220 with a combined nine-point effort that put the Cougars back on top.
In all, Coweta County will send 27 of a possible 28 athletes to next week's GHSA Class 7A Sectionals, with every one of Friday's local entries at the area championships able to advance with top-four effort.
Seven Indians wrestlers captured weight class crowns, one more than Newnan's six, with only undefeated Westlake heavyweight Darien Meeks able to leave the county in possession of a first-place medal.
Instead, Coweta rivals had wrestlers go head-to-head in the finals eight times starting with lightweights Christian Gordon of East Coweta and Connor Marsh of Newnan.
East Coweta, with an inexperienced group of starters to begin 2018-19, finished with a 5-3 record against their rivals.
In addition to a pin from Gordon, a freshman who improved to 25-14, the Indians picked up victories at 120 from junior Jake Gabriel (20-9), freshman Jordan Trask (10-4) at 126 and senior Zekkhi Selby (29-12) at 152.
Junior Tristan Young, who competed on East Coweta's JV this year, won all three of his matches at 160 pounds to earn an area title.
A final boost from the Indians came from sophomore Dylan Spelios (22-12) with a major decision over Newnan sophomore Payton Toth in a 16-8 final.
East Coweta's last — and most impressive — win came from senior Alex Derico in a meeting of county champions with Newnan senior Isaac Barrett.
The two rolled through the bracket to reach the finals. There, Derico, who had dropped back down from 195 from earlier this month at the Area 2-7A Duals, found an early opening and eventually worked a pin in 3:58.
Both Derico (26-5) and Barrett (22-28) have chances to advance from next week's Class 7A sectionals after putting together over 20 wins apiece during the regular season.
The top eight finishers in next week's Class 7A Sectionals, which has Area 2 matched up against 3, 5 and 8 at South Forsyth on Feb. 8-9, will move on to the state tournament in Macon.
For the second consecutive year, Newnan brings a full roster, one that includes five seniors and four juniors that have played key roles to the team's success.
Among the nine veterans, 113-pound junior Tristan Kendzierski remained dominant, winning the third area championship of his career and taking a 42-8 record into state competition starting next week.
Cougar senior co-captains Kyler James and Cale Goss at 132 and 138 pounds, respectively, joined another in Knight at 195 in earning key decisions against stingy opponents while avoiding any major slip-ups over the full six minutes.
At 132, James improved to 31-14 while again having to outlast a stiff challenge from East Coweta senior Zion Selby.  It took a last-second escape to pull out a 10-9 victory after Selby rallied to tie on three third-period takedowns.
In the 138-pound final, Goss closed in on 50 wins for the season, improving to 49-8 with a methodical effort against East Coweta sophomore Jaxon Garner (21-13), a county champion this season.
Junior Max Broach also added a weight-class title at 145 pounds for Newnan in an 8-4 victory over East Coweta junior Jake Madison, who had captured n a county title in December. Broach improved his overall record to  40-14.
Knight got Newnan back on track with a title at 195 pounds with an 8-3 decision that allowed the Cougar senior to improve his overall record to 34-8.
Garmany sealed the team victory, needing 48 seconds for a pin and the 220-pound championship as he improved his overall record to 39-4.
2019 Area 2-7A Traditional Championships
Final Standings
Newnan 220 ½
East Coweta 217 ½
Campbell 86
Pebblebrook 79
Westlake 56
Wheeler 55