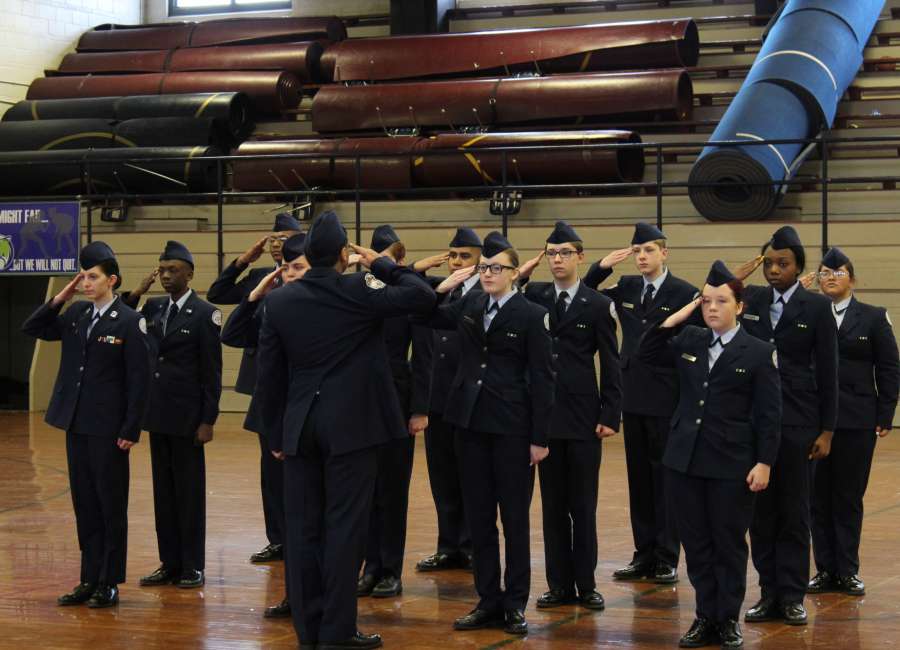 Students in Newnan High School's JROTC drill team demonstrated their skills on Saturday at the third annual NHS JROTC Expo.
"Drill is historically what the military uses to move mass numbers of troops," said Master Sergeant, Mike Turner. "Now it's a high school level competition. It's like a track meet."
Tuner said the drill team puts on the annual expo for the students to demonstrate to their friends and families their drill routines.
The drills are performed in large groups, solo or in pairs.
The drill team attends competitions five times a year.
According to Tuner, each competition features 8-18 other schools. Points are awarded in competitions on a scale of 0-15 or 20.
The teams are scored on how well they execute commands, stay together during commands, and how well the commander commands the team, said Turner.
According to Turner, one in eight students from the JROTC go into the military after high school.
"But I'm going to have four of that eight go into four-year universities," he said. "We have way more that go into college than into the military."
If students go into the military after high school and participated in JROTC, they will receive a higher pay upon entry, said Turner.
The students receive credits for graduation by participating in JROTC.
"They're allowed to take one course per year," Turner said.
The subject of the class is divided between aerospace science, leadership and wellness, said Lieutenant Colonel Arthur Davenport, who teaches the class.
According to Davenport, over the course of four years, the JROTC students learn about aviation history, the science of flight, exploring space and cultural studies.
The NHS JROTC is an Air Force program, said Davenport, which influences the subject matter of the class.
"What they would learn at the college level they learn at the junior level," Turner said.
120 students participate in the NHS JROTC.