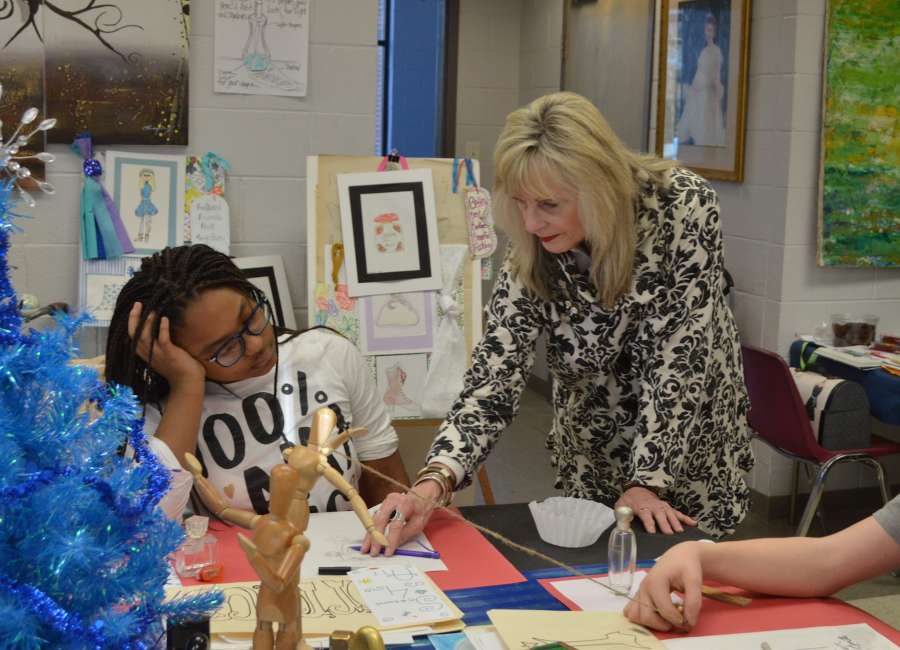 Forty years ago, Bette Hickman was a transplant from Miami who loved art and was concerned that there were few art teachers in Coweta County Schools.

"I was really upset that there was no art teacher in the elementary schools," Hickman said. "I did my student teaching in Miami in the very same school that I went to and I had an art teacher – and I'm old," she said from her art classroom this week.
She was a member of the Newnan Coweta Art Association and some of the people who came to the adult art classes were bringing their children, so the association began to discuss having art classes for children. The adult art teachers didn't particularly want to teach children, but Hickman did.
She began teaching children's art lessons in the art house, at the Coweta County Recreation Department, and the Young Artists of Newnan and Coweta County was born.
Forty years later, she's still teaching in the same location, though it's a new building. In 2000, Teri Lewis joined the program as the teacher for the youngest students, and Hickman teaches the "advanced artists."
Hickman and Lewis, and the program, were recently recognized by the Coweta County Board of Commissioners for the program's 40th year. Several students accompanied them and spoke to the commissioners about the program.
Sawyer Peipho has been taking art classes for nine years. "Mrs. Bette and Mrs. Teri are some of the best teachers I've ever had," he said.
"Art is very inspirational and creative… and Mrs. Teri and Mrs. Bette have taught me a lot of things," said Torrence Williamson. "I've been wanting to do art for a very long time. It's been my passion."
Hickman said the recreation department was very accommodating when she began offering the classes. "They were always so great," she said.
She had many helpers over the years. Cheryl Vickers taught for several years, and there would often be mothers who would help with classes.
She would watch some of those mother's helpers begin to learn and create. "I would say – I think there is an artist in you," Hickman said.
That's how Lewis became an art teacher. Her daughter, Jenna, was taking classes and Lewis became a mother's helper.
"I started paying attention to what Mrs. Bette was teaching and I saw that I was doing it, so I just stuck with it, and she asked me to come to work for her in 2000," Lewis said.
"Teri was one that just grabbed it and just loved it," Hickman said. "We are such a team now and I love her very much and am grateful that she is younger than I am – so we can carry on."
Lewis had done storefront merchandising, but didn't have an art background. But she said she found there are basic art skills that anybody can learn.
Lewis stuck with it long after her daughter was grown. "I love children. I'm not a very good artist but I'm a very good nurturer."
Classes meet on Wednesday and Thursday afternoon, and Hickman and Lewis have students that stay in art classes for many years – and quite a few second generation students whose parents also took art from them. Hickman said she feels that one of the hallmarks of the classes is that they bring together public school, private school and home school students. "All are welcome," she said.
Hickman said some of her older students have told her that art class is a place they can feel calm and accepted without the pressures of school.
And there's good camaraderie because the students get to know each other as they continue taking art.
"Mrs. Teri and I have said over the years we do as much nurturing as we do teaching," Hickman said. "I love what I do. I feel like it was a gift to me to find someone who could have that same kind of love and passion for teaching children as Mrs. Teri. We're a good team," she said.  
Work by the Young Artists is currently on display at the Coweta County Administration Building, 22 East Broad St., Newnan. The exhibit runs through March.