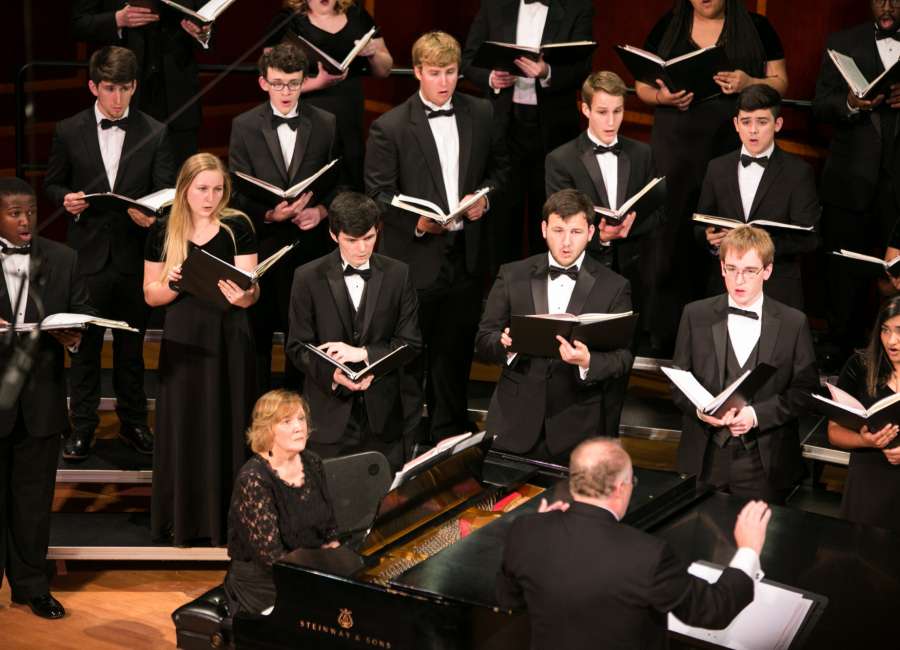 Central Baptist Church on Brown Street in downtown Newnan is hosting the Mercer Singers in concert on March 10.

The concert will be held at 6 p.m. in the church sanctuary. The Mercer Singers, an auditioned ensemble of 48 voices, is the primary touring choral ensemble of Mercer University in Macon.
The choir includes undergraduate and graduate students and performs a wide range of choral music spanning from the Renaissance to works written by modern-day composers.
The Mercer Singers have sung on programs for the Georgia Music Educators Association, the Southern Division of NAfME (MENC) and the Southern Division of American Choral Directors Association. The choir and their director tour extensively and have
performed throughout the United States and Europe.
Since 2000, the Mercer Singers have undertaken six highly successful international tours of England and Wales (May 2000), Italy (2002), Austria and the Czech Republic (2004),
Germany, Poland, Slovakia, and Hungary (2006), Japan (2007), and Russia (2011).
In 2012, they joined with the McDuffie Center for Strings to film "A Grand Mercer Christmas" that was distributed to Public Broadcast Stations throughout America. They made their Carnegie Hall debut under the baton of their director in 2017.
Additionally, the choir has gained a regional following with its annual performances of A Festival of Nine Lessons and Carols held each December. The choir is widely acclaimed for its spirited performances, breadth of repertoire and dedication to singing repertoire of the a cappella idiom.
Stanley L. Roberts directs the Mercer Singers.
Roberts is the Arthur Lowndes Rich Professor of Choral Conducting and director of choral studies in the Townsend School of Music of Mercer University. Now in his 24th year at Mercer, Roberts is conductor and artistic director of the Choral Society of Middle Georgia, an 80-voiced ensemble that collaborates with the Mercer University Choir for performances of major choral/orchestral works.
A passionate educator and mentor, Roberts has received recognition as Mercer University's Outstanding Faculty Member of the Year, Mercer University Professor of the Year, and the Townsend School of Music Professor of the Year. Highly regarded as a clinician he has conducted All-State Choirs, Honor Choirs, and Festival Choruses
throughout the United States, England and Europe.
Roberts has presented and led at numerous regional and national
workshops/conferences and music organizations as well as universities, colleges, churches, and schools. A strong advocate for church music for over 35 years, he is an editor of the 2010 hymnal, "Celebrating Grace."
For 26 years, he has been minister of music at First Baptist Church of Christ in Macon, Georgia – a position he has held for 26 years. In 1994, he became the founder and director of jubilate!, a mass choir singing and touring experience for church youth choirs across the southern United States. 
Roberts is a 1984 graduate of Mercer and is married to performer/teacher and fellow Mercerian Marie Jarriel Roberts
Handicapped access to Central for the concert will still be available at the rear of the church on Spring Street. A major construction project is underway on Central's downtown campus.