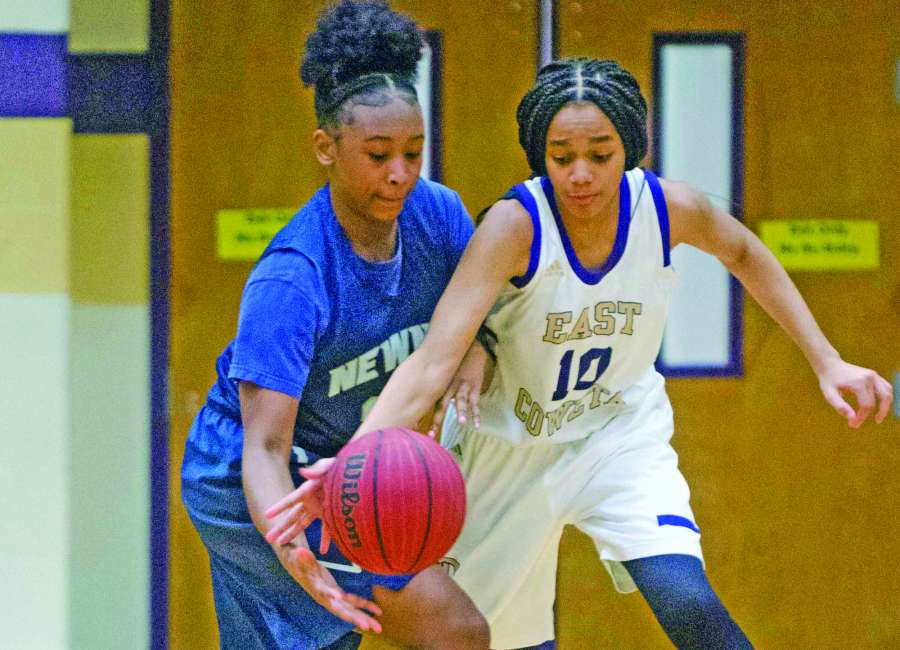 By Chris Goltermann
Postseason high school basketball is centered not just on peaking at the right time, but finding ways to win when facing adversity in tournament play.
On Monday, all roads pointed to an uphill climb in a Region 2-7A first-round girls game between rivals East Coweta and Newnan, which were facing each other for the third time in 2018-19 and in the second meeting over a three-day span.
It led to two predominantly young teams with talent taking turns as they learned the hard way about the importance of consistency on Monday at John Thrower Gym.
For East Coweta, a 47-45 victory was a lesson in how to handle a 14-point lead going forward after clinching the program's first state tournament berth in six years.
For Newnan, a 47-45 loss equally was a difficult reminder of letting opportunities slip away while having its season cut short.
Just like Friday's 46-42 decision at Thrower Gym won by the Lady Cougars that evened the season series, the rubber-match followed a pattern of close finishes that had the eventual winner struggling to hold on after taking a double-digit lead.
For East Coweta, it was another learning moment to put in the memory bank.
"We get ahead and we get comfortable," said second-year East Coweta head coach Karen Frady, who became the first to lead the Lady Indians to the state playoffs since 500-game winner Paula Jones in her final year at ECHS in 2012-13.
East Coweta improved to 8-16 while winning its fourth game against a region opponent. A year ago, the Lady Indians went 0-10 in the 2-7A standings, losing both games to its closest rival by 20 or more points.
A year later, a Lady Indians lineup that is as much a mix of veterans and youth, with seven freshmen all playing key roles will get its first taste of the state playoffs after clinching a berth in the Class 7A tournament.
Ninth graders Letiya Reeves, Tuianna Taggart and Amya Walker all finished in double digits to lead the Lady Indians' while veterans Destini Benning and London Fowler combined for 11 points in the win.
Reeves and Taggart each led the way with 11, while Walker added 10 after pacing East Coweta's 25-14 lead going into halftime.
The Lady Indians now advance to Thursday's 2-7A semifinals against No. 1 state-ranked and unbeaten Westlake before the roster gets their first taste of the GHSA tournament.
"They're getting there," Frady said. "It's just growing up for them and staying with it and not quitting."
East Coweta suddenly found itself in a different situation against Newnan three days after being unable to pull off a 15-point comeback on Friday in the fourth quarter.
Monday's finale had the host Lady Indians ahead 28-14 following Taggart's three-pointer in the opening seconds of the third period after a first half that played out in reverse of the previous meeting.
Defense was as much a difference maker for East Coweta in turning around a previous 46-42 loss on Friday, going back to a triangle-and-two in hopes of slowing down Newnan, led by sophomore guard K.K. Madrey.
The Lady Cougars didn't help themselves, shooting 20-percent from the floor and making just 20 of 42 free-throw attempts while playing from behind for the final 24 minutes.
Taggart shadowed Madrey much of the way before fouls became a problem for just about every starter in a game where three players from each team reached the maximum five prior to game's end.
"I thought she did a good job on her," Frady said of Taggart. "She really didn't become a factor for them."
Madrey, an LSU commit for softball, had 12 points on Friday and 22 in the first meeting between rivals on Dec. 14, in a three-point loss.
At the finish on Friday, however, Madrey and Newnan senior teammates Hailey Bloom and Noelle Butts had all become spectators after fouling out. Madrey had seven points before having to go to the bench with less than four minutes to play.   
Bloom's three-pointer highlighted a 6-0 run by Newnan in the closing two minutes to pull to within 46-43, but Bloom and Butts were also unavailable for heroics at the finish.
The Lady Cougars hit just 2-for-6 from the free-throw line, losing Butts to her fifth foul after leading her team with 12 points — all from the free-throw line on 27 attempts.
Reeves was also among those forced to watch from the bench, but only after scoring eight of her 11 points in the fourth quarter. F
Her floater in the lane gave the Lady Indians a 36-38 advantage and Taggart followed with a drive that also included Madrey's fourth foul to send Newnan into a timeout with 4:38 to play.
An 13-6 run in the fourth by East Coweta was capped off with Walker feeding Reeves, followed by two straight free-throws from Walker in what seemed an insurmountable 13-point advantage with three minutes left.
Instead, Newnan chipped away at the line despite losing its top scorer, hitting 6 of 8 before baskets by Ashira Brown and Bloom, the latter on her clutch three-pointer before the Lady Cougars went cold again.
Newnan closed its season at 7-17 overall, with seniors Bloom (8 points, 4 steals), Butts (12 points, 8 rebounds) and Shynia Patterson (2 points, 3 steals) making contributions in their final varsity games.
In a mirror image of Friday, teams were deadlocked after one quarter, this time at 7-7. But instead of falling behind in the second as it did on Friday, East Coweta used an 18-7 run to take a lead for good in a contest that slowly became a battle from the free-throw line.
After playing the opening three minutes without a foul called, the rivals combined for over 75 free-throw attempts compared to 20 field goals that were converted.
Newnan's shooting woes hit their peak in the second quarter while limited to only Madrey's three pointer.
The Lady Indians received sparks from Benning and freshman Leila Henderson in the second, with the pair combining for nine of East Coweta's 18 points.
Walker had eight of her 10 points in the first half including a pair of field goals in the opening quarter.
East Coweta, however, only managed two three-pointers in the third as the Lady Cougars roared back to close to within a 31-26 deficit.
Tournament play in 2-7A continues on Tuesday with Newnan's boys trying to keep its season alive against No. 3 seed Westlake at 7:30 p.m., back at ECHS.
The tournament shifts to Campbell High in Smyrna for the final three days starting with girls semifinals on Thursday.
East Coweta's top-seeded boys open play in Friday's semifinals against the winner of Tuesday's first-round game between No. 4 Wheeler and No. 5 Campbell.