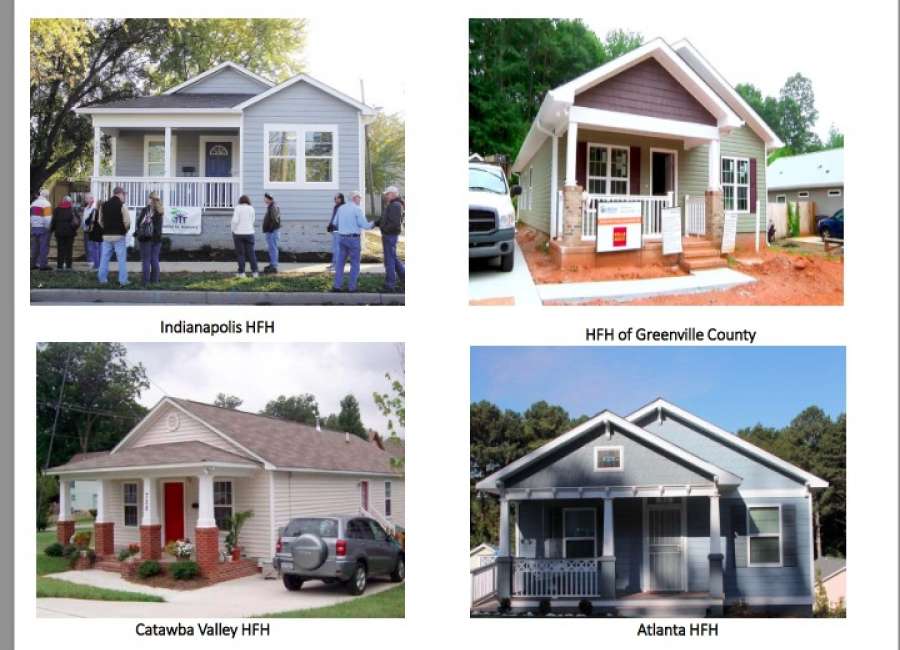 "In, Up, and Out" is the motto of the Newnan Housing Authority, and the Family Self-Sufficiency, ROSS, and Neighborhood Stabilization programs are some ways that the authority helps residents attain self-sufficiency – and even become homeowners.
Housing authority employees spoke about the various programs this week at the Coweta County Family Connections meeting, and the Housing Authority, in partnership with the city of Newnan and Newnan Urban Redevelopment Agency, is getting ready to build three new homes for the Neighborhood Stabilization Program.
The authority is also about to open up its waiting list for the NSP homes, according to Alfrieda Thomas, director of resident services for the housing authority. Current housing authority residents will have two weeks to sign up for the program, once the waiting list is opened up, and there will then be two weeks for members of the general public to apply.
The city of Newnan received a Neighborhood Stabilization Program grant during the foreclosure crisis. The grant was used to buy 15 foreclosed homes, remodel them and place families in them who would eventually buy them.
Money used from selling the houses was put back into the program to buy more houses. But with the current housing market, there aren't many low-cost foreclosed homes on the market.
So instead of buying, they're going to build them. Earlier this month, the Newnan City Council approved plans for the Housing Authority and Newnan Urban Redevelopment Agency to build three homes on two city-owned lots on Pinson Street. The lot at 70 Pinson will be split into two lots, one facing Burch Avenue. Bids will be accepted for a turn-key build and design for the three homes, said Sandra Strozier, housing authority president and CEO.
Under the standard NSP program, approved families move into the homes and pay rent for up to four years while they work on getting their credit up and other things they may need to be able to get a mortgage. A portion of their rent payment goes into an escrow account, and that money goes toward a down payment when the residents are ready to buy.
While families are in the NSP program, they still get case management services from the housing authority. "We don't want to just move you into one of our homes and turn you loose and say you've got four years to buy this house without any guidance," Thomas said.
"Thus far, we have sold five homes to residents who thought they would never, ever be homeowners," she said.
Applicants for the NSP program must have a minimum income of $30,000 and be able to pass a background check.
Most residents who end up buying homes start in the Family Self-Sufficiency Program. The program lasts for up to five years, and while in it, participants work on things such as getting their GEDs and getting job training. Participants must sign a contract when they enter into the program.
Rent for Housing Authority residents is based on income, and as a resident's income increases, so does the rent. Under the FSS program, a portion of the money paid on the increased rent goes into an escrow account. When the participate graduates, that escrow money can be used for a down payment, or for other needs related to becoming self-sufficient, such as paying bills to improve credit or getting reliable transportation.
During the program process, residents work on goal setting and take classes in financial management. When residents start the program, case managers create an individual training plan based on their circumstances, Thomas said.
There are monthly training sessions, with topics including resume writing and mock interviews.
Bessie Chunn, FSS program coordinator, said they ask the residents – often single mothers – what they want to do for the future. "They'll say, 'I really did want to get my GED. I really do want to have self-sufficiency for my family. I really do like paying my own bills,'" Chunn said. "We get them in school, we work with them to get them where they need to be so they can go out and get an education, get a job," she said. They can also help with child care, if needed.
Sometimes it doesn't take nearly as long as five years. Thomas said one resident began the program, got a much-higher paying job, and was qualified to go into an NSP home – and she'd only built up $132 in her escrow.
For those who aren't quite ready for the FSS program – and its five-year deadline – there is the ROSS: Resident Opportunities for Self-Sufficiency – program.
"When they just start, they may not know which way to go," Thomas said, but they want to get started. The ROSS program can help residents get GEDs, and teach soft skills to help them get and keep jobs. The program also helps elderly and disabled residents by providing services that can help them "age in place" in their apartments, so they don't have to move into assisted living or nursing homes.
If someone has a sixth-grade reading level and needs a GED, that can take some time, said Stacey Chapman, ROSS case manager. So it wouldn't make sense for a resident to spend a large portion of their five years laying that groundwork. The program is currently being funded by a three-year grant awarded in 2017.
Residents can then move from ROSS into the FSS program.
"If they get the soft skills or GED or whatever they are lacking, they can move into getting a job," Thomas said. And once residents are working and seeing their rent rise, they should be in the FSS program where they can build an escrow.
The five-year deadline isn't airtight – if residents are making real progress, it can be extended by two years, Thomas said.
Chapman is more than just a case manager – she's also a prime example of success for her residents.
"I was one of the first people to do the Family Self-Sufficiency program in Columbus – 15 years ago," she told the crowd at the Family Connections meeting. She grew up in public housing and graduated to Section 8. When she first joined the program, she wasn't working.
Janna Melson graduated from the FSS program in October. When she started, she was unemployed. She went to school, became a certified nursing assistant and now has a stable job. After graduation, she's still working on repairing her credit, and said she wants to find a second job to increase her income even more.
The FSS process was "very, very hard," Melson said. "It wasn't easy."
Thomas said many residents come into the program with very low income. And some residents who have lived in public housing for many years have become inspired after seeing their neighbors succeed.
"They are seeing people graduate. They are seeing people move into homes. Now they want to come and see how they can join the program," Thomas said.