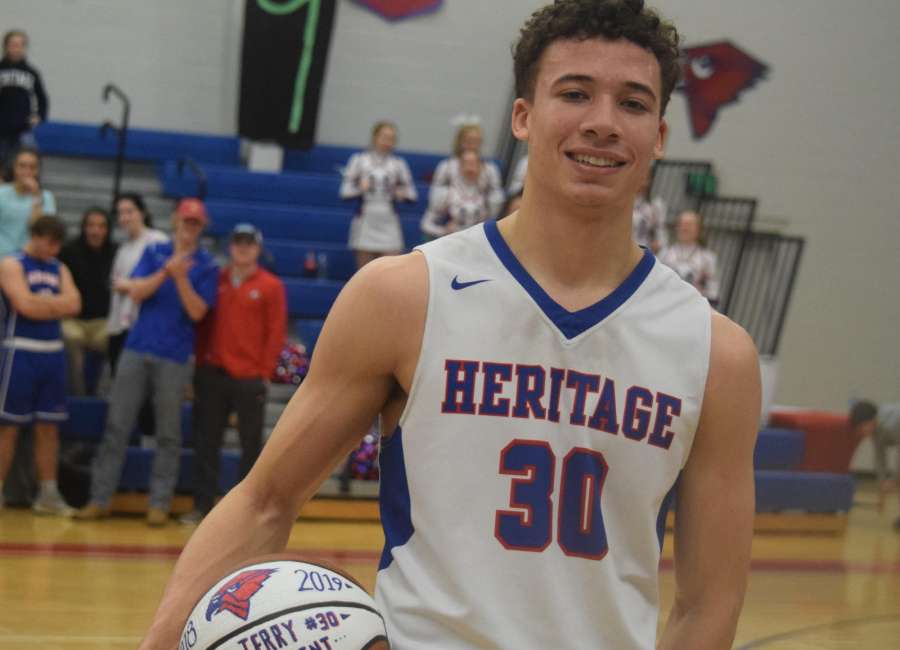 Heritage senior basketball player Lance Terry made history Thursday night, scoring the 2,000th point of his career in the Hawks' come-from-behind 68-53 victory against Creekside Christian.
Terry set the milestone in the second quarter when he stepped to the free throw line and calmly sank the first of two free throws.
""I knew going in all I needed was eight points," Terry said. "I wanted to get it done early, so I could enjoy the moment."
After the first free throw, the game was stopped so Terry could be honored with a ball featuring the date to mark the special moment.
"He is really a special player," said Heritage head coach Joab Jerome. I don't mean just because of the way he can score, but the way he acts on and off the court. He is what I want in a Heritage basketball player."
The Hawks had plenty of work to do after Terry set the milestone.
With the lead bouncing back and forth in the second quarter, Creekside took a 29-28 lead at the half.
The two teams took turns with the momentum to open the third quarter, but when Kasen Jennings converted two free throws, the Hawks led for good at 39-38.
Those free throws sparked a 15-0 run to close out the third quarter and the Hawks led 52-39 heading into the fourth quarter.
Terry put an exclamation point on the comeback with three dunks in the third period.
Connor Thompson drained two 3-pointers and Jennings one as part of the third-quarter comeback.
Terry led the way with 21 points, Jennings had 19 and Thompson added 13.
The Hawks played the game without big man Ebe Dowuona, who sat out with an injury, but is expected back next week.
Creekside led 13-7 at the end of the first quarter, but the Hawks closed the gap with some solid offense in the second quarter.
Jennings and Thompson each hit a 3-pointer in the second period.
"We didn't play very well in the first half and our guys just sort of challenged each other heading out of the locker room," said Jerome.
Seniors Dylan McLean, Henry Arnall, Patrick Griffies, Gridley Pendergrast, and Terry all played their final regular-season home game.
HERITAGE 41, CREEKSIDE 24 (girls): The Lady Hawks held Creekside to just one basket in the first quarter and led 13-2,
Carissa Vazquez had the hot hand early in the period, scoring seven points and hitting a 3-pointer.
The Lady Hawks extended the lead to 23-9 at the break and 34-17 heading into the final period.
The victory came on Senior Night as Vazquez, Trica Underwood, Emily Cushing, Frances Powell, and Adria Smith played their final home games.
Vazquez finished with 11 points to lead Heritage.