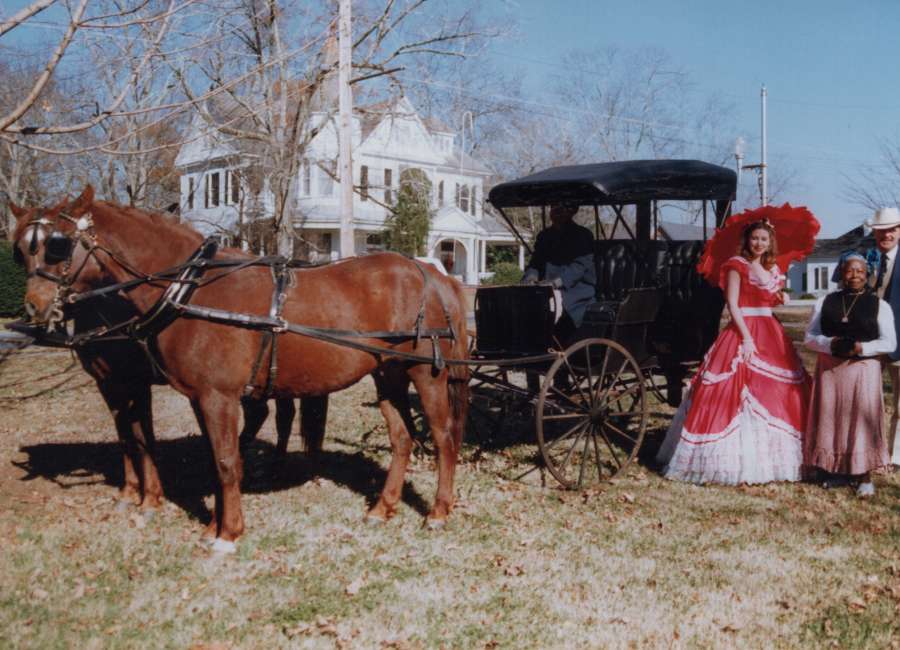 "Gone With the Wind" has captivated fans for more than eight decades.

In addition to the 1936 book and 1939 film, the story has launched thousands of collectibles – purses, jewelry, paper dolls, magnets, Madame Alexander dolls, figurines, music boxes, bookends, jewelry and candy.
Coweta County has many connections to the GWTW phenomenon. Among them are:
•Annie Gibbs Kinnard, the mother of Margaret Mitchell's first husband, was from Newnan. Born in 1877, she was a founding member of Central Baptist Church in 1897. A brick with her name on it is part of the sidewalk in front of the church on Brown Street in downtown Newnan.
Annie Gibbs Kinnard married William Francis Upshaw and spent her adult life in Raleigh, N.C. Her oldest son, Berrien Kinnard Upshaw, married Mitchell in 1922. They divorced two years later, and Mitchell later married John Robert Marsh, a friend of Berrien "Red" Upshaw and best man at the Mitchell-Upshaw nuptials.
Mitchell said Upshaw beat her twice, and his son by a later marriage described Upshaw as "sadistic and cruel," according to "Southern Daughter: The Life of Margaret Mitchell" by Darden Asbury Pyron. 
•Margaret Mitchell had two paternal cousins, Nancy Missouri Mitchell and Pathena "Nettie" Ann Mitchell, who married grandsons of Drury Banks, a Revolutionary War veteran who was one of Coweta County's early settlers.
They married brothers – Nancy marrying Joseph Newton Banks Jr. and Nettie marrying Kinain Banks. The brothers lived in Fayette county and were grandsons of Drury Banks, who is buried at White Oak Associate Reformed Presbyterian Church on Gordon Road.
•Mitchell did research for "Gone With the Wind" by attending Confederate soldier reunions at the Hollberg Hotel in Senoia. It continues today as the Veranda, a bed-and-breakfast inn.
•Cowetans attended the 1939 premiere and related events. 
George MacNabb, news editor of The Newnan Herald, wrote in his Dec. 21, 1939 "Things 'n' Stuff" column: "Newnan was very well represented among those who managed to get tickets for the 'GWTW' charity ball, and Mrs. Louise Fisher Cole was as close to the celebs as any." She sat in the box reserved for John Hay Whitney, financial backer of the film.
Georgia Attorney General Ellis Arnall was one of the judges for a Scarlett O'Hara contest. The winner got to wear a gown previously worn by Vivien Leigh and valued at $3,000 at the charity ball sponsored by the Atlanta Junior League.
I.N. Peyton of Newnan had his wallet – containing $27 – stolen by a pickpocket while he stood in front of Loew's Grand at the premiere. 
•Sharpsburg mail carrier Herb Bridges began collecting "Gone With the Wind" memorabilia in the 1960s. He initially collected copies of the book, including numerous foreign editions. He added movie memorabilia and ended up with what has been called the world's largest collection of GWTW material.
He owned hats from the film, scripts, photographs and all kinds of collectibles. He often loaned his collection for exhibits and traveled to speak about the phenomenon as far away as France and Japan.
Bridges developed friendships with actors from the film. Through his connections, local events featured visits by Butterfly McQueen (Prissy) and Patrick Curtis (Baby Beau). 
Other stars who visited Bridges and his wife, Eleanor, at their home or had dinner with them in Newnan were Cammie King (Bonnie Blue Butler), Fred Crane (Brent Tarleton) and his wife Terry Lynn and Mickey Kuhn (Beau Wilkes) and his wife Barbara.
•In 1985, a local nonprofit, Dunaway Gardens Restoration Inc., announced plans for Tara at Dunaway Gardens. The project never got sufficient funding. The historic rock gardens have been restored, but without the GWTW theme.
•In 1986, when the book was 50 years old, a statewide committee was appointed to coordinate with historical societies and other groups to celebrate the milestone. Bridges and Elizabeth Beers, who was then president of the Newnan-Coweta Historical Society, were appointed to the committee. A home tour with a GWTW theme was held in Newnan in June of that year, and pieces from Bridges' collection were displayed in a museum setting at 27 Clark St.
•For the 50th anniversary of the film, the Newnan-Coweta Historical Society mounted an exhibit at the Male Academy. McQueen, who had visited Senoia briefly several years earlier, signed autographs at the museum on Dec. 5, 1989.
Several Cowetans attended the 1989 re-premiere at the Fox Theatre on Dec. 15. A Newnan home tour was also part of the 1989 celebration.
•Margaret Mitchell's 90th birthday was celebrated with an exhibit of memorabilia, a Confederate encampment and a formal dinner at the Moreland Mill in 1990. The event was a fundraiser for the Erskine Caldwell Birthplace and Museum. 
Mitchell and Caldwell, author of "Tobacco Road" and "Journeyman," were colleagues at The Atlanta Journal before each earned fame as a novelist.
•A window from the facade of Tara in the film was displayed at Blythewood Museum in Roscoe several times over the years, including in 2003.
•One local event has been held in celebration of the movie's 80th anniversary. The Alicia Rhett Tribute Tea was held Feb. 2 at the Lone Oak Community Center. Cowetans were on the program and among those seated at decorated tables. The event memorialized Alicia Rhett, whose only film role was as India Wilkes in "Gone With the Wind."
Terry Lynn Crane spoke at the tea.