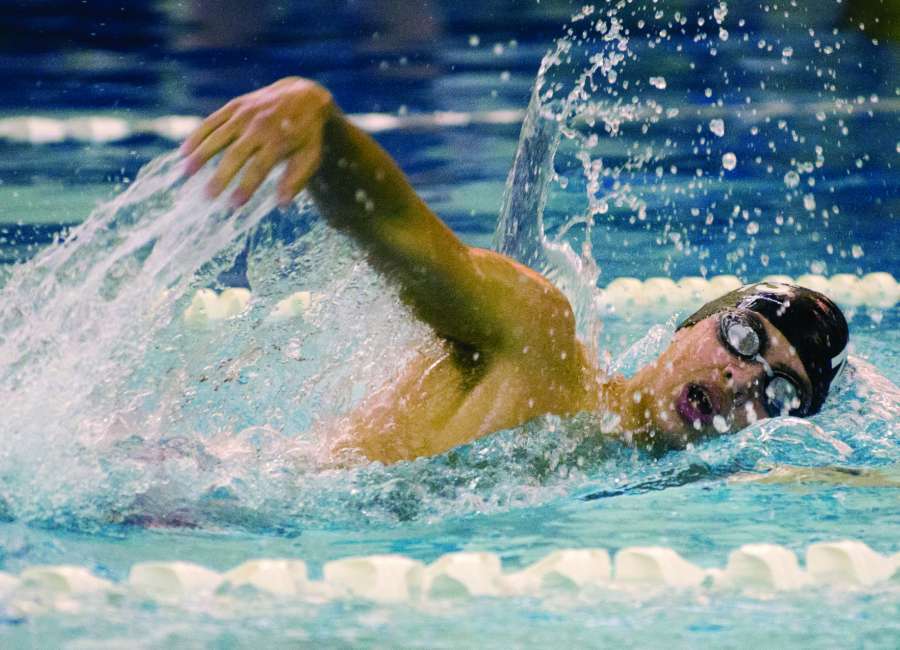 By CHRIS GOLTERMANN
CowetaScore.com
Swimming wasn't always the first choice for this year's Georgia High School Association state qualifiers from Coweta County.
But it's been the best one for them, providing flexibility, comfort and a chance to learn about striving for goals both as an individual and a team.
For East Coweta junior Katie Revoir, who will choose two individual events among her six qualifying swims during the 2018-19 season for the Lady Indians, the sport stuck with her far longer than any other she had tried previously prior to a start in competitive swimming around the fourth grade.
"I had tried a lot of sports before it. Tennis, golf, gymnastics. Mainly it was because you never feel hot," said Revoir, who won both of her individual events at this year's Coweta County Championships, the 100-yard backstroke and 200 individual medley (IM).
As she grew as a competitive swimmer, however, what may have sparked her love for the pool even further was the ability to compete against the clock, as much as her opponents.
"If you don't race well, you can still do your best," Revoir said, calling swimming, "my passion. "Even if you don't place, you can still swim a fast time."
East Coweta and Northgate will both have athletes competing at this year's GHSA State Preliminaries on Friday, Feb. 8, with hopes of making the cut for the top 32 in respective events, including two alternates, for Saturday's championships back at Georgia Tech's McAuley Aquatic Center.
Revoir and sophomore teammate Summer How have a chance to compete in the maximum two individual events among six potential choices. Both achieved qualifying efforts in the 50, 100 and 200 freestyle, the 200 IM, as well as the 200 butterfly and backstroke.
"I'm a backsrtoke and freestyle swimmer," Revoir said, while likely to enter the 100 in both events at state. "There's not one that I enjoy more than the others. Except the butterfly. No one likes butterfly."
The Lady Indians also have a chance to swim with teammates Christina Cuevas and Erica Lee after the group achieved state times in all three relay events — the 200 medley and freestyle, as well as the 400 freestyle. Athletes can compete in a maximum of two relays in addition to two individual swims.
Lady Indians Lindsay Eggen and Lee will also compete individually in the 100 butterfly and 100 backstroke, respectively.
Much like cross-country, track and even riflery, the duality between striving for individual goals while also competing as a team has been one of the appeals to swimming. Another, is that there is no real offseason.
"It's year round," said Northgate sophomore T.J. Pittenger, who is a standout for Swim Atlanta's club program during the year. "It's so flexible. Anybody could do it."
Excelling, however, means dedication. Pittenger was among a large group of underclassmen that excelled during the 2018-19 high school season even though numbers took a slight dip locally. The Vikings' roster was limited to nine athletes, but still managed to win four of nine individual events at the county meet while splitting them with senior Alex Wathan.
Both high school programs had eighth graders excel while competing with this year's varsity.
The Summit Family YMCA continues to be a gracious host to the county's high school programs. But practice times still have to be limited among its many aquatic programs.
East Coweta head coach Aisha Samuels, whose teams combined to win the county title for the first time since it was hosted by the YMCA in 2011, was quick to point out that surrounding counties all have a county recreation swim facility.
Carrollton has the Lakeshore Natarorium, which was converted to a year-round facility in the early 2000s. Douglas County has Boundary Waters and Troup County has a pool at the Mike Daniel Recreation Complex. Fayette and Clayton swimmers benefit from the proximity of the Steve Lundquist Aquatic Center.
"We're the only county in our area without one," Samuels said of recreation offerings.
Pittenger, in his eighth year of competitive swimming, racked up state qualifying marks in seven of a possible nine events including all four freestyle distances (50, 100, 200, 500). The equivalent in track would be reaching state in both the 100-meter dash and the mile.
Capturing wins at the county championships in both the 500, where he broke the five-minute mark for the second time during his varsity career with a season-best of 4:57, and the 50 freestyle, Pittenger said he was expecting to enter the 100 and 200 freestyle in hopes of making the Class 7A-6A finals.
Pittenger's 100 freestyle qualifying time of 48.10 ranks 16th among entries, putting the Viking sophomore on pace to contend for finals.
Northgate's girls and East Coweta's boys will also compete in the Class 6A-7A state preliminaries in the 200 freestyle relay.
It'll be the final varsity swim for Indians seniors Evan Hirsh and William Yang while joined by siblings Caleb and Jacob Neece, currently closing out respective junior and sophomore seasons.
The Lady Vikings' eighth and final attempt of the season came through with a qualifying mark of 1:51.47 at the county meet among a lineup entirely comprised of underclassmen.
Three of the four Northgate swimmers — Ashley Bratcher, Jade Takvorian, and Jenna Webb — are freshmen, having joined sophomore Skylar Reifschneider for the qualifying time.
The county's four GHSA swim programs only graduated a dozen seniors among rosters dominated by underclassmen this winter.
GHSA STATE QUALIFIERS FOR 2018-19 Class 6A-7A
(Athletes can swim in a maximum of two individual and two relay events)
Girls
EAST COWETA
Christina Cuevas, Fr. (200 medley relay)
Lindsey Eggen, So. (100 butterfly; 200 freestyle relay; 400 freestyle relay)
Summer How, So. (50 freestyle, 100 freestyle, 100 butterfly, 200 individual medley, 100 backstroke, 200 freestyle, 400 freestyle relay, 200 freestyle relay)
Erica Lee, So. (100 backstroke, 200 medley relay, 400 freestyle relay, 200 freestyle relay)
Katie Revoir, Jr. (100 backstroke, 100 butterfly, 200 freestyle, 50 freestyle, 100 freestyle, 200 IM, 200 medley relay, 400 freestyle relay, 200 freestyle relay)
NORTHGATE
Ashley Bratcher, Fr. (200 freestyle relay)
Jade Takvorian, Fr. (200 freestyle relay)
Jenna Webb, Fr. (200 freestyle relay)
Skylar Reifschneider, So. (200 freestyle relay)
Boys
EAST COWETA
Evan Hirsh, Sr. (200 freestyle relay)
Caleb Neece, Jr. (200 freestyle relay)
Jacob Neece, So. (200 freestyle relay)
William Yang, Sr. (200 freestyle relay)
NORTHGATE T.J. Pittenger, So. (500 freestyle, 200 freestyle, 100 freestyle, 50 freestyle, 100 backstroke, 200 IM, 100 breaststroke)