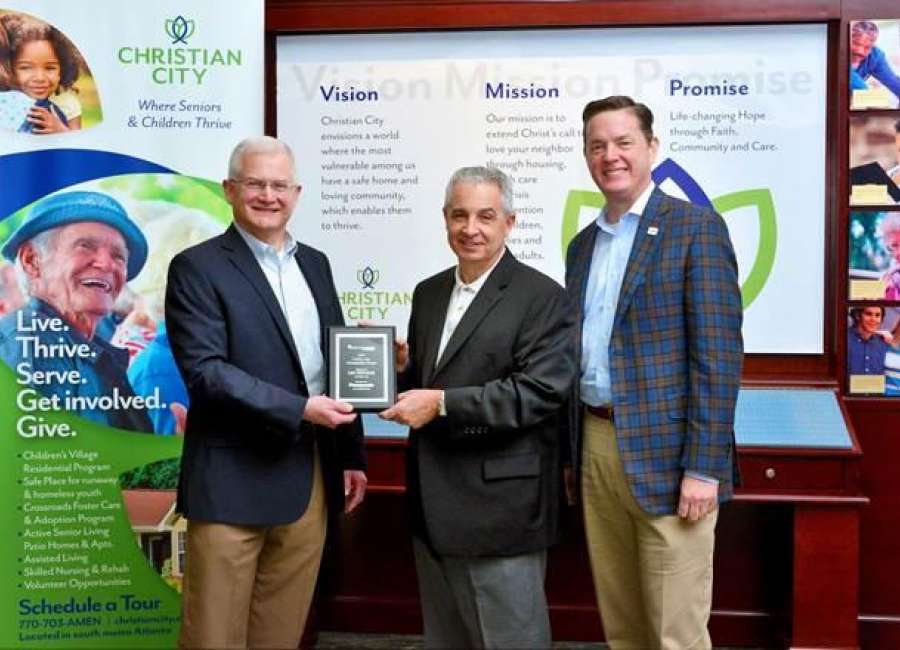 Len Romano, president and CEO of the Christian City, has received the Dreambuilder Award.

The Fayette Chamber of Commerce has presented the 2018 Carolyn Cary Dreambuilder Award to Romano. The award was renamed in 2017 for Fayette Chamber founder Carolyn Cary, the first recipient of the Dreambuilder Award in 2002.
"The award is given to an individual or company that has had a significant vision for our community," said Fayette Chamber CEO, Colin Martin. "Like Carolyn Cary, award recipients have selflessly given of their time and talents to make a difference in Fayette County; and their community spirit and dedication are shown both in word and deed."
The award recipient is selected by the outgoing board chair and announced at the chamber's annual meeting.
"Len's dedicated service on the board of the Fayette Chamber for the past few years has been invaluable. Combine that with his amazing leadership of an organization that brings hope to the abused and the neglected, we see a dedication to this community that will have a lasting impact for generations to come which led to his selection for this well-deserved award," said Stephen Childs, 2018 Fayette Chamber board chairman.
Christian City was established 54 years ago when the first cottage for abused and abandoned children opened. Today, there are more than 1,000 residents, including children and older adults, living at Christian City in Union City.
Cary was a historian and writer. She wrote a biography of William Thomas Overby, a Confederate soldier who grew up in Coweta County, and spoke several times to heritage groups in Coweta.