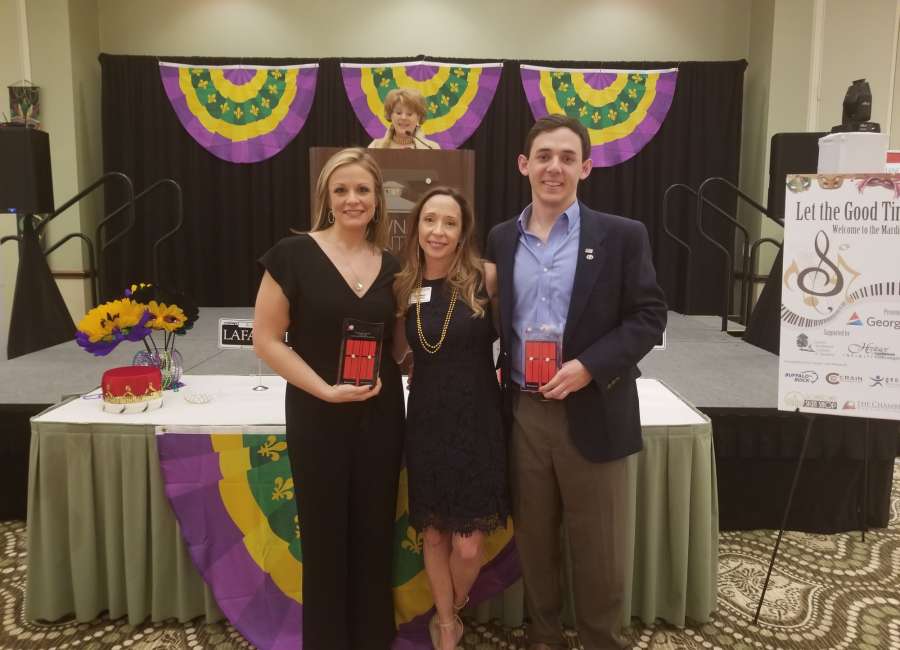 Business professionals received a briefing of the business world in Coweta County, while enjoying networking, food and singing Mardi Gras-style at The Newnan-Coweta Chamber of Commerce's 71st Annual Meeting Thursday evening at the Newnan Centre.
The meeting highlighted accomplishments from the previous year. Volunteer of the Year Award, Chairman's Award, Prosperity Award and Longevity Awards were also presented.
"We are so blessed to have these wonderful leaders in our community," Candace Boothby, chamber president and CEO said. "2018 was a pretty remarkable year. The chamber was reaccredited with five stars, and we focused on talent development, advocacy and leadership development."
The Prosperity Award recognizes companies and organizations that have significantly impacted economic prosperity and development in Coweta County for the past year.
2019 Prosperity Award recipients were:
 – Blickle U.S.A., which opened its U.S. headquarters in Coweta.
 – Cargill, which created additional 120 jobs this past year and increased beef production from 1 million to 1.5 million per week.
 – Hitachi, which opened its new corporate headquarter campus in Coweta. 
 – Mallaghan, which created more than 30 jobs, with 20-30 jobs expected to be added within next 18 months.
"We are very fortunate to have many local companies and organizations that work together to help this community strive," Boothby said. 
She said there are many international companies in Coweta that represent China, Japan, Sweden, England and Canada, among other countries. 
Crain Oil Company in Newnan received the Longevity Award, which recognizes a chamber member's long history of membership. 
Although the chamber typically recognizes one volunteer, this year two were recognized. 
Amanda Fields with the Coweta County Development Authority and Joe Crain III with Crain Oil Company were this year's Volunteers of the Year. 
Philip Trickey with Yamaha received the Chairman's Award, which recognizes individuals who have made unique contributions to the chamber.
Zach Holt with Piedmont Newnan received the Ambassador of the Year award. 
Andy Miller, 2018 board chairman, passed the gavel to Dr. Tonya Whitlock, the 2019 board chairman.
Boothby was also recognized working with the chamber for 15 years.