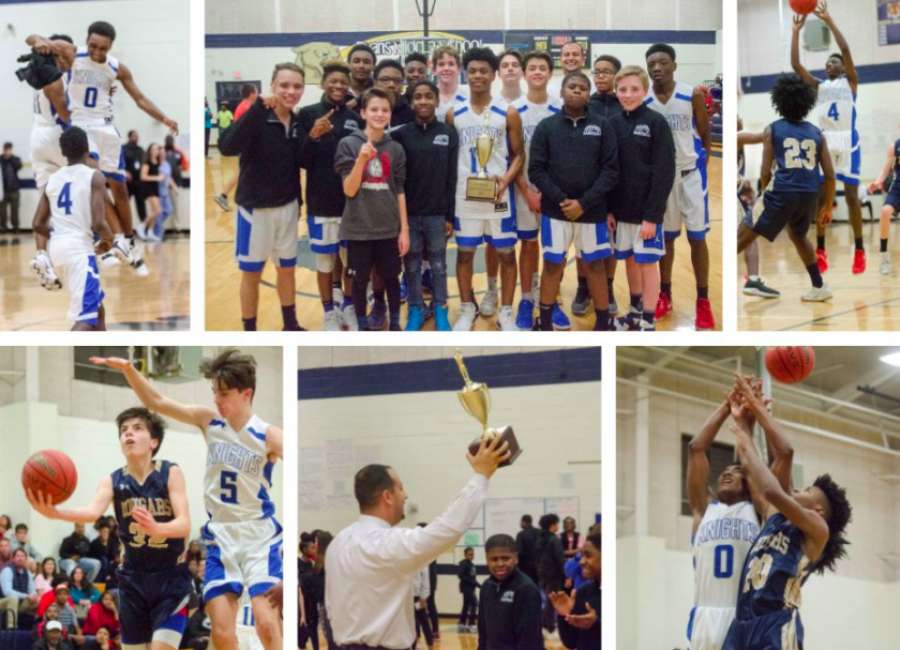 By Chris Goltermann / Coweta Score
They don't call them "free throws" for nothing.
Through three quarters of this year's Coweta County Middle School Athletic League boys basketball championship, Arnall might have treated its opportunities from the line as throwaways.
But after starting 1-for-7 and trailing tournament host and defending CCMSAL champion Evans through the majority of 18 minutes, the Knights knew they had to start cashing in.
Did they ever.
Arnall capped off an undefeated 2018-19 season as well as a comeback effort in the title game by hitting 14 of 20 attempts during an uptempo fourth quarter en route to pulling out a 51-47 victory.
The Knights reclaimed a title, its second in three seasons, while able to avenge last year's championship loss to Evans.
Still, the Cougars fed off a home-court advantage in their bid for a repeat, using four quick points to grab a lead it held until the final 2:41 of the game.
Jeremiah Render's consecutive free throws put the No. 1 seeded Knights ahead for good during a 11-point run where Arnall found its touch from the line to connect on 8 of 9 attempts.
"They're free. I tell them that all the time," Arnall head coach Edward Hunter said of his team, which completed an 11-0 season. "We're always trying to work on the fundamentals."
The Knights also added five baskets during a 26-point surge in the fourth quarter including a key three-pointer from Colt Donley that pushed a 40-35 advantage while outscoring Evans 11-0.
Austin Colton tried his best to carry the Cougars while scoring 21 of his 31 points after returning from halftime with a 21-18 lead with Arnall trimming its first-quarter deficit by more than half.
Colton eased into a familiar route of driving to the left of the basket for points, repeating the effort at least three times between the final two periods. The last effort put Evans ahead 33-27 with under five minutes to play.
The Cougars led by as many as nine after Colton made a drive to begin the second quarter.
But Arnall's trio of Render, Kaleb Saiquon Holt equally stayed aggressive in the Cougars' defensive zone, either forcing Evans to send them to the line or picking up points in the final period.
Sometimes, it was both.
Harris' got a drive to go after being fouled, and the three-point play closed the Knights' deficit to 33-30, with teams about to explode for 35 combined points in the next four-plus minutes to the finish.
Render added a three-point play of his own with 1:40 left and Arnall had reversed course for a 44-36 lead.
Colton's three-pointer with under 30 seconds left pulled Evans to within one, with the Cougars letting at least 14 more tick off the clock before finally seeing immediate signals from the sideline to foul.
Harris and Donley combined on three free throws in between an offensive putback by Evans' Aundre Carter to close out the title.
Harris had 11 of his 16 points in the final period. Holt, who had all seven of the Knights' points in the first, finished with a team-high 20 while Render and Donley added eight and seven, respectively.
Evans was paced by Wheeler Drake's 13 points, including seven of the team's 14 in the first quarter while grabbing an early lead.  
Team members for Arnall also include starter Conner McElroy, Bram Cronic, Baxter Farmer, Jayden Stanley, Houston Hamby, Ryan Hill, Gary Almond, Brandon Godfrey and Jadison Russell.
Along with starters Ashton Heflin and Landon McLendon, Evans team members include Mondriques Jordan, Charleston Long, Anteveous Bemy, Marcus Hody, Royce Dula, Nathan Preston, Caleith Childress and Nick Carter.
Knights 51, Cougars 47
Evans     14    7    8    18    —    47
Arnall    7    11    7    26    —    51
Evans 47
Austin Colton 31, Wheeler Drake 13, Aundre Carter 3.
Arnall 51
Saiquon Holt 20, Kaleb Harris 16, Jeremiah Render 8, Colt Donley 7.
Free Throws: Evans — 7-13; Arnall — 15-27