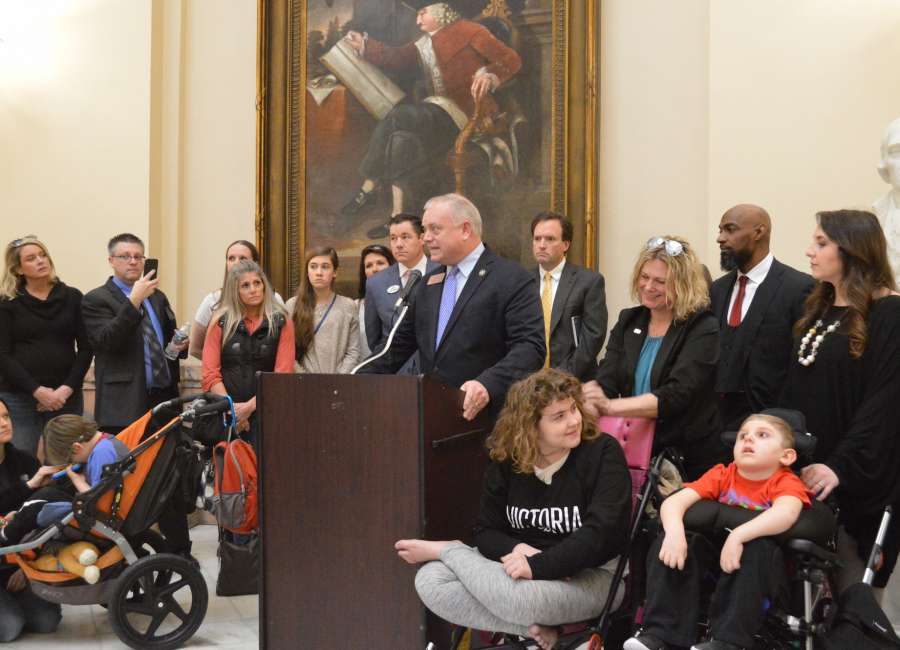 A bill that would allow for and regulate the cultivation, production and distribution of medical cannabis oil in the state was introduced into the Georgia House of Representatives Thursday.
Following a press conference in the capitol rotunda, bill sponsor Rep. Micah Gravley, R-Douglasville, delivered the bill to the Clerk of the House. A bill number hasn't yet been assigned to the legislation.
The legislation came out of a joint study committee, chaired by Sen. Matt Brass, R-Newnan, and Gravley, which met over the summer and fall to consider various aspects of creating legal access to Low THC Medical Oil. The oil, derived from marijuana, is legal for certain patients to possess and use, but there is no legal way to obtain it. Instead, they have to smuggle or mail it illegally from other states, or produce it illegally in Georgia.
"I'm tired of having to go to extremes and break laws to get this oil," said parent Shannon Cloud, who served on the committee. "I'm tired of having to meet people in parking lots. I'm tired of hearing from parents who have to buy weed on the streets and make oil.
"That is not what we should be doing as parents, patients and caregivers in Georgia," Cloud said.
There are currently more than 8,000 Georgians registered to use the oil.
The bill sets up a system where up to 10 licenses can be issued to companies that will grow cannabis and manufacture the oil. Those licensees can also sell the oil in dispensaries. Ten additional dispensary licenses will be available to other companies that want to sell the oil that the other licensees produce.
There will be five "class 1" licenses for large companies and five "class two" licenses for smaller companies. A class 1 license requires $10 million in capital, a $50,000 application fee, a $100,000 initial license fee and $50,000 renewal.
Class 2 licensees must have $1 million in capital and pay a $12,500 application fee, $25,000 initial license fee and $12,500 renewal fee.
To be eligible for one of the 10 "safe access retail licenses," companies must have $250,000 in capital. There is a $10,000 application fee, a $20,000 license fee and a $10,000 renewal fee. Each licensee can have up to two locations.
Plants must be grown indoors, with 24-hour surveillance and tracking from seed to final product.
As introduced, the bill requires that the first licenses be issued by Jan. 1, 2020, and licensees must have product on the shelves within one year.
Cowetans Jillian Wooton and Erin Fisk, whose sons have seizure disorders and have been treated with cannabis oil, were on hand at the press conference.
"It's exciting to have something to get our foot in the door," said Wooton. "We're behind in Georgia, but this is a good start."
Fisk said the roller coaster of legislation can be tough. "Because we get excited every year but it always gets stripped down so we're hoping that that doesn't happen," she said.
"Cultivation would make all the difference. We're just hoping it goes forward as much intact as it can."
Since medical cannabis legislation was first introduced in 2015, most of the work has been done on the House side. But this year, with the work of Brass and other senators, things are different.
"This is the first time the Senate and the House have actually been talking and working together and partnering as a team. That is so exciting," said study commission member Dale Jackson of LaGrange, whose son, Colin, is being treated with cannabis oil.
Every year, people against medical use of cannabis have said whatever action the legislature took would be the next step toward medical cannabis, Gravley said.
That is not the case, said Gravley. States that have moved to recreational marijuana all started out allowing medical marijuana to be smoked. Georgia only allows the oil.
"I want to be clear about this – there is no appetite in the state capitol for recreational use of marijuana. It's not going to happen," Gravley said.