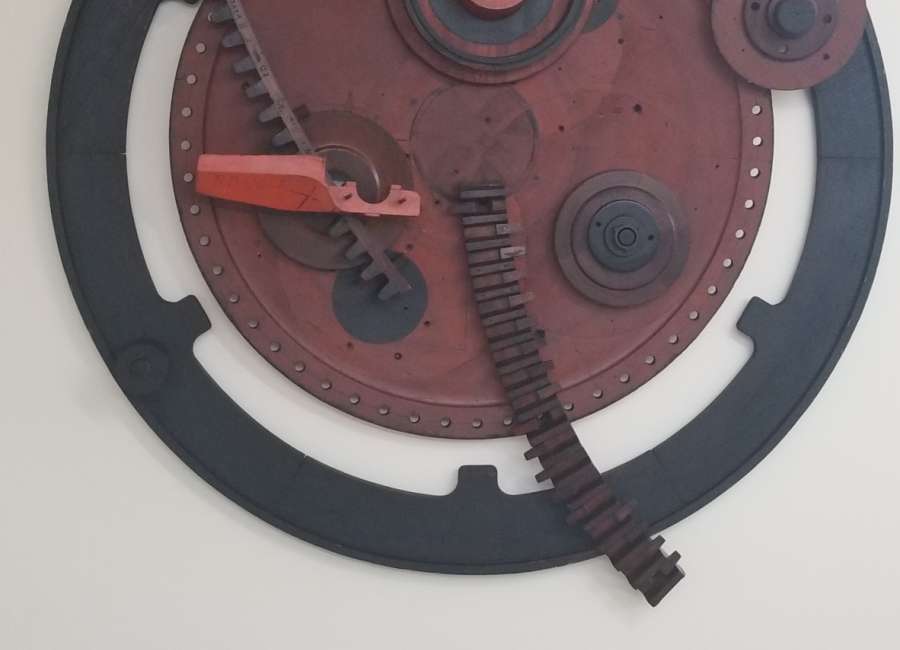 Krista Hoefle and Eli Kahn have taken old industrial artifacts and created a timely piece of art.

Hoefle and Kahn are the artists-in-residence for January and February for the ArtRez program. Working out of Gray Cottage on Clark Street, they have been busy in recent weeks.
Finding a roomful of discarded casting molds used by the R.D. Cole Company sent them in a new direction.
"There was a storage space filled with hundreds and hundreds of forms," Hoefle said. 
"These pieces spoke to us in a way we really wanted to pay tribute to the history," Kahn said.
The result is a clocklike piece of art now hanging on a wall at the University of West Georgia's Newnan campus on Jackson Street.
"The idea of time kept resonating with us – linear time, historical time and then devices that measure time, clocks," Hoefle said.
Kahn and Hoefle said the pieces in the layered sculpture are pretty much as they were when used for manufacturing processes by the Cole firm.
"Our construction method was pretty reverent. We're just using dowels and glue," Hoefle said. But Kahn added that a couple of screws were used in the process.
The two spent four hours looking through the storage space. "Some of it is different colored wood," Kahn said, while other pieces have traces of a paint job years ago.
Hoefle connected with Kahn to get him to create music for some of her earlier art efforts in Indiana – paper sculpture exhibits which also incorporated elements from video gaming.
The Newnan project offered a welcome change for both artists. "I kind of like working with physical objects. I really enjoyed this. I really liked doing it," Kahn said.
Hoefle's education is in furniture design, which she also teaches. The R.D. Cole artifacts offered "very much a return" to that first love, she said.
"Not coating it or covering it. Just letting the material be what it is was just such a nice contrast," Hoefle said.
Hoefle said Kahn took the lead in selecting what was needed for the piece they created. 
"I was completely overwhelmed by the sheer number of pieces. Eli went in and just started picking out pieces. He could see," Hoefle said.
Hoefle said this sculpture brought her "more of a reverence for the material than I've had in a really long time."
The presence of the R. D. Cole firm was one of the unique facets of Newnan in antebellum days. While the South was then largely agricultural, Newnan had some industry. Among the most prominent was "Cole Shop" which began in 1854.
At a time when nearly all Southern men earned part or all of their living from farming, the Cole firm offered manufacturing jobs. A souvenir booklet, published in conjunction with the company's 50th anniversary in 1904, stated the company started "business in a modest way."
R. D. Cole Sr., who began the company, had learned the trade of a carpenter and cabinet maker before moving to Newnan in 1849, according to the booklet. "He built a little wood shop in which he could work in rainy weather, but had no machinery, and everything was done by hand," according to the company history.
He made sashes and doors and entered into a partnership with Thomas Barnes in 1854. The following year, Matthew Cole, R. D. Cole's brother, bought Barnes' interest. Later, a nephew, W.T. Cole, became a partner and the firm became known as R.D. Cole and Company, according to the company booklet.
Family members remained involved with the company throughout its history. In 1884 R.D. Cole Manufacturing Company was organized as a stock company.
Woodwork was for years a major product of the company. Many of Newnan's Victorian dwellings contain woodwork made by Cole artisans. The company also built the 1904 Coweta County Courthouse.
Water tanks for industries and communities also became part of the scope of the company's work. The water tank in Moreland, demolished a few years ago, was a Cole product, and the lightpoles in downtown Newnan are replicas of a design by the Cole firm.
In her 1963 family history, "Carmichael Clan," Opal Phoenix wrote, "The R. D. Cole Manufacturing Company, Newnan, Ga., has contributed to the defense work in four wars. They have done foundry work, woodwork... making everything from coffins to large machines."
The company continued to operate into the 1970s. The headquarters building on East Broad Street later was used by Brown Steel and then by Caldwell Tanks.
Robert Hancock of the ArtRez board said Scott McIntire, operations manager for Caldwell Tanks, saved the R.D. Cole pieces before Caldwell shut down the local plant.
Saving the pieces was a good thing, in Hoefle's view. "That would have been such a loss" if they had been trashed, she said.
Kahn estimated there are about 3,000 pieces remaining and expressed hope more art projects will come from them.
"There are so many pieces," he said. "You'll be making sculptures out of these pieces for 100 years."