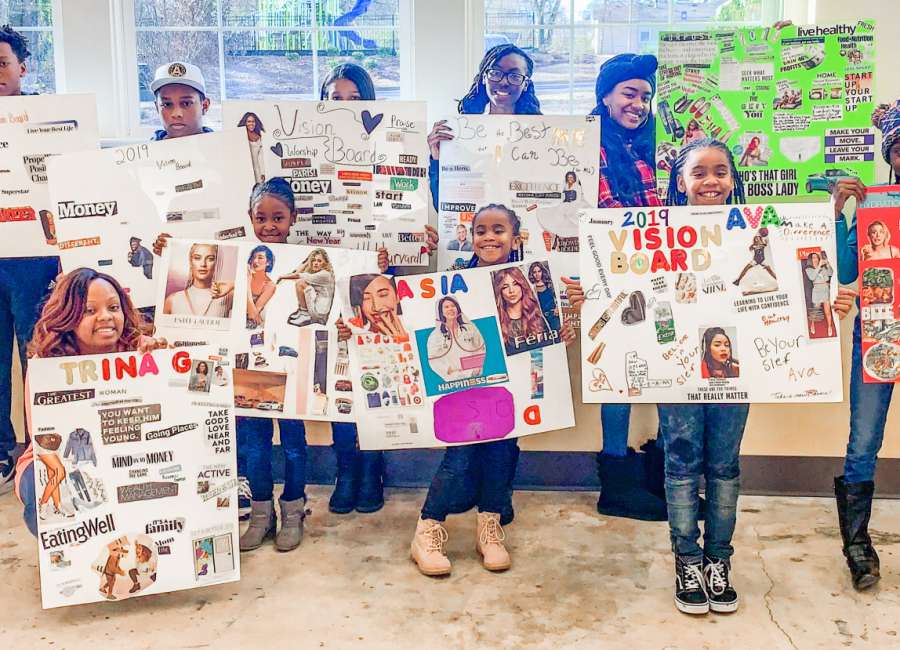 Edify Teens Ministries hosted its third annual Creating Our Own Vision event in admiration of Martin Luther King Jr. Day Monday.
The event was held at the Howard Warner Building Community Center in Newnan.
Edify Teens is a local mentoring organization dedicated to building young people to their full potential by empowering them to internalize and apply their creative nature within their daily lives, according to Trina Glenn, one of the facilitators of the event.
"This will produce a sense of character, integrity, self-worth, purity and purpose," Glenn said.
Glenn said the youths discussed King and his famous "I have a Dream" speech, which was given on August 28, 1963, in Washington D.C. The speech served as a springboard for discussion on how to set goals.
"Goal setting is an important life skill that is never too early to start developing," Glenn said. "Learning to set goals teaches children to take responsibility for themselves. They learn that their actions determine whether or not they fail or succeed."
In addition to discussing goal setting, they also created vision boards.
"A vision board is a visual representation of the things you want to accomplish or acquire," Glenn said. "People create vision boards to have a constant reminder of what they are working toward. A vision board is a great tool for teaching children about goal setting. Children can use vision boards to keep them motivated and focused as they work toward their goals."
To make a vision board, Glenn suggested cutting pictures and phrases out of magazines, printing images from websites, and including the children's own photos on the poster.
"Goal setting also builds self-confidence," Glenn said. "When children reach their goals, they learn to believe in their abilities and are more likely to set new goals for themselves in the future."
In 1983, Pres. Ronald Reagan signed a bill in the White House Rose Garden designating a federal holiday honoring Martin Luther King Jr. to be observed on the third Monday of January.
King, born in Atlanta in 1929, was the son of a Baptist minister. He received a doctorate degree in theology and in 1955 organized the first major protest of the civil rights movement – the successful Montgomery Bus Boycott.
King was Influenced by Mohandas Gandhi and advocated nonviolent civil disobedience to racial segregation.
The civil rights leader was assassinated in Memphis, Tenn., on April 4, 1968, at the Lorraine Motel. He was 39 years old.