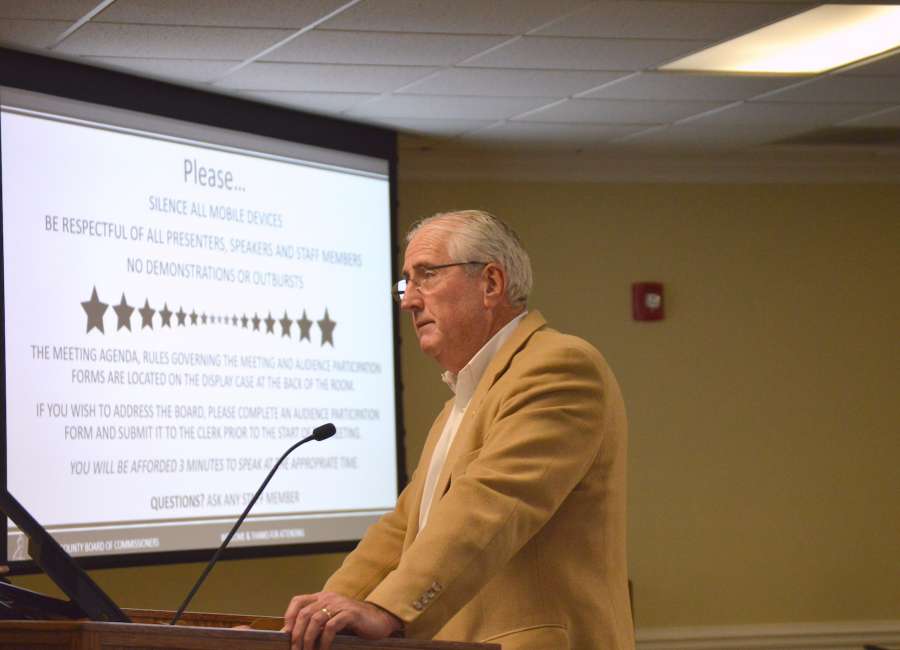 Coweta County Sheriff Mike Yeager will be retiring effective March 2.
Yeager, who was confirmed as U.S. Marshal for the Northern District of Georgia on Jan. 2, made his official retirement announcement to the Coweta County Board of Commissioners at the board's Tuesday meeting.
"I guess the cat's out of the bag," Yeager told the commissioners.
"That's an understatement," Commission Chairman Paul Poole said with a laugh.
"This retirement will be relatively short. As you are aware, I have accepted an appointment" as U.S. marshal, Yeager said.
Yeager has spent 31 years – half of his life – working for the Coweta County Sheriff's Office. Five years were as an investigator, and the rest as the elected sheriff.
Yeager said he's worked under 18 county commissioners, three county administrators and multiple department heads. "I've really enjoyed it," he said.
"I'd just like to tell the board that I have been blessed to serve the citizens of Coweta County and our great community for the past 31 years," he said. "It's been a tremendous honor and privilege to serve the county where I was born and raised and will always remain."
In the time since Yeager became sheriff in 1993, Coweta County has experienced huge growth "while still maintaining a peaceful and secure community to raise our families," he said. "When I think about the Coweta County Sheriff's Office and the changes we have undergone during my tenure, I am confident in who we are today and secure in the belief that we will be even better tomorrow. I think the foundation has been laid.
"It has been an honor to be a part of this law enforcement family as well as a part of this county family. The badge and the people who wear it will forever be in my heart, as will the county I love and call home," he said.
Yeager thanked the county and the residents for allowing him to do a job that he loves.
"I love it. I didn't go out looking for a new job. It kind of came to me," Yeager said. "Regardless, it's just kind of hard to tell the president of the United States, 'Nah, I don't think I'm interested.'"
Yeager said he thinks the appointment comes at a good time. "It's time to move on," he said. "We were always raised to leave it better than you found it. I feel that maybe I've left it better than I found it. I'll still be around and you can still call on me – I'll still have the same phone number."
Yeager shared a quote that he said he had recently shared with his staff. "A person is not loved by how tall they stand, but how often they bend to help, to comfort and to teach others."
As Yeager left the podium he received a standing ovation.
Chief Deputy Lenn Wood will serve as acting sheriff after Yeager's retirement. An election for sheriff will likely be held June 18.