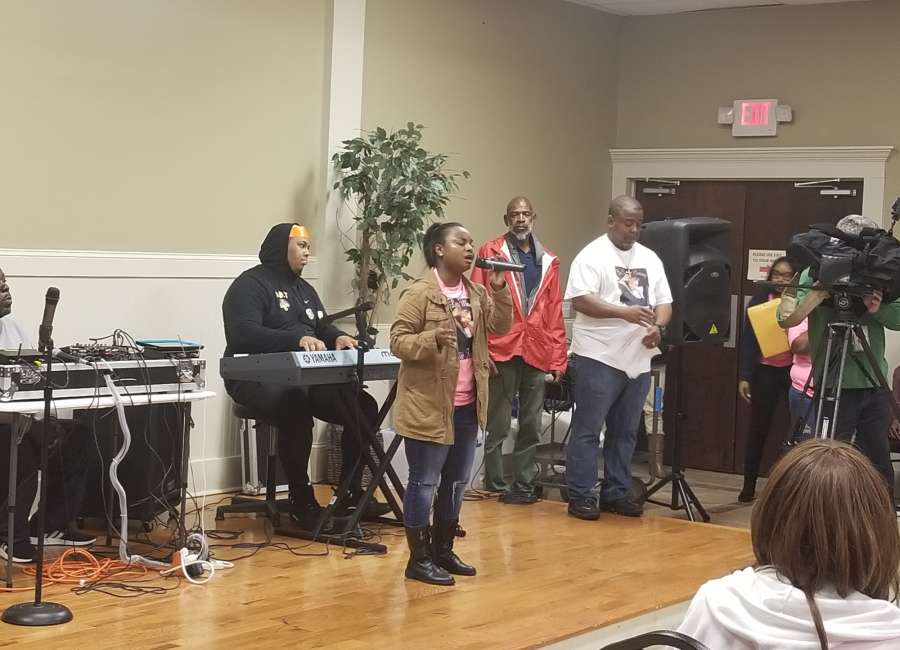 Love and forgiveness were themes of the vigil remembering Aubria "Bria" Foster, the 19-year-old Newnan woman killed in a drive-by shooting a week ago.

Friends remembered Foster as a feisty young woman. She was dedicated to a community praise dance group, was active at Faith International Christian Center and was an encourager to friends and family. Several people spoke of her vibrant smile.
"When she smiled, her face would light up," said Shandria Sanchez, who led a praise dance group in which Foster participated.
"If you knew her, you knew she had a bright smile. She was something special," said Ronnie Hill, who worked with Foster in the Faith International youth group for six years.
Hill was the main speaker for the evening. His message focused on the need for unity and love.
"We've got to go back to being about God's business. Newnan is too valuable," Hill said.
"We really did love Bria, even though she had a little attitude sometimes," her sister, Asia Braswell, said. 
Grace Neal, who worked with Foster at Wendy's, remembered her as a sweet person who would stand up for herself and for what she believed.
"She would always go up to bat for you. I'm thankful she was on my team," Neal said. "I will forever be on hers."
A group from the Soaring Into Destiny praise dancers lighted a candle in a jar featuring Foster's silhouette. The troupe was organized in 2010 and involves girls ages 5-14.
"We are honored and saddened to be here tonight," said Sanchez, who leads the group.
"When Bria would come into practice, sometimes she would have a sad look on her face," Sanchez remembered. Once the dancing began, Foster's face would light up. "She loved to praise dance for the Lord."
Sanchez spoke of Foster's dedication, noting Foster was always ready to dance and that she traveled as far as California sharing her talent.
Dr. Sarah Felix, pastor at Faith International, said Foster was "someone who was so different" and again referred to her smile.
"She encouraged me. She gave me a peace. It encouraged me to go on and do what God's called me to do," Felix said.
"Bria was a lot of things to a lot of people," Serenity Hill, Ronnie Hill's daughter, concluded.
The vigil – planned by members of Faith International – was originally to take place at Greenville Street Park. When rain set in, arrangements were made to hold it in the fellowship hall at St. Smyrna Baptist Church on Heery Road.
Every seat in the fellowship hall was taken, and people lined up along the walls. The crowd was estimated at about 350.
"The weather is not good, but we're thankful to see every face here," Ronnie Hill said.
Youth took part in the service. Destiny Bernard brought the opening prayer, and Destiny Reeves sang two inspirational songs. 
At the close of the vigil, the crowd moved into the north parking lot at St. Smyrna. Flames were passed from candle to candle.
"We thank God for her life," Ronnie Hill said. "We thank God for what she was to us."
As the crowd shouted, "Bria, Bria," 40 mylar balloons – 20 pink hearts and 20 white stars – were released. They floated upward and gradually disappeared into the inky darkness of the drizzling skies.
"Now we say to our beloved, fly with the angels and dance with the Lord," Sanchez said. "Bria, rest in peace."