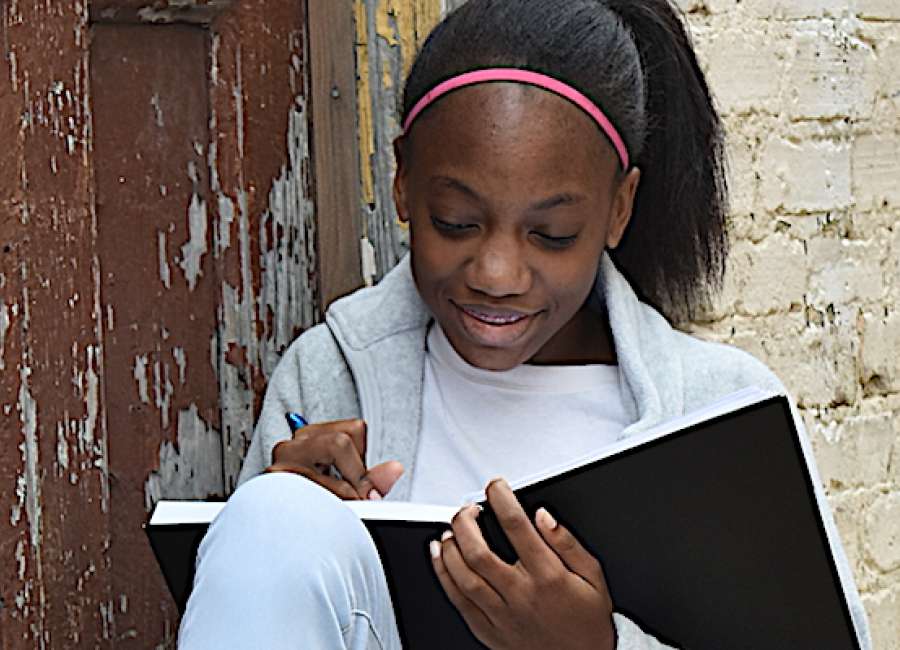 Aleah Smith has read her poetry aloud to a crowd of hundreds, but when it comes to writing it, she prefers to be by herself, sipping on a glass of iced water with a locked door between her and the rest of the world.

The eighth-grader has been filling pages with original poetry since she was in first grade, but Smith said she was surprised when – after reading her entry in Smokey Road Middle School's annual poetry contest during the school's Veterans Day program – she learned hers was the winning entry.
"When I first entered the contest, I was pretty sure not many people would read it because most people just don't seem to like to read much," Aleah said. "I thought I'd probably finish last. And I was kind of scared to read it in front the whole school because I knew my voice would be shaky."
Instead, Aleah was among four finalists in the contest, judged each year by members of the Coweta Veterans Club, who selected Smith's poem as the winning entry.
Unlike her daughter, Frances Smith said she was not at all surprised by the aspiring poet's accomplishment.
"She's always been a child that wanted to learn," Frances said. "She loves to read, and she loves to write. It's one of the things I love most about her."
For a child whose infancy was at times chaotic, that may be more of an accomplishment than winning a poetry contest. Frances and her husband, Henry, adopted Aleah two days before her first birthday, and Frances stressed that abuse and neglect were not an issue.
"She had a good mom, but her mom was just not ready for children," she said.
The Smiths are akin to rock stars in the local foster parent community, as they cared for more than 100 children during their time as foster parents. Aleah is the youngest of eight children the couple eventually adopted, and Frances said her daughter possesses both a good attitude and good work ethic.
"I feel like she'll go far," she said. "She's a happy child. She wants to be somebody, wants to do something. Some people don't put forth the effort to try and do or be something, but Aleah does."
But that doesn't mean she's perfect.
"She has a little bit of a smart mouth," Frances said, admitting that may be partly because of Aleah's childhood hero, Junie B. Jones. Frances said she bought Aleah the entire Junie B. book series, which features a sassy, spirited and sometimes troublesome little girl.
That series sparked Aleah's early interest in reading and writing, which she said was greatly helped along by teachers at Elm Street Elementary School.
"Ms. Winstead and Ms. Davis really encouraged me a lot when I was in first and second grade," Aleah said.
These days, her taste in reading material has expanded to non-fiction and horror.
"I love stories about people that inspire the world today," she said. "I still like reading funny stories, but I like scary stories too, especially Edgar Allan Poe. In fifth grade, we read 'My Annabelle Lee,' and then I read 'The Telltale Heart,' and that just made me start liking him more and more."
While she's inspired by what she reads, much of what Aleah writes comes from real life.
"When something happens, whether it's good or bad, I think about it and write about it," she said. "I write about what I see in the world."
A common theme is friends who are having a hard time fitting in, or who feel bad about themselves.
"Since middle school, I have written about that because when I hear other people are having a hard time, I want to think about them and write about them," she said. "I send them to my friends to cheer them up sometimes, and tell them encouraging stuff about themselves."
While she's willing to share most of her writing with others, Aleah keeps some things to herself.
"Sometimes I write poetry I don't let people see," she said.
Other times, she is so excited about her work that she annoys her friends, Aleah said.
"My friends get mad because I talk their ears off about my poems," she said. "Or because all of the sudden, I stop talking because I thought of something I wanted to write and I didn't want to forget it."
Aleah said she focuses on poetry because she "wasn't very good" at stories. Music holds an equally strong appeal, as she plays clarinet for the SRMS band and recently was selected for the state middle school honor band.
"I have a few poems on my computer about my music, about playing clarinet," she said. "I'd like to major in poetry in college, but I wouldn't want to quit band."
An honor roll student, Aleah said she never neglects her writing despite a busy academic and extracurricular schedule.
"When I write, I don't write every day," she said. "Sometimes if I think I haven't written enough one day, I write more the next day. I build up what I miss. When I go blank, I take a break. I write best when I have something to write about. I write bad poems sometimes when I don't have anything to write about. I write when I'm bored, even when I don't have any ideas, just to write."
Aleah said she hopes to see her poetry in print someday.
"I want to write at least a couple of books before I get old," she said.
Frances said she has no doubt that will happen someday.
"Aleah has always excelled at everything she put her mind to do," Frances said. "She never gives up on anything."