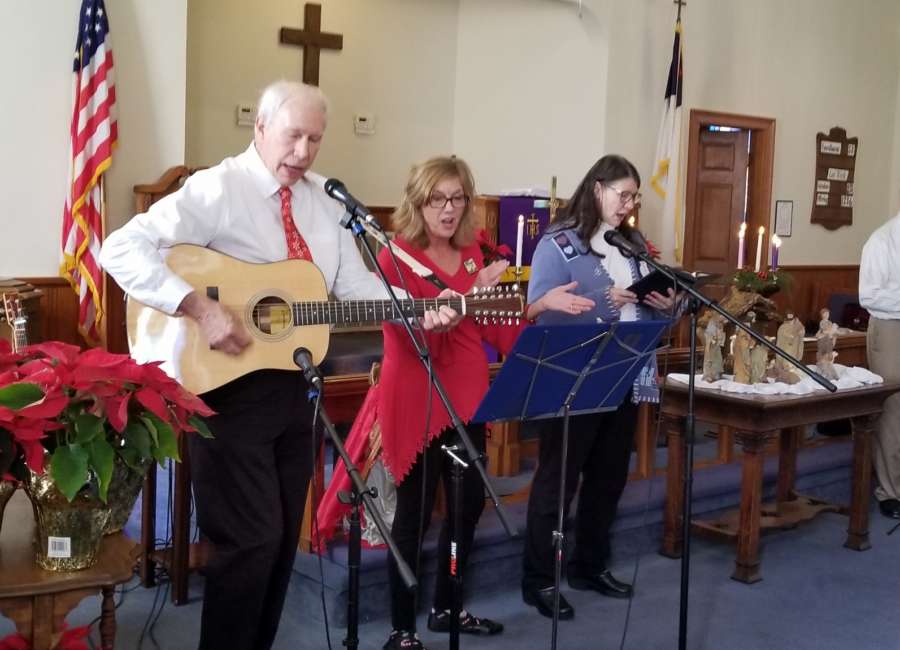 "The Simple Beauty of Christmas" tells the story of Jesus' birth with readings, songs and simple, acoustic music.

Karen Duckworth, Cliff Gillette and Michael McFarlin put the program together. McFarlin is the pastor of the church, and Duckworth and Gillette work – week to week – on music for Luthersville Methodist's services.
"God gave me this idea – scripture and carols – but to use the musical instruments that were simply beautiful and may have been more appropriate in the time Christ was born," Duckworth said.
She said that while first century Jewish musicians may not have had "an official guitar like we know or a violin," they did use simple acoustic instruments with strings. "We wanted to keep that beauty today to remind us of why we're here and Whose we are," Duckworth said.
Some of the readings were directly from the Bible, and others were reflections on the meaning of Christ's Nativity. Readers were Sue and Tom Adams, Marybeth Davenport, Ginger Hancock, Joan Henry and Sandra Brown.
The Dec. 23 program featured guitar and violin music, including an instrumental rendition of "What Child is This?" Duckworth and Gillette sang "The Gift."
Hymns that were included in the service were "Joy to the World," "It Came Upon the Midnight Clear," "O Little Town of Bethlehem," "Silent Night," "Angels We Have Heard on High" and "Go Tell It on the Mountain."
The service also included an Advent candle lighting and readings by Chris and Teresa Bryan.