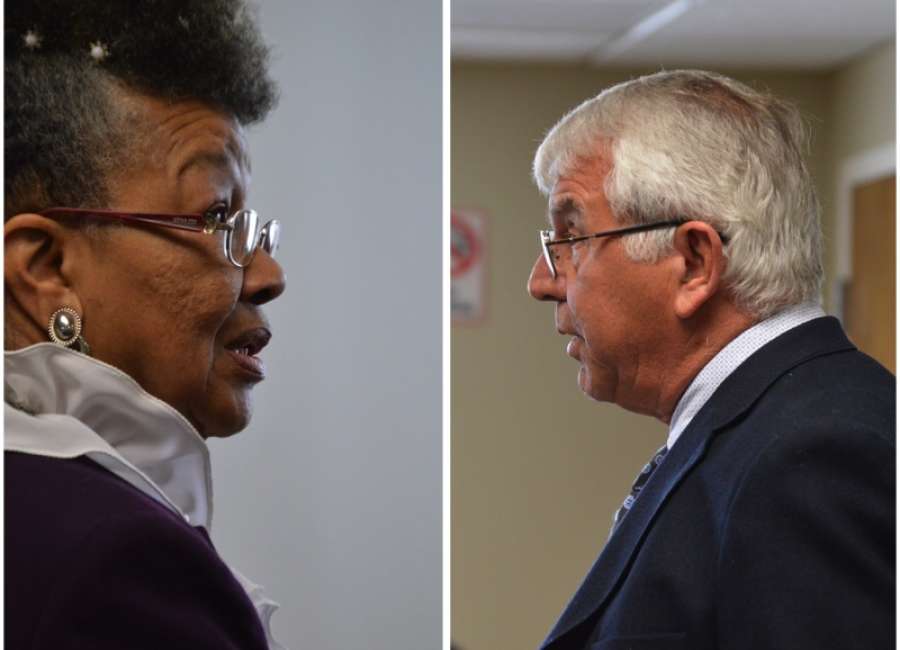 This article has been updated for accuracy. 

Grantville Councilman Jim Sells survived a residency challenge Thursday, after the Coweta Board of Elections and Registration voted unanimously that Sells is qualified to remain on the voter list for the city of Grantville.
It's the second residency challenge Sells has faced. In 2011, after he was elected mayor, he was challenged by fellow mayoral candidate Doug Jewell.
After he won a seat on the Grantville City Council by one vote in November, Sells' residency in Grantville was challenged by Dee Berry, who came in third place in the race.
Berry said after the hearing that she intends to appeal the decision to Coweta County Superior Court.
Sells' wife lives in Peachtree City, and the Peachtree City home is listed as Sells' address on property tax documents and his pilot's license. Sells' Grantville residence is an apartment over his property management company office on U.S. 29.
A hearing was held before the board Thursday, overseen by Assistant County Attorney Nathan Lee.
Berry presented several documents that listed Sells' address as Peachtree City, including tax documents showing that Sells and his wife, Lisa, had a homestead exemption on the property in Peachtree City.
Under state law, Berry said, an address where someone has a homestead exemption "shall be deemed the person's residence address."
Though Sells had a homestead exemption on the Peachtree City home at the time Berry filed her residency challenge, he no longer does.
Sells said he changed his residence to Grantville in 2009 or early 2010. When he decided to run for mayor, he said he looked into coming off the homestead exemption, but his attorney said he would have to come off the deed to do so. And coming off the deed would cause the mortgage to default, he said.
"Once we paid off the mortgage, I did come off the exemption," Sells said at Thursday's hearing.
Tax records show Jim and Lisa Sells as having the exemption from 2001 to 2018. Sells said he came off the exemption in 2018. His name is still on the property deed.
"Twenty-eighteen goes to Dec. 31. The tax bills come out prior to that," Sells said.
Sells addressed why he and his wife have two different residences, though he said they are happily married. When they married, Sells was living in Turin. After a while, he said, his wife wanted to move to a more developed area, as she was tired to having to drive 12 miles to the grocery store and restaurants, so they built a home in Peachtree City.
Lisa Sells works in Washington, D.C., he said.
"She said, 'Look, I just don't have enough time off to be living in the country and doing all this driving,'" Sells said. "And it all made sense."
Sells said as a pilot for Delta, he had a good bit of free time and began buying up rental homes in the mid-2000s.
"That's when I discovered Grantville. I fell in love with Grantville," he said.
Sells said his mother then moved to Grantville and lived there for the last 10 years of her life. His sister has lived in Grantville, as have two of his children, though they have since moved. Two of his foster children also have lived in Grantville, and one works for him.
Sells said he owns more than 100 houses in Grantville. His important documents go to his Peachtree City addresses so that they don't get mixed up with the mail for his property management company, he told the board.
Several times during the hearing, attorney Lee had to admonish Berry to ask present facts, not argue law, and to stop asking questions that had already been answered. He also told her to stop bringing up the 2011 residency hearing, as it was not relevant to the current challenge.
The only thing the board could decide was whether or not Sells was eligible to be a registered voter – also known as an "elector" – in Grantville, at the time of Thursday's hearing.
The burden of proof is on the person making the challenge, said Board Chairman Ralph Presley. Board member Randy Wahoske made a motion that Berry had not proven that Sells is not a resident of Grantville.
The vote was 4-0. Board member Natasha Werner was not in attendance at the hearing.