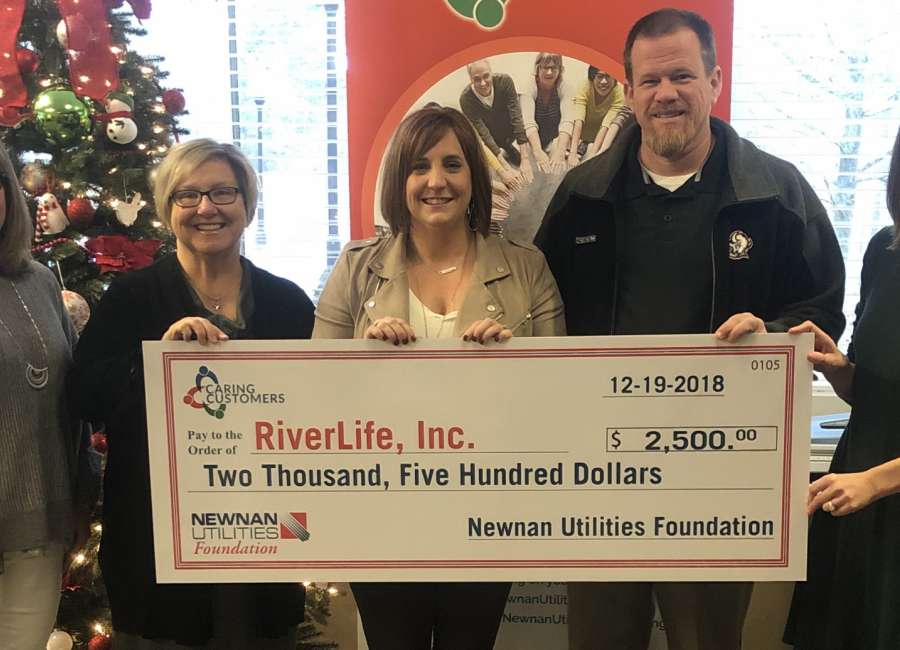 River Life, a local ministry that brings people together to help others, has gotten its first grant.

River Life is among the groups receiving grants from the Newnan Utilities Foundation. "This is very exciting for us," said Melanie Reeves, who with her husband, Bill, heads River Life.
According to River Life's website, the ministry's goal is "to help individuals and groups grow deep in faith through spiritual retreats and reach wide in service to others through local missions."
The organization has sponsored several community work days – gathering volunteers from throughout the community and sending them to work at homes or other sites where there are needs.
"Our volunteer groups typically fund service projects they choose to do for people in need of home repair," Reeves said.
Larger projects usually end up on a waiting list – waiting six to nine months until a sponsor to fund the project can be found. 
"We currently have three families waiting for wheelchair ramps. The largest ramp is 32 feet and will cost approximately $1,000. This grant will help us provide these ramps," Reeves said.
The Newnan Utilities' Caring Customers Initiative announced the grant to River Life and three other groups – Angel's House, the Cobra Foundation and Meals on Wheels .
The Newnan Utilities Foundation is a 501(c)(3) nonprofit organization, and the Caring Customers initiative is a program of this foundation. The Caring Customers program allows Newnan Utilities customers to contribute through their monthly bills to help others in the community.
The mission of the foundation and Caring Customers is to support charitable causes that improve the quality of life for the citizens within the communities served by Newnan Utilities.
On Dec. 19, a $2,500 check was presented to Angel's House. Angel's House's mission is to provide a safe and secure environment for teenage girls who are experiencing social and emotional difficulties and to provide a safe home for children in our community.
There also was a $2,500 check to the Cobra Foundation, which develops after school and summer activities designed around physical fitness, education and community for at-risk youth and young adults.
Meals on Wheels will use its $2,500 in its ongoing effort to provide meals to homebound elder adults who are ill or disabled and unable to prepare meals for themselves.
"Our customers are passionate about community and believe in a hands-on approach to making our community a better place to live, work and play," said Joni Scarbrough, administrative services manager at Newnan Utilities and program director of Caring Customers. "Through Caring Customers, all Newnan Utilities customers can
partner with Newnan Utilities in deliberate, charitable giving."
Scarbrough said all the money collected through the Caring Customers initiative goes to local, qualifying nonprofit organizations. Donations are determined through quarterly comprised of Newnan Utilities customers, employees and members of the board of the Newnan Utilities Foundation.
"Together, we help our neighbors," Scarbrough said.
"We are so grateful to Newnan Utilities and the Caring Customers Program for this opportunity," Reeves said.