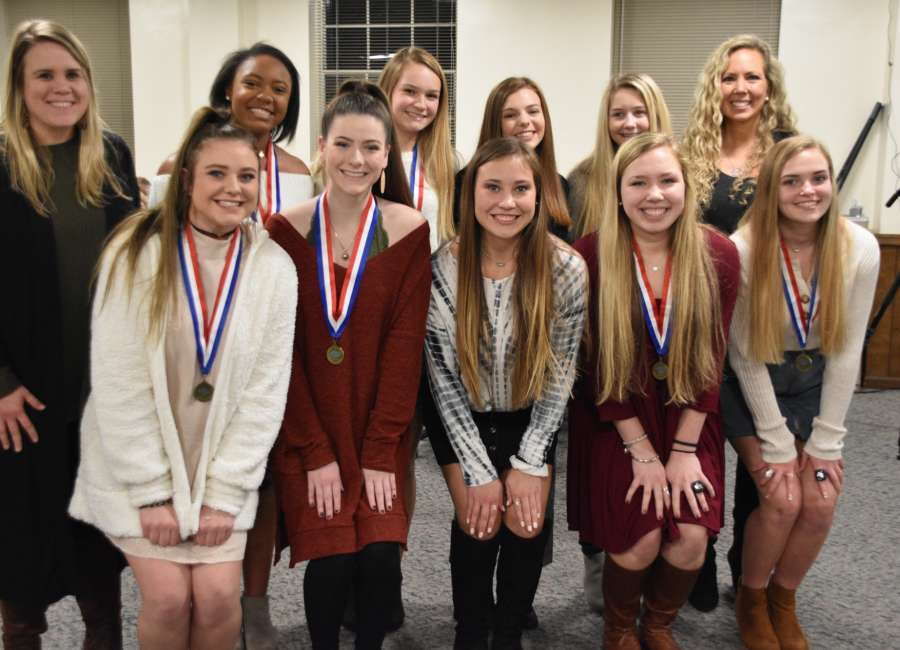 The Coweta County Board of Education has become accustomed to seeing recognitions for the Northgate High School Viking cheerleaders on its meeting agendas.

Board members recognized Coach Sarah Frazier and her athletes – again – at their Tuesday meeting, congratulating them on Northgate's fourth consecutive state championship. Vikings cheerleaders have won nine state championships in the past 11 years.
"It's gotten to be a regular event to be able to present this team and a state recognition for them to the board of education," said Dean Jackson, the school system's public information officer, who introduced the group during the meeting.
Principal Ken Kesselring drew laughs when he said college football dynasties pale in comparison to Northgate's cheerleading dynasty, and he praised the dedication of the student-athletes to their athletics and academics.
"They are not only great athletes but outstanding students who excel in AP classes, honors classes and gifted classes," he said. "These young ladies go far and above what you imagine can be done."
Frazier has coached at Northgate for 16 years, winning state championships in 2007, 2008, 2009, 2010, 2011, 2015, 2016, 2017 and, 2018. She spoke about unique challenges faced by teams with multiple championships – specifically, about their unpopularity.
"A lot of times in sports, you hear people talking about the teams that they want to root against," she said. "You may hear them say they don't care who wins, as long as they beat that team, or 'I'm just tired of that team winning.' But I don't think people understand how hard it is to win or continue winning until you've been that team."
And the 2018 season seemed to hold more physical obstacles than usual, according to Frazier.
"We had seniors quit right before choreography this year," she said. "We had injuries. We had to put athletes in positions that they had never done before. We had illnesses throughout the season. (A state title) is not something that is just a given."
But those challenges gave her team the opportunity once again to rise to the occasion and claim the latest 6-A championship against the odds, Frazier said.
"These girls work extremely hard for what they get," Frazier said. "Facing all the challenges that they do, year after year, I think they've proven why they are worthy of the title – both mentally and physically – of state champion."
Senior team members include Kennedie Dooley, Kasey Stanley, Brielle Geres, Anna Estes and Maddie Merritt. Geres, Stanley and Estes have won state all four years of their high school careers.
"That is a huge accomplishment," Frazier said.
The Vikings were represented at the board meeting by Dooley and Stanley, along with teammates Reese Sevigny, Callie Frazier, Jordan Tilley, Journey Willis, Kylee Roach, Reese Cook and Coach Cali Greiner. Several team members were unable to attend the meeting because they are involved in other athletics or all-star teams, Frazier said. They included Geres, Estes, Brooke Jordan, Avery Longmeyer, Hannah Putnam, Katey Lemberg and Merritt.
"Thank you for inviting us here to recognize the girls," Frazier told board members. "And thank you to my administration and cheer parents who support me in doing what I love to do."