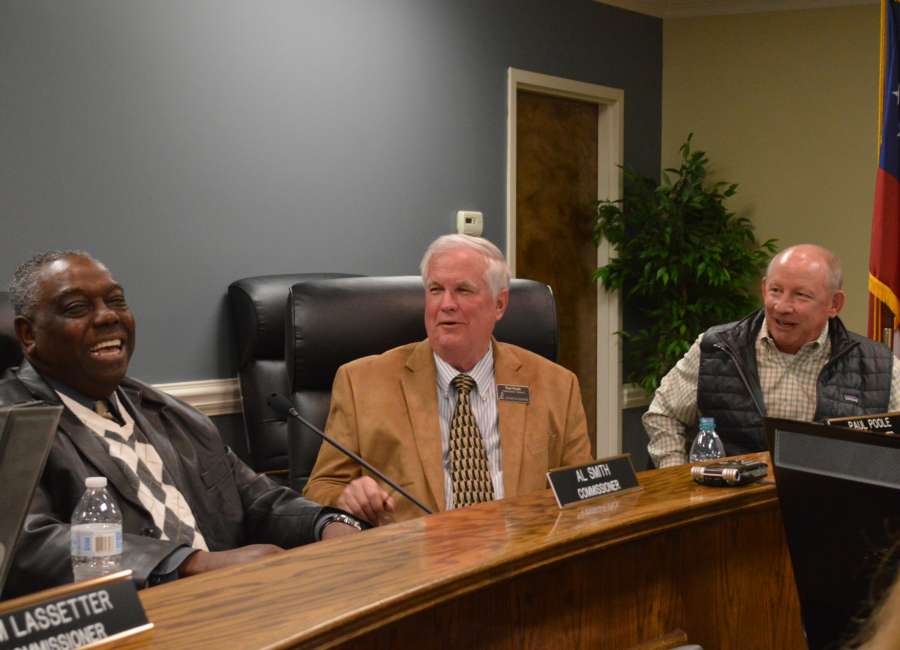 Paul Poole is the new chairman of the Coweta County Board of Commissioners.
Poole was voted chairman for the next two years at the first commission meeting of 2019, held Tuesday. He takes over from Al Smith, who served as chairman for 2017 and 2018.
"We want to thank you for everything you've done," Poole told Smith as he awarded him an honorary chairman's gavel. "The sacrifices you and your family have made, the time it takes to be chairman and all the commitments you have to make," Poole said. He thanked Smith for the time away from his business and family, and also for his prayers at the start of each meeting. "They have meant a lot to all of us," he said. "It's been an honor."
"It's a job well done," said Commissioner Tim Lassetter.
Commission chairmen sometimes have to deal with some heated issues and tense situations, Poole said. "Al, you handled that so well. It's in your nature and you did a great job."
Smith, who was elected to the commission in 2008, said he learned from four previous chairmen and had a lot of help from staff. County attorneys Jerry Ann Conner and Nathan Lee "have been a godsend," he said.
"I couldn't have done it by myself. I never think I'm doing anything on my own," Smith said. "If you ever see a turtle on a fence post – you know somebody put him up there," he said. "It's been a pleasure and an honor serving."
The commissioners voted to name Rodney Brooks as vice chairman.
Poole made several appointments for the start of the year, including re-appointing Shannon Zerangue as county clerk and Glover and Davis as the county's law firm. He also appointed commissioners to various committees and boards.
Lassetter was re-appointed to the Three Rivers Regional Commission and workforce investment board and reappointed as the county's representative to the National Association of Counties.
Lassetter asked that another commissioner be named to serve on Three Rivers and the workforce board. The meetings are now held at 2 p.m., he said, and with his job, "it's been very difficult and I have not been able to attend to many of the meetings." He's served on those boards for several years but with the current schedule, "I think we would be better served if someone else does it."
Poole asked if the other two commissioners present, Smith and Bob Blackburn, were interested in serving, and the appointment will be made at a later date.