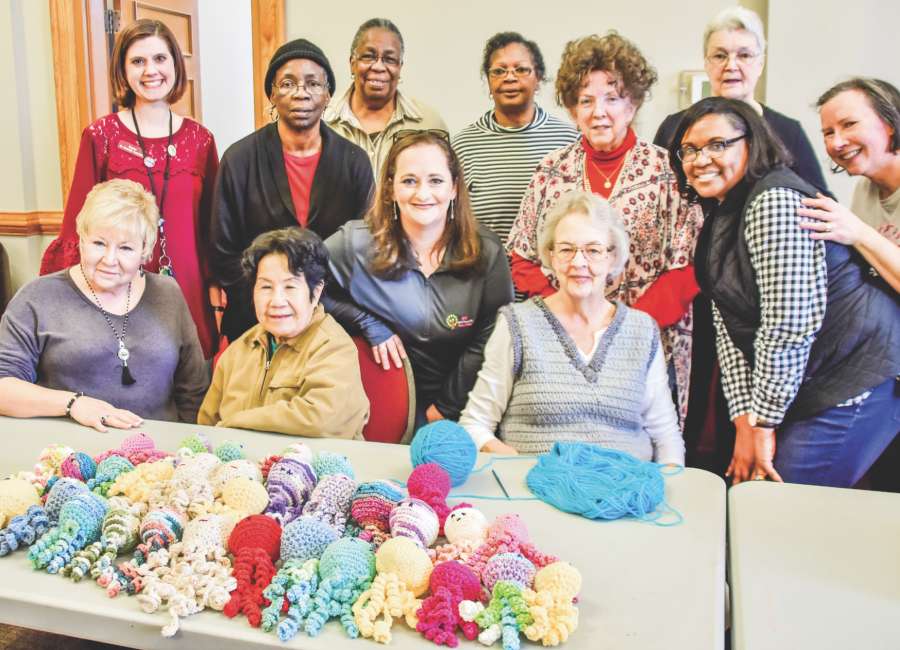 One local group is finding a way of bringing comfort to premature babies through the use of a tiny, handmade octopus.
At the Newnan Carnegie Library, Judy Davenport's crochet class helped create 37 of the knitted octopi for the neonatal unit at Piedmont Newnan.
According to Carolyn Harrison, president of the NICU parent club at Piedmont Newnan, the crocheted cephalopods can actually help smaller babies grow and thrive.
"The tentacles give the babies something to pick at instead of pulling their tubes," Harrison said. "They're also just the right size and weight where they feel secure."
Hospitals from around the world have also adopted the practice of partnering the tiny octopi with premature babies.
The origin of the cuddly octopi can be traced back to Denmark, where a father requested a crocheted octopus for his daughter at Aarhus University Hospital.
Since 2013, the Danish Octo Project has distributed the octopi to neonatal units in Denmark, and to other countries around the world.
A study from the Poole Hospital in Dorset, England found neonatal babies partnered with the octopi were linked to better health and well-being. It is thought the tentacles remind babies of the umbilical cord and being in their mother's womb, making them feel safer, Harrison said.
Danish researchers found the octopi also facilitated better breathing and more regular heartbeats, as well as higher levels of oxygen in premature babies' blood.
As the parent of a micro-preemie, Harrison started the neonatal parent's club as a way to give back to parents who are also managing life with a premature baby.
"So often, parents are overshadowed when you're talking about premature babies," Harrison said. "This is a way to provide support for parents and let them know people are here for them."
Ashley Maxwell, director of women's services at Piedmont Newnan, said the hospital is grateful for the generous donations from the NICU Parent Club, whose members also provide support to parents even after their babies go home.
"The isolate cover blankets block light while the octopi help comfort the critically ill and premature babies in our level 3 NICU," Maxwell said. "The partnership we have with them helps families in our community through their NICU experience and we are appreciative of the time they donate to this cause."
Davenport's "Crochet at the Carnegie" group has also spread its talents throughout the community through prayer shawls, blankets for the homeless and prayer cloths for police.
Her crochet group meets every Monday upstairs at the Carnegie. For more information about the NICU Parent Club, contact Harrison at nicuparentclub@gmail.com or call direct at 770-855-6635