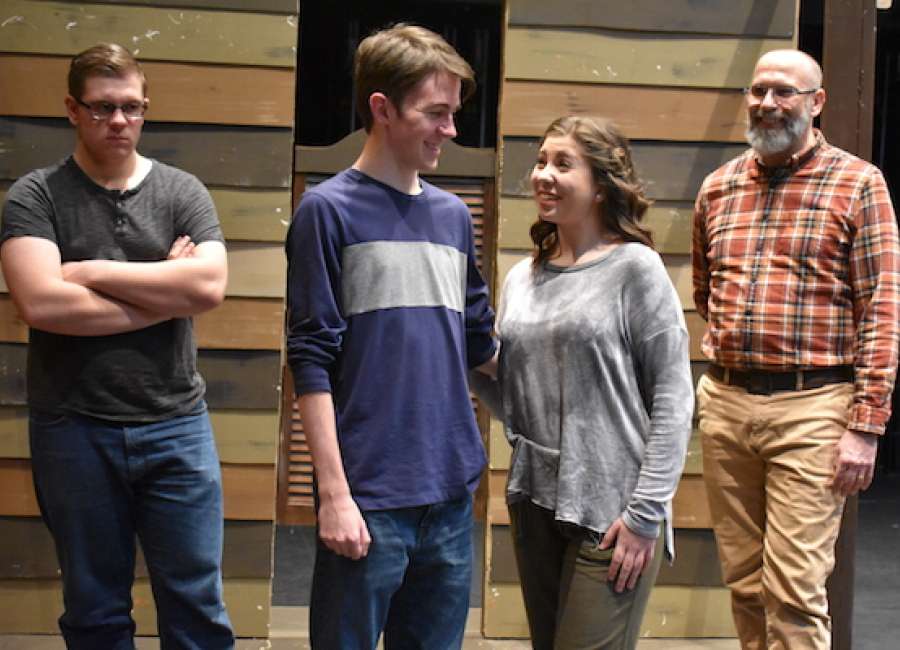 The townspeople of hot, dry, quiet Deadrock, Nev., are about to find themselves right smack in the middle of a crazy situation.

Northgate High School will present "Crazy for You," the classic musical about a boy, a girl and a theater in need of salvation, on Friday, Saturday and Monday at the Nixon Centre for the Arts.
Stage-struck Bobby Child (Tristan Scott) works as a banker for his overbearing mother, but spends his off hours practicing dance routines and sneaking in to audition for Zangler's Follies, the most popular show in New York City.
When Bobby's mother demands that he investigate a far-away customer who has defaulted on a mortgage, Bobby jumps at the chance to get out of town. Arriving in hot, quiet Deadrock, Bobby falls for Polly Baker (Sammy Morrison), the sweet and sturdy postmistress, whose father happens to own the beautiful but decaying Gaiety Theater – which Bobby has been sent to seize.
Now lovestruck, Bobby comes up with a plan: call in his friends, the Follies Girls, all the way from New York City, cast the locals – a bunch of rundown cowboys with latent musical talent – and put on a show to save the old building.
"Crazy For You," which features George and Ira Gershwin tunes the audience will recognize, is an homage to the beloved, optimistic musicals of the 1930s. It's a world of showgirls and cowboys in which a city boy and a country girl reconcile their differences, fall in love, and save a theater… the old-fashioned way.
It's also a show that features an enthusiastic young cast.
"What appeals most to me about this show is how real it is," said Morrison, a senior. "I love being able to relate to a character and put my genuine emotions into a song or a scene. When it comes to the audience, I want them to feel the range of Polly's sentiments toward Bobby Child, Bela Zangler, and everyone else in Deadrock. I hope they take away that happy endings do exist."
Reed said playing ill-tempered saloon owner Lank Hawkins is a departure for him.
"This character is much different than what I am used to playing," said Reed, whose inspiration for his portrayal is Little Joe from "Bonanza." "I grew up watching 'Bonanza' with my dad, and – after reading the script – I felt that Lank and Little Joe had a lot in common. They are both quick to draw, quick-witted and quite the ladies man."
While entertaining the audience is Reed's main goal, the Northgate senior admits the show entertains him as well.
"I love how the wild west meets the big apple in a crazy mixture of tap dancing and bar fights," he said.
Sophomore Claire Wathen plays Irene Roth, Bobby's high-society fiance. She said the show appeals to her because of its wit and detail, but that she's had to step out of her comfort zone to play a character so different from herself.
"I draw inspiration for this show from the other members of the cast and the individual creativity they bring to the story," Wathen said. "The cast is also one of the main reasons I love theater. Every show has a unique set of people who form a unique bond that can't be broken. Seeing a vision fully realized on a stage is truly magic, and I can't wait to help bring another story to life in 'Crazy for You.'"
Performances are Jan. 25-26 and Jan. 28 at 7 p.m. at the Nixon Centre for the Arts. Tickets are $12 and available at the door.