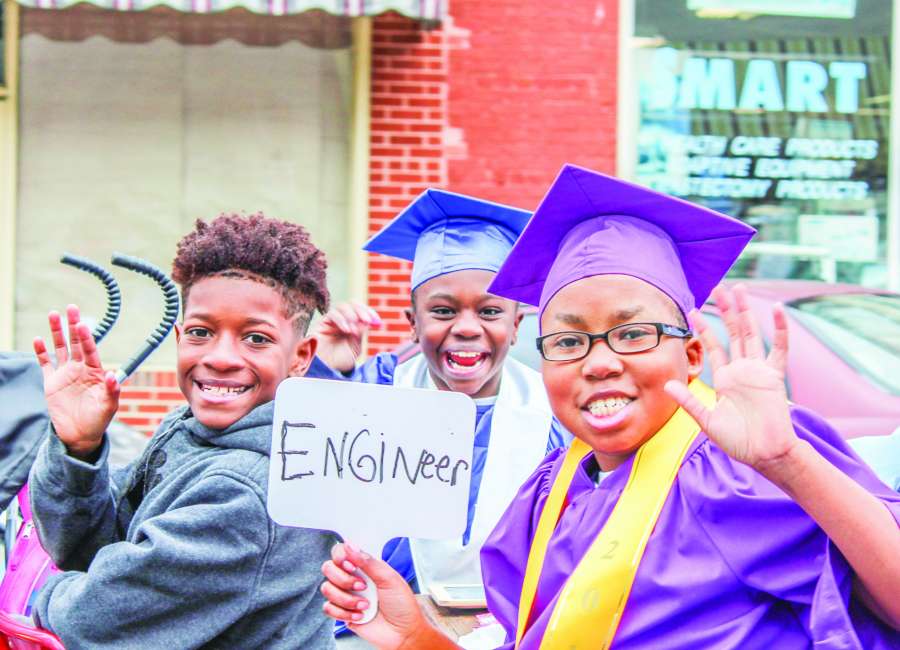 Under cloudy skies, the annual Martin Luther King Jr. Day Parade marched through downtown Newnan.
The theme for this year's parade was, "Honoring the Dream through Love, Education and Service."
FOR A GALLERY OF IMAGES FROM THE PARADE, CLICK HERE
According to Margaret Thompson, a member of the Order of the Eastern Star, which sponsors the parade, the event has been held for 32 years.
Cars, trucks, floats and many motorcycles made up the 250-person parade.
Ida B. Johnson, retired director of the Tommy Thompson Senior Center, was this year's grand marshal.
"We do it to support our community," Spear said. "We and our kids and grandkids should be able to continue his legacy."
Spear said he's been part of the parade for more than 15 years.
"We've done the Martin Luther King Parade every year for the last 19 years," said Andrea Austin, who participated along with Girl Scout Troop 505. "It's a way to respect our heritage."
The Girl Scout Troop's car was decorated with a purple ribbon and a sign congratulating one of their members who will be graduating high school in the spring.
"She's our only senior and she's graduating from East Coweta with honors," Austin said.
"We participate every year because we believe in the dream of Martin Luther King and because we believe in unity and righteousness and truth," Jeanie Wilburn said.
Wilburn participated in the parade with her church, Bethel Heard Baptist Church.
"We still believe in the dream, that it still works, and have to keep it going," said Anthony Melson, Pastor of BHBC. "And we need our children to know."
In keeping with the "Honoring the Dream through Love, Education and Service" theme, BHBC's float featured kids dressed up as teachers, service members, doctors and police officers.
Dr. Pearl Presley said this is the first year she's participated in the parade.
"We want to honor a man who did so much for our country," she said.
Bethlehem Baptist Church built a float showing a scene of Martin Luther King Jr.'s last speech.
It featured mannequins seated in a row making up members of the of the audience, as well as Dr. King standing at a podium.
The church's float was awarded first place by judges.
Susan Reed, a member of the church, said they participate to celebrate Dr. King and "what he's done for us and to praise his legacy."