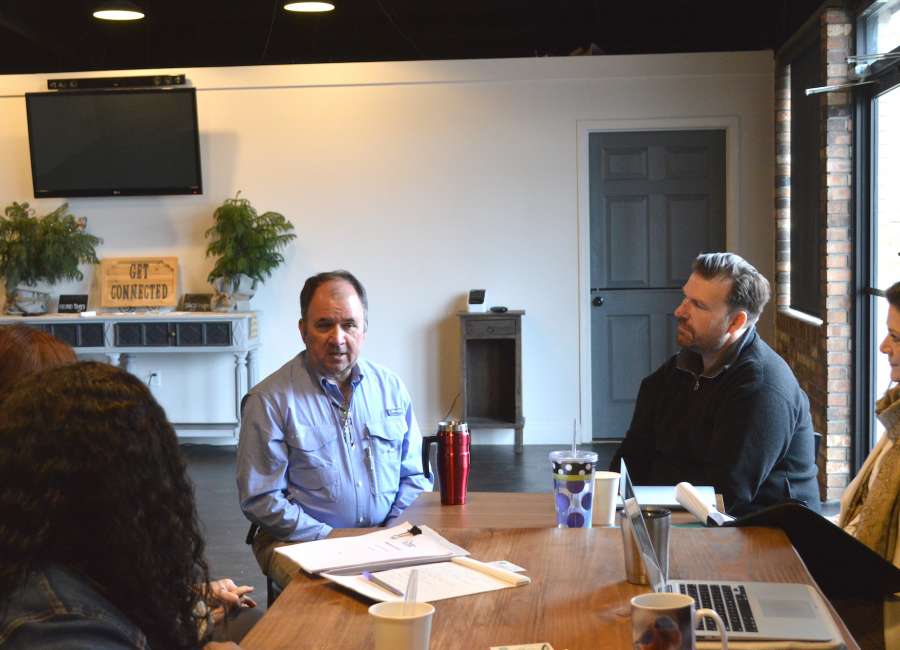 A group of Cowetans working on establishing a "warming center" recently met with a representative of the LaGrange Warming Center.

Warming centers open when temperatures drop below a certain level, and they provide homeless people with a temporary, heated shelter. The LaGrange Center opens when nighttime temperatures hit 37 degrees or below.
Warming shelters are for overnight stay only, Wilson told the group. The shelter opens at 5 p.m. and closes at 8 a.m.
During the planning phase, Wilson said LaGrange organizers found if they operated as a temporary warming center, they would not need a license from the city or the state.
"If they stayed a 24-hour period, we were a day shelter or full-time homeless shelter," Wilson said.
Wilson talked to local organizers about potential buy-in from law enforcement, churches and other parts of the community. He said the LaGrange Warming Center was an outgrowth of the law enforcement community in LaGrange.
"They brought it to the table and said we should form a committee," Wilson said.
Several years ago, the weather dropped to around 18 degrees and remained there about a week, Wilson said.
"People were on the street and under bridges, and the police were not really having a place to put them," he said.
People who were recovering from drug addictions and women who were victims of domestic violence had options for shelter during that period, Wilson said. "But there were no places to go if you were just down on your luck," he said.
In response, a warming center opened up in an old fire station in LaGrange. The next year, the center moved to an old school, but the location was closed down after the fire marshal declared it unsafe.
So the LaGrange group set up the center at Wilson's job, New Ventures. Located in an industrial area, New Ventures trains disabled citizens to enter the workforce.
One room at New Ventures became a dedicated warming center. Another building was used for awhile, too, but too many people remained out in the cold.
A committee was formed, and members decided to make New Ventures the warming center's permanent home. Wilson said the city contributed $12,000 and the Callaway Foundation put in $10,000 for renovations. The county provided inmate labor to do the construction work.
Sleeping quarters are on either side of the New Ventures break room, where people can eat, watch television and relax. There are showers and bathrooms. The warming center holds 75 people under normal conditions, but in case of a natural disaster, it can hold up to 150, he said.
Meals take a lot of planning, according to Wilson, with a lot of rules and guidelines for meals that are prepared on-site. The first year, churches that had commercial kitchens prepared meals.
It was difficult to gauge how much food was needed on any given day, Wilson said. When there was too much food, there were storage issues. Too little food meant people went hungry.
Organizers began using microwave meals and bought a freezer. Now, they keep shelf-stable meals that can be heated up by individuals in the microwave for dinner, and cereal bars are available for breakfast.
Those are items that people who want to support the center can easily buy and drop off, Wilson said.
The group is still working on how to handle the food issue, according to Frankie Hardin of One Roof Outreach in Newnan.
"We don't know how many people are out there. We don't know how many people would come," said Jimmy Ellison, pastor of Newnan City Church.
Craig Buchanan of Bridging the Gap asked how many homeless people are in Troup County. Wilson said based on Georgia Department of Community Affairs, it's around 100.
"It can go either way. If industry goes away, you see some become homeless because they're out of work," Wilson said. "If you've got industry coming in, people are coming. They're homeless and are trying to get work."
With the Kia plant and recent opening of Great Wolf Lodge, there has a little bit of influx, he added.
In July 2017, Action Ministries, an arm of the United Methodist Church, worked with the Troup County Homeless Coalition to house 23 chronically homeless family units. The organization has about a 90 percent success rate keeping chronically homeless people in permanent housing, Wilson said.
Wilson said they opened the shelter starting at 40 degrees, but nobody utilized the facility.
"It would have to get into the mid-20s before people came," he said.
Wilson said homeless people seem to want to stay put at the higher temperatures because it's easier.
"If everything you own is in a tent or tarp, you've got to pack up everything," he said.
Eventually, the LaGrange group decided to open the warming center only when the forecast temperature is 37 degrees or lower.
They use one forecasting agency and put out notice five days in advance. Wilson calls the 911 center on days the center will be open to make sure law enforcement and public safety officials know they can bring people to the center that night.
"At 37, we'll have five people. Then, this week – when it was down in the 20s – we had 16," Wilson said.
The warming center is staffed by three shifts. The early shift comes in at 4 p.m. to set up. The evening shift comes in at 7 p.m. to help get people fed, and at 9:30 the overnight shift comes in.
The LaGrange Housing Authority has a bus system that can transport people to the warming center and take them back to their original locations the next morning. Several churches in LaGrange operate soup kitchens at lunchtime, and some provide homeless people a warm place to hang out during the day.
"We you have to put somebody out in the 15-degree weather, it can be kind of heartbreaking," Wilson said.
Wilson said there have been very few problems with safety or security. The sheriff's office made the center one of its zones, and the police department parked an old, unused patrol vehicle in the parking lot as a dummy car.
Sometimes law enforcement agencies come through and do warrant checks, he said. The police department installed a camera outside of the building, and New Ventures has security cameras inside.
Ellison suggested having someone from Action Ministries come to Coweta and make a presentation.
The Coweta group has cots, blankets and a potential location, and organizers had originally planned to open by Feb. 1. But there are still issues to work out, including making sure the center is in compliance with the city of Newnan's rules.
But even if the center doesn't open this winter, the group can put policies together so things are ready for next winter, Ellison said.
The local group will meet again in two weeks and plans to have representatives from local law enforcement agencies – as well as the new Coweta Cares partnership between Coweta Fire Rescue and Pathways – at the next meeting.