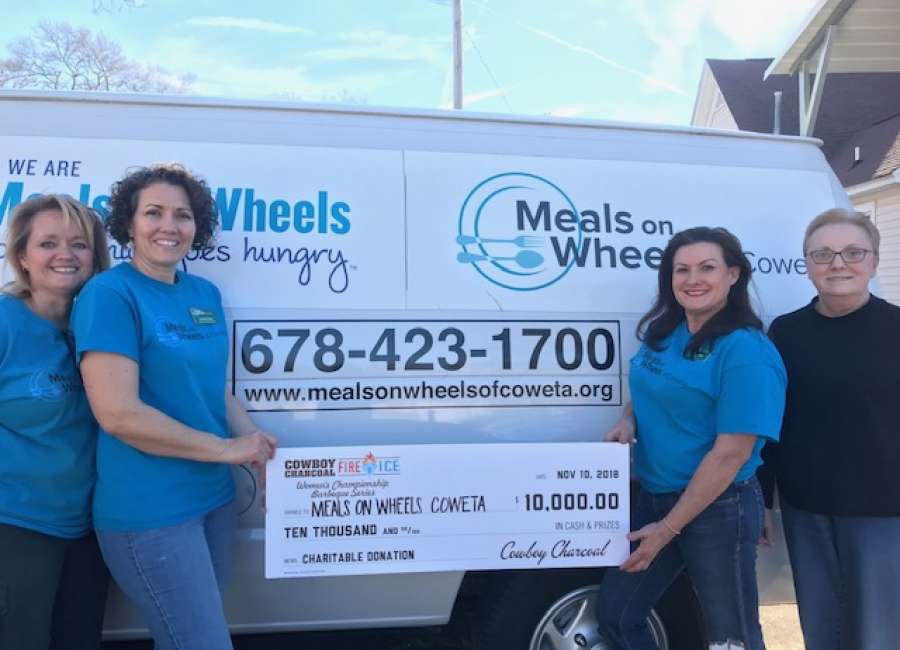 A local pitmaster and chef recently won a $10,000 donation for Meals on Wheels of Coweta County at the Cowboy Fire & Ice Women's Championship Barbeque Series.
"It's just like playing ball," Tina Cannon said of her category of the World Food Championships. "There are different divisions, and each division has different rules and meats that are used."
For several years, Cannon has competed in Cowboy Fire & Ice on her annual circuit of about 18 food competitions.
Cannon said she regularly travels across Georgia, Alabama and Tennessee with a mobile kitchen for competitions.
"It's like a food truck," she said. 
Near the end of 2009, Cannon discovered a television show called "Pitmasters." She said around the same time a storm came through and damaged the roof of her home.
Cannon made food for the crew repairing the roof. 
"The superintendent came by and tasted the barbecue and said he liked it to my husband," Cannon said. "And my husband said, 'She cooked it.'"
The superintendent – still convinced her husband had cooked the meat – said a friend of his was sponsoring a contest in Lake Martin, Ala., and that Cannon's husband should compete. 
Instead, "I went and I won," she said.
After the first win, Cannon continued competing.
"I was cooking in the amateur division, and when you win so many times the peer pressure gets pretty hard to go pro – especially when you're a chick doing it," she said.
A producer for the food competition TV show "American Grilled" saw Cannon at a competition and called her afterwards to see if she was interested in being on the show.
"He was like, 'Wow, a chick!' and wanted to know if I'd be interested," she said. "I won that show, too."
Cannon recently signed on to the third season of "Bama-Q," a reality cooking show on Destination America. She said producers wanted to show a woman as a pitmaster in the show.
"That's what got me, since not many do this," she said.
Cannon now has a barn filled with trophies from various wins at competitions. She said she won awards in more than 100 categories throughout her career as a competitive pitmaster.
When Cannon isn't competing, she works as the chef for the Meals on Wheels of Coweta County, cooking at least 750 meals per week for delivery to elderly and disabled people.
"I do all the cooking," she said. "I think they were shocked when I donated the money to them. I haven't been there that long."
About 600 teams from all over the world competed at the World Food Championships, said Cannon. To be eligible for the competition, pitmasters earn points throughout the year by winning or placing in other competitions.
Out of all the competitors, Cannon had the most points going into the WFC.
Cannon said she won the competition by "cooking a cut of meat called spinalis cap of ribeye. It's just now coming to restaurant menus."
The victory earned Cannon $10,000 for herself and $10,000 for a charity of her choice, which was Meals on Wheels in Coweta County.
"I do this because it helps a lot of people," she said. "It helps feed the people that need it."