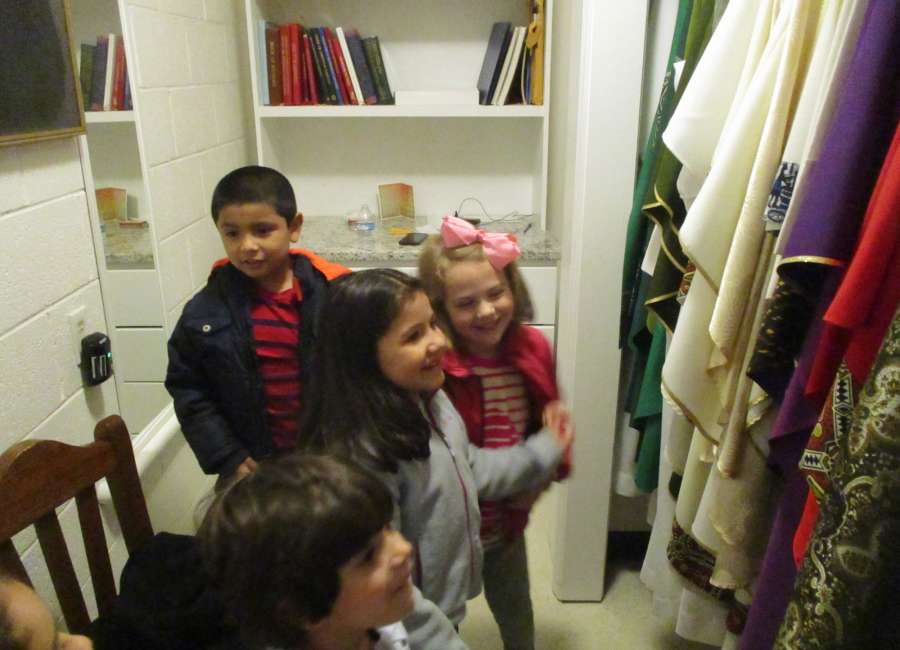 In liturgical churches, vestments and paraments change colors during the course of the year.

Children at one local church recently learned about the colors, what they mean and why the colors change in different seasons. The kindergarten Sunday school class at St. George Catholic Church went on a field trip to understand the changes in the church's liturgical year.
The best place to view the colors was a trip to the closet of Father Henry Atem. Some of the children were surprised to see all of the robes worn by the priest. They were even more surprised when Atem showed up to explain the colors.
In the Roman Rite, the liturgical year begins with Advent, the time of preparation for both the celebration of Jesus' birth, and his expected second coming at the end of time. The 40-day season ends on Christmas Eve.
The Catholic Liturgical Calendar consists of a cycle of liturgical seasons that determine when feast days and other holy days are observed, and which Scripture and Gospel readings are used at Mass. Many other denominations – such as Episcopalians, Lutherans and Methodists – also use a liturgical calendar.
Aside from the readings, the liturgical calendar also determines the interior decoration of a church, including the paraments – cloth pieces that often are placed on the altar and the Bible.
The priest's vestment colors, the timing of spiritual seasons and practices such as Lent are also part of the cycle.
The meaning of the colors is:
•Purple is the color of penance preparation and is used during Advent and Lent.
•Red is the color of sacrifice and is used during Passion Sunday, Good Friday, Pentecost and the feasts of the apostles and the martyrs.
•Rose/pink are the colors of anticipation and are used on the third Sunday in Advent and the fourth Sunday during Lent.
•Green is the color of hope, life and growth. Green is used most of the year and is often referred to as the color of "Ordinary Time."
•White and gold are the colors of joy and purity and are used during Easter and Christmas seasons and feasts of the Blessed Mother, angels and saints who were not martyred.