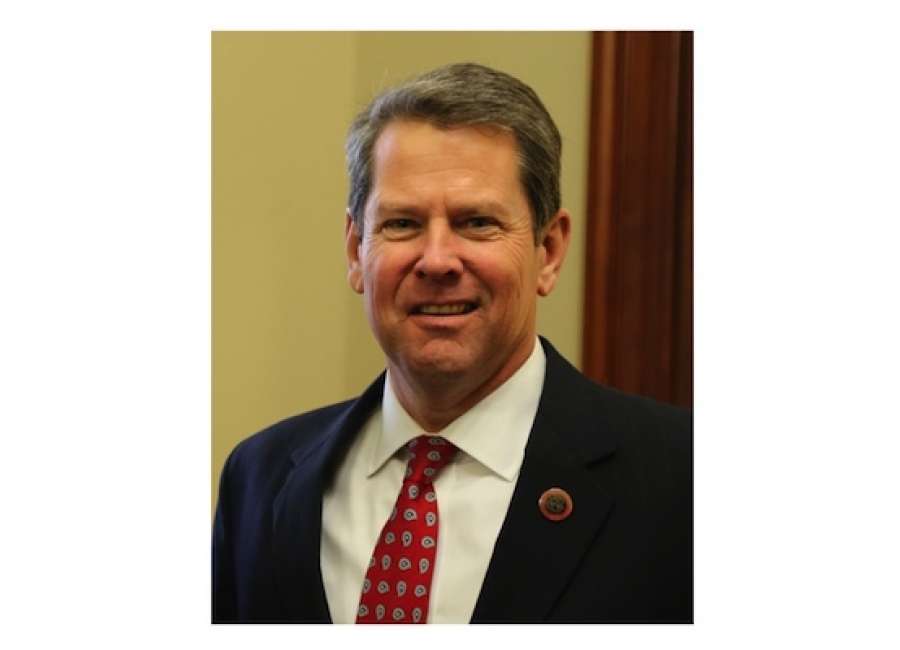 Brian Kemp pledged he will "fight for all Georgians – not just the ones that voted for me" during his inaugural speech Monday, earning a standing ovation.
Kemp, and Georgia's constitutional officers, were sworn in during a ceremony held at Georgia Tech's McCamish Pavilion.
Members of the Georgia General Assembly were on hand, and State Rep. Bob Trammell, D-Luthersville, who serves as House Minority Leader, was part of Kemp's escort.
Georgia's governor's race between Kemp, who served as secretary of state and is white, and former State. Rep. Stacey Abrams, who is black, was fiercely contested, tumultuous, controversial and razor close, but Kemp pledged to "put people ahead of divisive politics."
"We will be known as a state united. It can be done," Kemp said.
Kemp's inaugural event appeared to be designed to reach out to black Georgians.
"It is a great time to be a Georgian, but we didn't get here alone. Many went before us and charted the course," Kemp said, before listing names of several famous Georgians – nearly all of them African American. He started with Dr. Martin Luther King Jr. and had to pause for applause. He also cited Supreme Court Justice Clarence Thomas, Hank Aaron, Herschel Walker, Ray Charles and Otis Redding.
Following his speech, the Danny Dawson Band, fronted by African American Danny Dawson, performed "Georgia On My Mind," and the benediction was by African American pastor Rochard White.
Kemp's speech focused on another great Georgian he listed – football coach Billy Henderson. Henderson came to Athens when Kemp was 12 to coach football at Clarke Central High School. Kemp spoke of traveling with the team and carrying around a tub of bubblegum for the coach, who chewed it on and off the field.
Coach Henderson realized that the football players weren't "a team," Kemp said. The school had only recently been integrated and it was still divided along racial lines, he said.
One summer, "Coach took the team to football camp on Jekyll Island. They came back as brothers," Kemp said. "He rebuilt a program, but more important, he rebuilt a community."
Georgia remains divided in many ways – metro vs. rural, black vs. white, Republican vs. Democrat, Kemp said. And elections "can simply rip us apart."
"But after visiting all of Georgia's 159 counties,  I call tell you this: we have so much in common," Kemp said.
Kemp pledged to spur job creation by cutting taxes and red tape, to fully fund education, to stand with the state's farmers and "protect the values we hold dear."
Kemp said as governor, he will work to address the infrastructure problems in metro Atlanta and bring high-speed internet and jobs to rural Georgia. He said he will partner with the legislature to ensure that "families have access to affordable healthcare and a quality education no matter your zip code," and that he will keep our schools and streets safe.
Kemp will give his State of the State address and present his budget priorities to the Georgia General Assembly on Thursday.