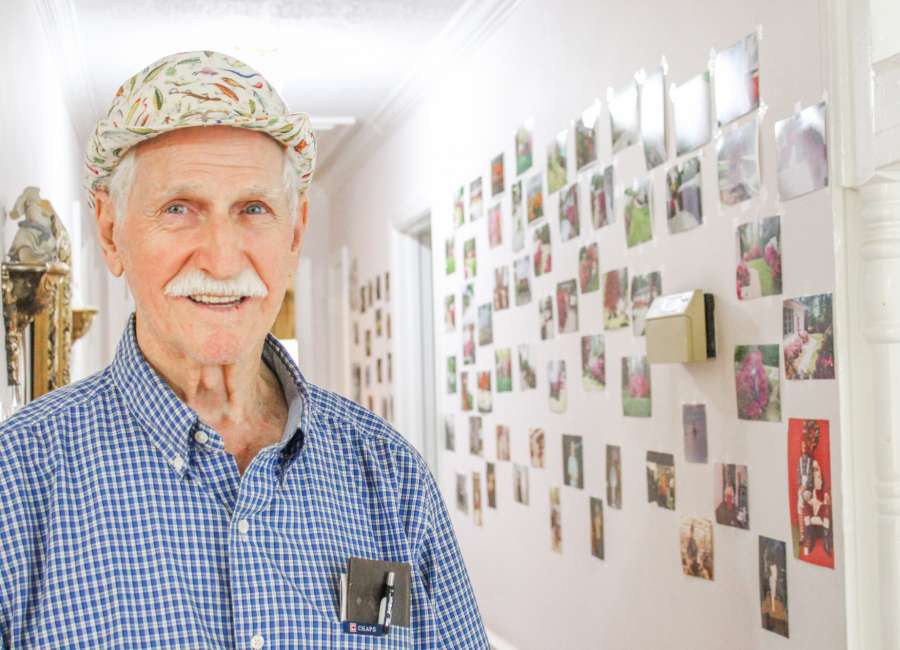 By JEFFREY CULLEN-DEAN - jeffrey@newnan.com
When Nathan Brooks returned home from his wife's funeral, he taped photos of her across the walls of the kitchen, bathroom, hallway and bedroom of their home.
"We had the funeral, and I came home that night with nothing but myself," he said. "I didn't know what to do with myself, just me in this house."
While he sat alone, Brooks said it dawned on him how many pictures he had of himself and his wife, Vertie Brooks, together.
"I put all the pictures up, and it was a pleasure doing it," he said. "If you love your wife and you lose her, you can't hardly let her go."
Nathan pulled four photographs of his late wife from the front chest pocket of his shirt.
"I don't let her get far from me," he said. "She was the best thing to happen in my life."
In the 1980s, Nathan worked for Electrolux, a home appliance company, selling vacuums. He didn't live in Newnan at the time but did canvass in the area.
"My boss actually came and sold Vertie a vacuum cleaner," Brooks said.
Nathan's boss passed him a note with Vertie's phone number while the two of them were eating breakfast.
"He said, 'I want you to call this girl. I think you'd like her,'" Nathan said. "That's the way it started."
Nathan called four months later when he was in the area.
"We had a date the following Saturday night, and that was the best day of my life," he said. "It was like we were hatched out of the same shell."
The photos of Vertie aren't organized in any particular order, though a few clusters of photos are collected by color and content.
One group of photos features Vertie underneath a tree outside of the house with yellow-orange leaves. Nathan said she planted the tree more than 40 years ago.
A second set of pictures shows Vertie with pink flowers she planted.
A third group consists of Vertie in various costumes over several years.
Nathan said he put most of the photos up the first night he was alone in the house.
"Imagine if it was just me without these. It'd be horrible," he said. "It's horrible anyway."
Nathan moved to Newnan in 1988 and opened his store, Brooks Vacuum Shop, which he owned until 2011. Three days after opening the store, he and Vertie were married. It was a second marriage for both of them.
Vertie worked at Playtex until 1999 when it closed. "Then she worked at the shop with me," Nathan said.
On a wall opposite of 20 pictures hangs a blouse with multi-colored flowers in a black frame. Nathan said he liked it when she wore the blouse – though to her it was just another shirt.
"I told her, 'If anything happens to you, I'm going to frame it,'" he said.
Near the end of her life, Vertie suffered from dementia. Nathan said it developed over the course of five years.
"This thing was shutting her organs down," he said. "It destroys the mind. She forgot her daughter and son a time or two, but she never forgot me."
The inside of the house is still decorated from Christmas 2017. Nathan said when Vertie wasn't well she wanted to keep the decorations out. After she passed away, Nathan left them out, too.
Nathan said he took care of Vertie as long as he could, until one morning when he noticed she wasn't eating.
He made breakfast for her every day but "this particular Friday, she wouldn't eat," he said. "That evening I called her daughter. It just snuck up on me. I didn't expect it. That day it just shut her down."
Vertie's daughter and Nathan decided to take Vertie to the hospital.
"They came out to pick her up and she said, 'I don't want to go.' But we had to do something," Nathan said. "It was the most painful experience I've experienced."
Vertie was put in the hospital, then she was moved to rehab for 20 days.
"But it was downhill all the way," he said. "She said, 'I'm not sick. Why am I over here? I want to go home.' But I couldn't bring her home cause I couldn't take care of her."
According to Nathan, because the dementia was affecting Vertie's mind, she didn't know what was wrong with her.
Eventually, Nathan decided to bring her home, where she died a few days later.
"I didn't realize she was old," Nathan said. "She was a quiet and gentle spirit."
Since Nathan put the pictures up, Vertie's son won't go inside the house.
"Her son, he can't take it. It's too much on him," Nathan said. "He came through one time reluctantly. It's too painful for him."
Nathan said he doesn't plan on taking the pictures down as they help him with the loss of his wife.
"I can't bear the thought of getting rid of them," Nathan said. "It makes the pain a little easier."