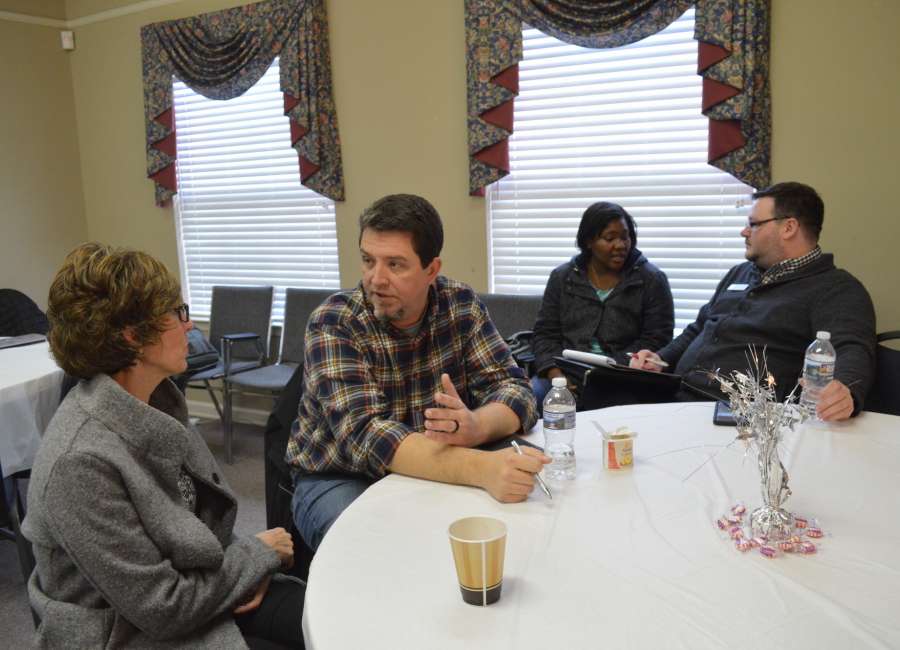 Representatives from local nonprofit organizations will be hitting the streets next Tuesday morning to count Coweta's homeless population, and they'll probably be taking some food trucks with them.
Plans were discussed for the Salvation Army Canteen truck and the Peach State Health Plan food truck to serve breakfast that morning to local homeless people who may be participating in the count. Counting teams will also have care packages of some sort to hand out to those who are counted.
Details of the count were discussed Tuesday at a training meeting hosted by Coweta County Family Connection. Isaac Davis of the Georgia Department of Community Affairs taught those in attendance how to use the "Counting Us" app that DCA is using for the 2019 "point in time count."
Homeless counts will be taking place all around the state next week, and the data is based on whether someone was homeless the night of Jan. 28.
The app gives counters the ability to do a survey count, where homeless people are asked a series of questions, or an "unsheltered observation tally," for situations in which the counter doesn't want to approach the person, the person is asleep, or the person doesn't want to answer questions.
The project is on an abbreviated schedule because it was only discovered last week that, for data on Coweta's homeless population to qualify for most government grants, the count must be taken during the official statewide counting date.
Though the count is based on where someone slept Jan. 28, there is an entire week to do the actual count, Davis told the group. When someone comes into a service organization during that week, they can be asked where they slept on the 28th.
Counters should go out in teams and have identification badges, Davis said. Davis said that in Clayton County, there was one shift that went out from 4 a.m. to 8 a.m. to count, and another shift from 8 a.m. to noon.
The general consensus at Tuesday's meeting was that the count would be done in the morning, but after sunrise.
Over the next few days, organizations will start putting their teams together and mapping out areas where they will count. Volunteers will be contacting local law enforcement agencies, as well as the Division of Family and Children's Services to get ideas of where homeless people might be staying.
Most of the organizations at Tuesday's meeting are based in Newnan, and there was discussion of needing to make sure to count homeless people in other areas of Coweta, including the Grantville and Senoia areas.
Carol Prince-Breissinger of Coweta County Family Connection and Pam Gabel of the American Red Cross will be the co-coordinators of the count.
The count is of those who are "unsheltered," which means living in a tent or camp, living on the streets or under a bridge, in a car, or in a building that is not meant for or fit for human habitation.
Service organizations will also send in their data of people who are being sheltered in motels paid for by organizations.
There was some discussion of where counters could find people who are sleeping in their cars, and other locations where homeless people might spend time at night, such as businesses that are open 24 hours.
Organizations that work with needy Cowetans are welcome to participate in the count, either by interviewing people they interact with next week, or working with a team to go out and count. Individuals who are interested in volunteering can also contact organizers for more information.
"The more the merrier," Prince-Breissinger said.
For more information, contact Prince-Breissigner at CowetaFC@gmail.com or 770-480-3258 or Gabel at pam.gabel@redcross.org .