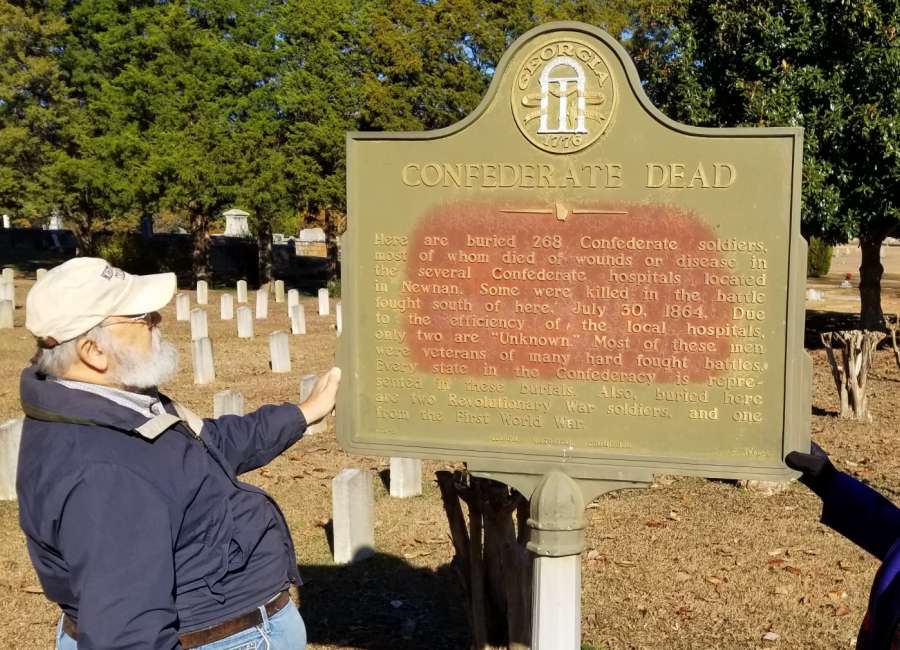 A new year has begun, but all around us are reminders of Coweta County's history.

The county is dotted with historical markers – metal signs and engraved stones that point out certain events from the county's past. There also are plenty of other spots that could – and probably will have – markers in the future.
You can visit all the county's current markers in a day. For the purposes of this tour, there are no purely memorial plaques on the list, and no grave markers, which each tell their own piece of history.
The markers include one placed by and about a living person, one in a traffic island surrounded by bustling roads and one that is factually incorrect.
Starting at the Coweta County Courthouse on the east side, we will start at the southeast corner and walk around the courthouse clockwise.
1) The Battle of Brown's Mill. The state marker tells of a major Confederate victory late in the Civil War. Brig. Gen. E.M. McCook with 3,600 federal troops began a raid to destroy railroads south of Atlanta in July 1864. McCook's troops were routed by 1,400 Confederates led by Maj. Gen. Joseph Wheeler on July 30. The actions of Wheeler's troops played a role in preserving the many antebellum homes still standing in Newnan.
Byron H. Mathews, a Newnan attorney and judge, studied the Battle of Brown's Mill – and the campaign of which it was a part. He published a 1976 book, "The McCook Stoneman Raid."
Wheeler temporarily had his headquarters at Buena Vista on LaGrange Street, now the home of Mike and Leah Sumner.
2) Confederate Hospitals. Probably an even larger factor than Gen. Wheeler in preserving Newnan's earliest homes was the fact that Newnan was a hospital town from 1862-1865. There were seven hospitals, including one in a hotel, Coweta House, and another in one of the College Temple buildings that has earlier been used as a women's college. Only one downtown church, the Methodist meetinghouse, remained open as the others were used for hospitals. Large tents were erected around the courthouse, where the wounded were tended, and other military invalids received care in local homes.
The Coweta County Genealogical Society has published "Patients and Staff of CSA Hospitals, Newnan, Georgia 1863-1864" using actual records from the hospitals.
3) General Daniel Newnan. To see this plaque, you have to step up onto the porch of the courthouse. Daniel Newnan fought against the Seminoles in Florida during the War of 1812. He also served as major general of the Georgia Militia and as Georgia's secretary of state. Newnan was elected to one term in Congress.
The first county seat of Pike County and a city in Florida were both named for Newnan, but both disappeared long ago. Coweta's Newnan was named for him, and Chief William McIntosh named one of his sons Daniel Newnan McIntosh.
This plaque was placed by the Sarah Dickinson Chapter, DAR in 1925.
4) Coweta County. Coweta was formed from lands ceded by the Creek Indians to the state. The county was named for Chief William McIntosh, the mixed-race chief who signed the Treaty of Indian Springs that opened western Georgia to settlement. He was chief of the Coweta Towns in the Creek nation. A county on the coast was already named for a member of his father's family.
The state marker lists the first county officers in 1827. John F. Beavers, the first clerk of superior court, has descendants with the surname Beavers living in Coweta County today.
5) William Yates Atkinson. Coweta County has sent two men to the Georgia governorship. Both were progressive Democrats. The first was William Yates Atkinson, a Meriwether County native, who began practicing law in Newnan in the 1870s. He was elected to the Georgia General Assembly in 1886 and became the speaker in 1892. He was governor from 1894-1898, championing prison reform, opposing lynching and hiring the state's first salaried female employee.
He is remembered for his role in founding Georgia Normal and Industrial College in Milledgeville. Initially a school for women, the institution is now co-ed and renamed Georgia College and State University. Atkinson's wife, Susan Cobb Milton Atkinson, worked with her husband to promote the idea of a college for women in the Peach State.
After he left office, Atkinson returned to Newnan where he tried to dissuade the mob who lynched Sam Hose north of town in 1899. Atkinson suffered illness and surgery and died at 44. Susan Atkinson remained in Newnan, running the family insurance agency and serving as Newnan's postmaster. She is also said to be the first Newnan woman to drive her own car, a red Maxwell. Their great-great-granddaughter, Lou Anne Connell, lives in Newnan today.
6) Ellis Gibbs Arnall. There are many Newnanites who remember when Gov. Arnall lived in town, attended Central Baptist Church and popped in at downtown businesses. Born on Wesley Street in what is now the home of Leslie and Carol Toole, he graduated from the University of the South and the University of Georgia School of Law before following Atkinson's example by opening a Newnan law practice and serving in the legislature. 
Arnall became Georgia's attorney general at 31 and was only 36 when he became – at that time – the nation's youngest sitting governor. He reformed education, got a new Georgia Constitution passed, reformed the state's prisons and successfully pushed to lower the voting age to 18.
Arnall never held elective office again, though he ran for governor in 1966. He founded an Atlanta law firm and his clients included Walt Disney. It is said the plans for Disney's purchase of the Florida property that became Disney World took place at the Arnall home on Jackson Street, now the residence of Rhodes Shell. 
7) Joe M. Jackson and 9) Stephen W. Pless. These matching markers on the west side of the court square honor the two Newnan men who received the Medal of Honor. Both were recognized for daring rescues piloting aircraft during the Vietnam War. They received the medal in the same ceremony in the final days of Lyndon Johnson's White House tenure. 
Pless was killed in a motorcycle accident in 1969. Jackson, who now lives in Washington state, has visited Newnan several times in recent years for patriotic ceremonies. The Jackson-Pless National Guard Armory is named in their honor, and their images are captured in bronze in a sculpture at Veterans Memorial Plaza on Jackson Street.
8) William Thomas Overby. This large granite tribute to William Thomas Overby – located between the Medal of Honor markers – was placed by two United Daughters of the Confederacy chapters in 1956. Overby grew up on a Coweta County plantation – more on that later. His military service is chronicled on the marker, as are the circumstances surrounding his execution in 1864 when, captured by federal troops in Virginia, he refused to tell the whereabouts of his comrades. For his actions, he was called "the Nathan Hale of the Confederacy."
He was buried on a Virginia farm, but his remains were returned to Coweta County and placed in a wooden casket appropriate to the Civil War era. The coffin was placed in the central hallway of the Coweta County Courthouse before a horse-drawn caisson transported the remains to Oak Hill Cemetery for reinterment in January 1997.
10) Chief William McIntosh. A rock with a metal marker, placed by the Sarah Dickinson Chapter, Daughters of the American Revolution in 1915, is the oldest historical marker on the courthouse grounds. The marker notes his services as a guide for Gen. Andrew Jackson during the War of 1812 and his signing of the Treaty of Indian Springs. Creeks opposed to the treaty attacked and killed McIntosh at his home at McIntosh Reserve on the Chattahoochee in 1825. 
McIntosh is a divisive figure to many. Some scholars see him as having done a good thing for the Creeks by facing the inevitability of white settlement, while others characterize him as self-serving. Several of his descendants have visited Coweta County in the past half century. His home has been reconstructed at McIntosh Reserve in Carroll County, and the Indian Spring Hotel, which he built in 1823 in Butts County, is also a museum.
It's now time to leave the court square. First, let's head out to the Confederate section at Oak Hill Cemetery. Newnan was a hospital town during the Civil War and this 1956 state historical marker, Confederate Dead (11) – and the neat rows of white tombstones is a reminder.
There are 268 Confederate soldiers buried at Oak Hill, representing every state in the Confederacy. Some died in local battles and others succumbed to disease and injuries in hospitals which were set up around the courthouse and in numerous public buildings.
Only two of the graves are marked "unknown," a testimony to the efficiency of record keeping at the wartime hospitals. There also are two Revolutionary War soldiers buried nearby.
After the cemetery visit, we will take a short trip to the city park at Jackson Street and Temple Avenue. The impressive Veterans Memorial Plaza is a tribute to all of Coweta's military veterans. Between the veteran area and the fountain is:
12) Newnan High School marker. The marker notes a tree was planted in 2001 to mark the site of Newnan High School from 1916-1973. The class of 1951, the last to graduate from NHS at that site, placed the marker and tree, which did not survive.
Then head for 19 Hamilton Bohannon Drive:
13) Hamilton Bohannon Birthplace. This is the most unusual and artistic of Coweta's historical markers, reflecting the creativity of its donor. In August 2017, Newnan renamed Peachtree Street as Hamilton Bohannon Drive in honor of the musician who grew up on the street.
Bohannon has been active in many aspects of music – as a bandleader, a songwriter, a percussionist and a record producer. He has performed with Stevie Wonder, Marvin Gaye, Diana Ross and numerous other luminaries.
"His influence continues today with today's artists," Mayor Keith Brady said at the dedication ceremonies. "There are still artists out there who understand their musical lot in life and what they are able to accomplish is because of people like Hamilton Bohannon."
On the day of the renaming, Bohannon unveiled the marker noting his birth in 1942 at 19 Hamilton Bohannon Drive. The home is a private residence, with relatives of the famous musician still living there.
Now, head south of town to the corner of Old Corinth Road and Millard Farmer Road, to find:
14) Battle of Brown's Mill. Every few years someone calls or emails the newspaper to ask about the "grave marker" in the fence at this site. The marker, placed in 1908 by Newnan Chapter, UDC, notes the location of the battle.
In recent years, the county has purchased part of the old battle site as a park. There is some signage in the park that tells more of the story, and re-enactments are sometimes held at the park. Millard Farmer Road follows the basic route of the Ricketyback Road that Union and Confederate troops traversed in 1864.
The park was expanded in 2018 with the opening of new trails named for soldiers who fought there. The possibility of mountain bike trails at Brown's Mill is being also studied.
Then, onward to Grantville and to the Grantville City Cemetery on Griffin Street. 
15) Gravesite of Lt. (Junior Grade) Thomas E. Zellars. Born into a prominent Grantville family in 1898, Zellars graduated from the U.S. Naval Academy. While serving as turret commander aboard the USS Mississippi in 1924, Zellars was killed in an explosion. Before his death, he opened a flood valve that saved the ship and most of the crew.
A Naval destroyer, the USS Zellars, was commissioned in 1944. A flag pole with a memorial tablet, placed by the USS Zellars DD 777 Association, is adjacent to the marker.
From Grantville, head north on Interstate 85 to the next exit, Exit 41. At the exit, head north just past the node of restaurants and motels, and you will see a traffic island with a marker in the middle.
16) Greison Trail. It is appropriate that someone has placed a small toy car on the lip at the base of this monument, because you are surrounded by zipping cars almost any time of the day or night.
When the marker was put in place in 1937 by the Sarah Dickinson Chapter, DAR, there was much less traffic than today. The inscription notes the marker is along the route of "the old Grierson Indian trail" used by Cherokees and Creeks before the settlement of western Georgia.
Robert Greison – also spelled Grierson and Grayson – was a Scotsman who set up trading posts along a trail in Cherokee and Creek country. Greison Trail in Newnan is built on part of the trail that ran for many miles. 
Robert Greison had a daughter, Eliza, with a Creek woman, Sinnugee. Eliza Greison was the first wife of Chief William McIntosh, who was polygamous.
Take the Newnan bypass to Highway 34/Bullsboro Drive and turn left. In front of Publix, you will find:
17) Bullsboro. This marker, which is a large boulder with a plaque, has been moved several times. It was initially in front of a home that no longer stands. Then for years it was on a nearby commercial tract. 
Bullsboro was Coweta's first county seat and was located along what is now Millard Farmer Industrial Boulevard on both sides of the road around Walgreens and Publix. Bullsboro served for a brief time as the county seat until – in 1828 – county offices were relocated to the new town of Newnan, situated in the center of the county.
History records that Coweta County's first jail was in a hollow tree, though accounts differ on whether that unusual penal institution was at Bullsboro or in Newnan. 
Then head east on Highway 34 to Thomas Overby Drive, where you will see:
18) Thomas Overby's Birthplace. This marker is another one that is hard to visit because of traffic. Most folks pull into the residential Thomas Overby Drive and walk up to the highway.
This marker is incorrect. Overby was actually born in Virginia and came to Coweta County with his parents when he was a young child. Fayette County historian Carolyn Cary wrote a biography, "William Thomas Overby: Proud Partisan Ranger," which was published in 2003.
Mike Christie, who lives near the site of the Overby plantation, has been pushing county officials to use ground-penetrating radar to determine if slaves were buried on the property, which is slated for development.
For our final marker, travel to Senoia, to the corner of Rockaway Road and Main Street. There is a bridge there, and on the bridge is:
19) Eddy Couch, Vietnam soldier. In 2001, the Senoia City Council dedicated the bridge in memory of Sgt. Robert Edward Couch, who was born in Senoia in 1949 and grew up there. He gave his life while serving in Thua Thien, South Vietnam in 1968, when he was only 19.
Despite his youth, he impressed the officers under whom he served with his leadership ability. He received numerous medals including the Silver Star, Bronze Star and Purple Heart. In a sense, this marker is a reminder of each individual life lost in that war and the grieving families they left behind.
Coweta's historical markers are in a variety of settings. Some are factual tellings of past events, while others use more effusive prose. One of them needs to be corrected, but all of them tell visitors something about Coweta County's rich past.