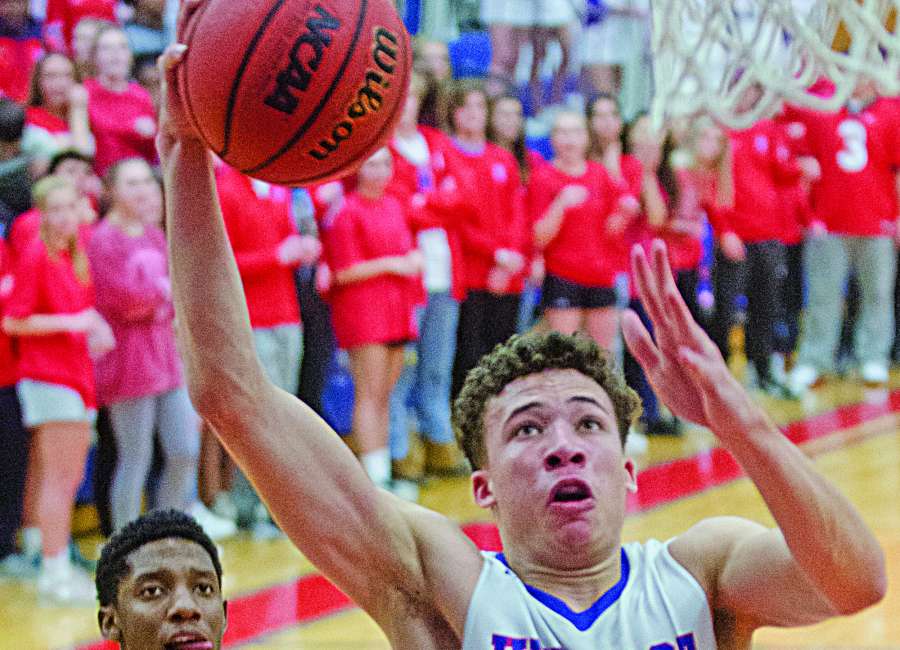 BY CHRIS GOLTERMANN
CowetaScore.com
Heritage School head boys basketball coach Joey Jerome may have taken Friday's 69-68 loss to Holy Spirit a bit harder than his players did.
Not that the Hawks weren't disappointed to come up just short at home in a 69-68 loss to their GISA nemesis.
They had played well enough to have their opportunities for a victory.
But as difficult as it is for a coach to see their team underperform in a loss, it's sometimes even tougher to watch one's athletes put forth the effort against a talented opponent only to come up empty-handed.
For the ninth consecutive meeting since January 2017, the two-time state champion Cougars came out ahead against two-time runner-up Heritage, this time with a 24-point fourth quarter effort that had five-star recruit Anthony "Antman" Edwards and senior guard Deandre Brown leading the charge.
It was the closest Heritage has come yet to solving the two-time state champs since a 50-46 victory in early January 2017. Equally, it was an improvement from the first meeting of the 2018-19 season in December in Atlanta, a 63-50 victory by Holy Spirit at home.
Holy Spirit teammate Ibrahima Jarjou's free throw with 10 seconds left was enough at the finish on Friday to outlast the Hawks, who ran out of time after Dylan McLean's ensuing three-pointer at the final buzzer.
"Hopefully, we get one of these," said Jerome, whose team had less than 24 hours before returning to the floor at The Heritage Center to face another GISA playoff team in Deerfield-Windsor (11-7). "They're all right. They've got to be all right because we've got another one on Saturday."
Holy Spirit (12-10, 8-0) clinched first place in GISA 1-AAA during the regular season, though the teams are all but destined to meet again in the region finals. All 10 losses by the Cougars have been outside the association including a three-point decision against undefeated McEachern, ranked No. 2 nationally.
Heritage's two losses to Holy Spirit are equally the only ones inside the GISA, while also ramping up its non-region schedule even further this winter.
It's why barring a major upset, the Cougars and Hawks (13-9) still seem to be on a collision course for a potential third straight state championship meeting at Mercer University's Hawkins Arena in March.
Heritage senior Lance Terry again helped led the latest challenge against Holy Spirit, scoring a game-high 27 points and, all too often, matching Edwards' reputation for highlight-worthy moments.
It was the Gardner Webb signee's fourth consecutive 20-point outing against the reigning GISA champs.
In Friday's performance, Terry and Hawks teammate Connor Thompson split six 3-pointers, the latter en route to a 17-point performance among a trio in double figures to go with 14 from junior point guard Kasen Jennings.
Terry scored 17 of his 27 points in the second half while his second and third dunks among four field goals. Along with six free throws in a perfect 8-for-8 outing from the line, the Hawks senior added two assists in the third, which closed with the team rallying for a slim 48-45 advantage.
Up front, however, Holy Spirit wore down Heritage despite a solid effort from Hawks junior EB Dowuona, who scored seven points while having to battle four forwards 6-5 or taller including both Jarjou and Ahmir Langlais, each matching the Heritage center's 6-8 frame.
Langlais had six of his 10 points for the Cougars in the fourth to go with five by Jarjou in the second half.
"The first time we played them I thought we came out flat with a lot of turnovers," Jerome said. "The difference I thought this time we gave them too many second chances. A McDonald's All-American and another high major [college recruit], they'll get you."
It was the case with Edwards, who gave at least three cameramen sitting below Holy Spirit's basket with some worthy clips at the finish. He was held to two field goals including his only dunk in the first half.
Edwards, a top-five overall recruit in the nation, couldn't be contained forever. The explosive 6-5 junior whose top-five choices include Florida State, Kansas, North Carolina, Kentucky and Georgia, broke free with seven of his 12 points coming in the final period after a scoreless third.
A 9-2 run by the Cougars in the fourth held Heritage without a basket as Edwards broke a final 55-55 deadlock with a baseline drive. On Holy Spirit's next possession, he fed Jarjou for a four-point lead.
Down seven, the Hawks tied to chip away in the final minute, closing to 66-63 and then 68-65 while having to foul in between possessions. Despite missing two attempts that kept Heritage within one shot of a tie game, the Cougars closed by hitting three of its final four attempts from the line to pull out the victory.
Heritage took a slim 13-12 lead after one quarter, then fought back from down 29-25 at halftime with Brown and Holy Spirit teammate Miles Wallace each putting together a pair of field goals.
Brown finished with five of the Cougars' nine three-pointers while a perfect 9-for-9 from the free-throw line while setting the scoring pace for Holy Spirit.
Holy Spirit led by as many as six points in the final three minutes of the period.
Heritage, however, went on an 8-0 run that included two dunks by Terry before the Cougars finally tied it at 45-45 on a three-pointer.
Dowuona got a quick left-handed release off an inbound prior to third-quarter buzzer for a three-point play that gave the Hawks a slim 48-45 advantage heading into the final period.
GIRLS
HOLY SPIRIT 55, HERITAGE SCHOOL 38: At home, the Lady Hawks, closed to within an 18-9 deficit on Carissa Vazquez's drive of the length of the floor.
But despite adding 10 points from the Lady Hawks senior guard  in the second half among a pair of three-pointers, it wasn't enough to hold off the defending GISA Class AAA state champions.
Holy Spirit slowly pulled away for a 39-13 lead at halftime and the lead blossomed to 27 points early in the fourth.
Emily Walker had four points in the final period for Heritage School and Zada Smith added a three-pointer while unable to pull closer than a 53-33 deficit late.