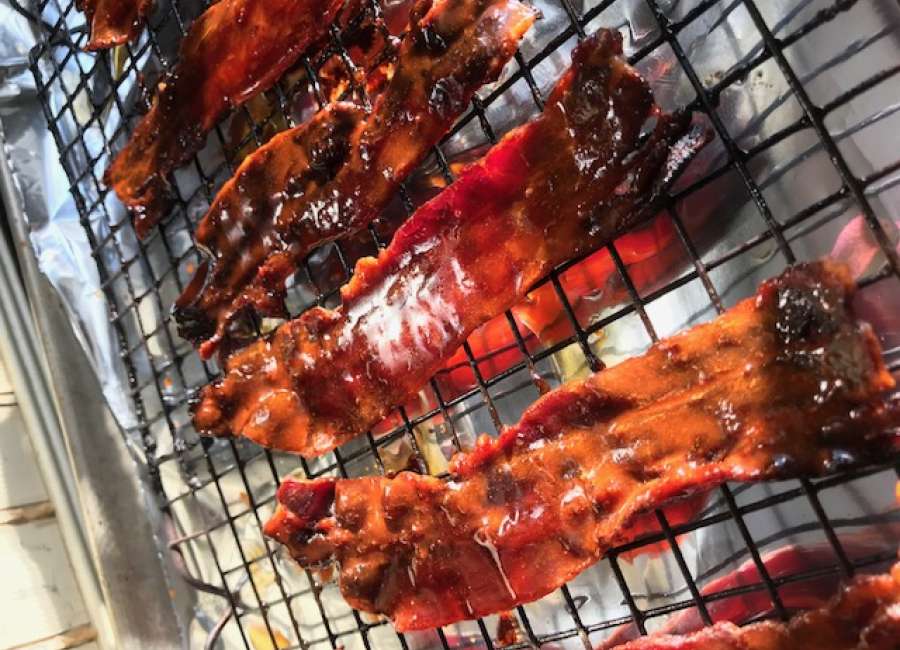 Here are some recipes provided by a local chef and pitmaster, Tina Cannon, as well as a few others recipes to try at home.

Low country grill
Ingredients:
1 pound of smile sausage
2 pounds of shrimp
10 small potatoes, cut in half
Corn on the cob halves
1 stick of butter
Hot sauce
Old Bay seasoning
Recipe:
Mix one stick of butter and one heaping tablespoons of old bay and two tablespoons  of your favorite hot sauce.
Toss your items in olive oil and grill potatoes and corn first for 15 minutes.
Add sausage next and continue to grill for 10 minutes while brushing with the seasoned butter mixture.
Add shrimp to the grill last and brush with the butter mixture.
When shrimp turns pink, it's time to eat.
(Recipe courtesy: Tina Cannon)
Sweet and spicy buffalo bacon
Ingredients:
1 pound of thick sliced black pepper bacon
1 cooling rack
1/2 cup brown sugar
2 tablespoons of maple syrup
1/8 or more cayenne pepper
3 tablespoons of Frank's wing sauce
Recipe:
Mix brown sugar, maple syrup, cayenne pepper and wing sauce together to form a thick paste-like sauce.
Place bacon on a cooking rack and brush each side with a thick coat of the paste and place the rack on the grill.
Grill or broil in your oven until the bacon is crisp.
Let cook for 10 minutes before eating.
(Recipe courtesy: Tina Cannon)
Grilled pork chops
Ingredients:
1 slice of prosciutto
1 slice of provolone cheese
3 basil leaves
Kosher salt
Black pepper
Olive oil
Sage leaves
Recipe:
Heat grill while you prepare your chops.
Cut a pocket in thick cut pork chops.
Place one slice of prosciutto, one slice of provolone cheese and three basil leaves inside.
Season the outside with kosher salt and black pupper and rub with olive oil and sage leaves.
Grill over till 245 degrees and let rest for 15 minutes.
(Recipe courtesy: Tina Cannon)
Marinated grilled pork tenderloin
Ingredients:
3 (3/4 to 1 pound) pork tenderloins
1/2 cup soy sauce
1/2 cup dry sherry
1/2 cup honey
1/4 cup rice wine vinegar
1/4 cup vegetable oil
2 tablespoons fresh orange juice
1 1/2 tablespoons minced fresh rosemary
1 tablespoon minced shallots
1 teaspoon minced fresh ginger
Recipe:
Trim the tenderloins of all fat and silverskin. Place them in a shallow baking dish large enough to hold them without crowding.
Combine the soy sauce, sherry, honey, vinegar, oil, and orange juice in a medium bowl, whisking until well blended. Stir in the rosemary, shallots and ginger. Pour the mixture over the tenderloins. Cover with plastic wrap and allow to marinate at room temperature for two hours.
Preheat an outdoor grill or indoor grill pan.
Remove the pork from the marinade, shaking off any excess. Place the tenderloins on the grill and cook, turning frequently, for about 18 minutes, or until an instant-read thermometer inserted into the thickest part reads 155F. Transfer to a platter and allow the meat to rest for 10 minutes before carving.
Meanwhile, place the marinade in a small saucepan over medium heat and bring to a simmer. Simmer for 10 minutes, or until slightly thickened.
Slice the pork into 1/4 inch-thick slices, spoon the hot marinade over the pork. Serve with a tossed salad.
(Recipe courtesy: foodnetwork.com)
Turkey burger
Ingredients:
Burgers:
Extra-virgin olive oil
1 onion, cut into 1/4-inch dice
Kosher salt
2 cloves garlic, smashed and finely chopped
1 1/2 pounds ground turkey
1/4 cup soy sauce
1 tablespoon sambal oelek, optional
1-inch piece fresh ginger, peeled and grated
One 8-ounce can water chestnuts, drained and coarsely chopped
1/2 bunch fresh cilantro leaves, finely chopped
Optional garnishes:
4 slices cheddar cheese
4 seeded burger buns
1/4 cup mayo mixed with 2 teaspoons sambal oelek
4 slices beefsteak tomatoes
4 slices raw red onion
Butter lettuce
Recipe:
Preheat the oven to 200F to keep the first batch of burgers warm.
For the burgers: Coat a large saute pan with olive oil. Add the onions, season with salt and bring to a medium-high heat. Cook the onions until they are soft and very aromatic, seven to eight minutes. Add the garlic and cook for one to two minutes. Turn off the heat and let cool.
In a large mixing bowl, combine the turkey, soy sauce, sambal oelek, ginger, water chestnuts, cilantro and the cooked onions and garlic. (Reserve the onion pan to cook the burgers in later.) Add one-quarter to one-half cup water; this will help the burgers stay nice and moist. Using your hands, squish everything together until they are really well combined.
Make and cook a little tester patty to be sure that the turkey is really well seasoned. Re-season if needed. If the burger is missing salt add more soy or just give a little sprinkle of salt.
When the burger mix is seasoned appropriately, form the mix into four equal size patties.
Coat the saute pan with new olive oil and bring to a medium-high heat. Place the burgers in the pan. Be sure not to crowd the pan, if you need to work in batches go ahead! Cook the burgers for five to six minutes on each side. Place the cheese, if using, on the burger and cook for one more minute.
Toast the buns in a broiler or toaster. Smear each side of the bun lightly with the sambal mayo. Put a burger on each of the bottom buns and top each burger with tomato, onion and lettuce. Close up each burger, give each one a little squish and eat em' up!
(Recipe courtesy: foodnetwork.com)