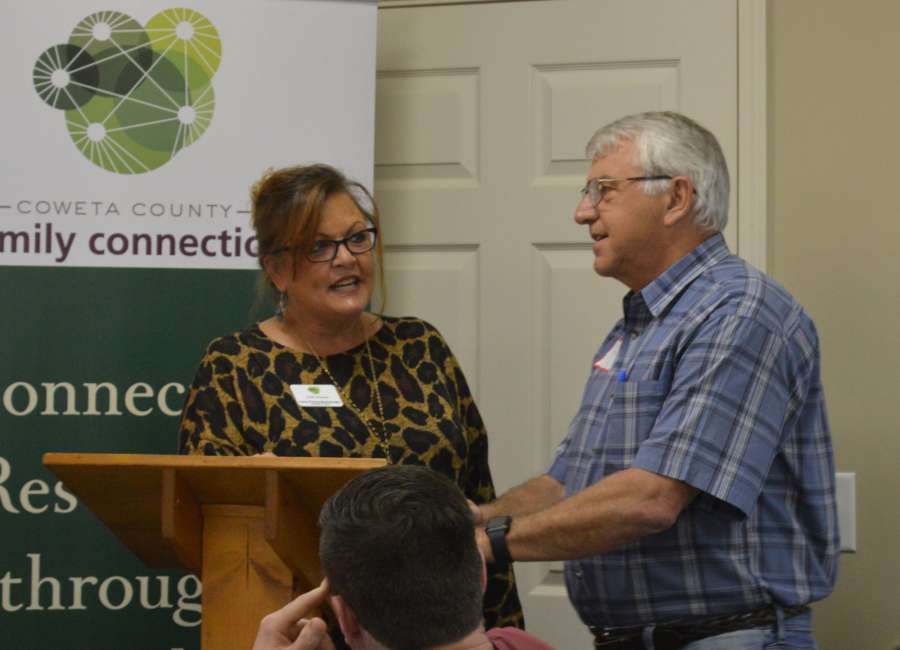 The building that formerly housed Coweta's domestic violence shelter has a new owner, and he wants the building to serve the community.
Nonprofit organizations will be invited to submit proposals for what they would like to do with the former Community Welcome House building.
Jim Sells, who owns hundreds of rental homes in Coweta, said he bought the former shelter building "to put it in service to the community where it's needed."
The property includes the large house, with several rooms that can house individuals or families, and a kitchen, offices, living room and what previously served as a playroom. A second building formerly housed a pantry, laundry and large room outfitted with couches and bookshelves. There are security features and a border fence on the property.
The facility was sold fully furnished, Sells said.
The shelter was extensively remodeled in 2015, and closed 14 months later, in October 2016.
"It's such an awesome property," Sells said. "It's almost move-in ready."
Sells has partnered with Coweta County Family Connection to help find the best use for the property. CCFC will be issuing a "request for proposals" from organizations, and will review all the requests and make recommendations to Sells, said CCFC Executive Director Carol Prince-Breissinger.
CCFC is hosting a series of meetings on the housing and homeless issues, and Prince-Breissinger said Sells saw an article in The Newnan Times-Herald last month about a presentation from MUST Ministries, which operates a homeless shelter as well as thrift store, service center and medical clinic and offers other services in Cobb County.
"He saw what this group is doing and what Family Connection is doing," regarding the homelessness and affordable housing issues, Prince-Breissinger said.
Sells said he had driven by the Community Welcome House property on Pine Road many times.
"I get a tic when I go by a good property that is sitting vacant. It just drives me crazy," he said. "I kept waiting for someone to do something with it. And waiting and waiting."
Finally he said he got tired of waiting and approached the Coweta Domestic Violence Service Center, the new name for the nonprofit that formerly operated Welcome House.
"I said, 'I don't know what I'll do, but I'll put this in service to the community and I'll go to work on it,'" Sells said.
Sells said he told the group, "I'll make you glad you sold it to me."
Prince-Breissinger said that the actual RFP will be issued in about a month, and organizations will then have 30 days to submit their applications. An open house at the facility will be held in the next few weeks so that organizations can see what they will be working with.
The application will include a budget summary, so agencies will be able to explain how they will be able to run the house.
A review committee will go through all the proposals and there will be a scoring matrix to ensure consistency and fairness, Prince-Breissinger said.
"We're doing the homework. This gives Mr. Sells the opportunity to see each agency that applies, the meat and bones on how they're going to be able to handle utilizing that space. Because it's a big space," she said, adding that operating a large space like that will generate large utility bills.
Sells will be responsible for making sure the building is up to codes, ADA compliant and has proper zoning, under a memorandum of agreement that has already been signed. Coweta County Family Connection is not being compensated for the RFP review, Prince-Breissinger said.
"This is what we do, because we are the collaborative," she said. "We have so many pockets of agencies working housing initiatives. It makes sense to bring everybody to the table, into the collaborative where we are complimenting each other's work as opposed to competing.
"Family Connection's goal is to identify the gaps and needs of the community and fill those gaps. And this RFP is to fill a gap," she added.
Sells said his first thought for the house would be to provide housing for recovering addicts, because he knows so many and has seen people turn their lives around. But he decided to work with CCFC to find the best use.
Though he doesn't yet know how the building will be used, Sells has already chosen the name: Hope House. Hope is also the name of his property management company.
"I'm in a room full of people that live on hope and understand the need," Sells said at the meeting.
"I want to thank Family Connection," he added. "This is out of my area of expertise, and I really appreciate what you're doing. We're going to put it in service to the community and fill that empty building."
For more information about the RPF, email HopehouseRFP@gmail.com .