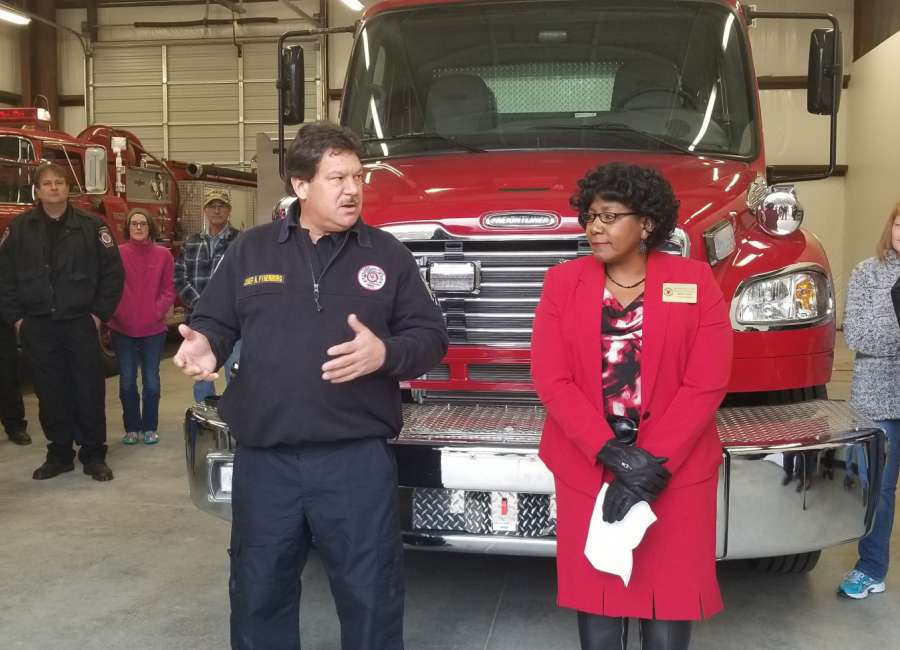 Brian Ferrell, a leader in workplace safety in Coweta County, will be remembered for years to come in the Meriwether County town where he served as mayor.
Ferrell died in January 2018 at age 49. He had served as the town's mayor and was captain of the Lone Oak fire station, having been a firefighter since 1990.
In Coweta, Ferrell was known for his dedication to workplace safety. At the time of his death, he was employed as safety coordinator and director of first responders for Yokogawa America in Newnan.
He had worked at Yokogawa for almost 30 years.
Ferrell had served two years on the board of the Coweta County Safety Council, including a stint as the council's secretary.
"Brian was a vital part of our committee, and he will be greatly missed," Ken Pinkerton, safety council president, said after Ferrell's death.
Now a plaque honoring Ferrell has been placed on an exterior wall at the new fire station in Lone Oak. Meriwether County is expanding its fire service and recently opened its first manned fire station in Lone Oak.
Winston Skinner dedicated the plaque honoring Ferrell. The plaque features Ferrell's name, year of birth and death, his leadership roles in Lone Oak and a quote: "He had a servant's heart."
Skinner, who is the news editor at The Newnan Times-Herald, got to know Ferrell well while both were members at Allen-Lee Memorial United Methodist Church in Lone Oak. Both Ferrell and Skinner preached at the church, but Skinner focused on Ferrell's practical help with needs at the church or in the community.
"You could call him, and he would just take care of things," Skinner said. "We really miss him."
"This is our first manned fire station, and it is such a blessing to have it here in Lone Oak," County Commissioner Mary Bray said at the dedication ceremony on Dec. 15.
"It has been a long process," Bray said. "It's just a good thing."
"This is a great event," said County Commissioner Shirley Hines. Hines also talked about Lone Oak's fire station as the first to be manned. "We are setting the pace for everyone else."
Lone Oak Mayor Phillip Dow related the history of the local fire department. Alfred "Boot" Daniel, Hubbard Forbus, Doug Hamby and Emory Lee started the fire department some 40 years ago.
"These guys held fish fries and chicken-Qs to build that first station," Dow said. Rosemary Medford, Lee's daughter, said her father would be astounded to see the new, manned station.
Dow related how fire calls worked originally. "The county would call one of the guys – whichever one they could get hold of, and then his wife would start calling the others."
Dow thanked current firefighters Bruce Hemrick and John Weiher for all the time and effort they have devoted to the serving the area's residents. 
Former firefighters Erwin Medford and Gary Hillyer were also recognized. Medford is Lee's son-in-law, and Hillyer is Medford's son-in-law.
"This community has been blessed with volunteer firemen. The citizens can't say anything but 'thank you.' They came when we needed them, and it was wonderful," said Lone Oak resident Nancy Gray.
Meriwether County Fire Chief Alphonse Pynenburg praised the Lone Oak community.
"I've remarked on what a tight-knit community you have. It's amazing what you do – the frequency you get together. It's impressive. It's touching, really," he said.
Pynenburg introduced John Altman, Adam Lovvorn and Scott Oglesby, the firefighters who will be manning the station. "We're here to serve the community in any way we can," Pynenburg said.
The opening of manned stations – many of them newly built – in Meriwether follows the passage of a referendum to create a fire district. Coweta used a similar process years ago to get manned, paid firefighters in stations across the county.
"We are pleased to have this here. Lone Oak is the tiniest city in the county, but we're fixing to be on the move," Dow said.
Councilwoman Jennifer Lamb also spoke, saying the station dedication reminded her she is "a part of something great and ongoing."