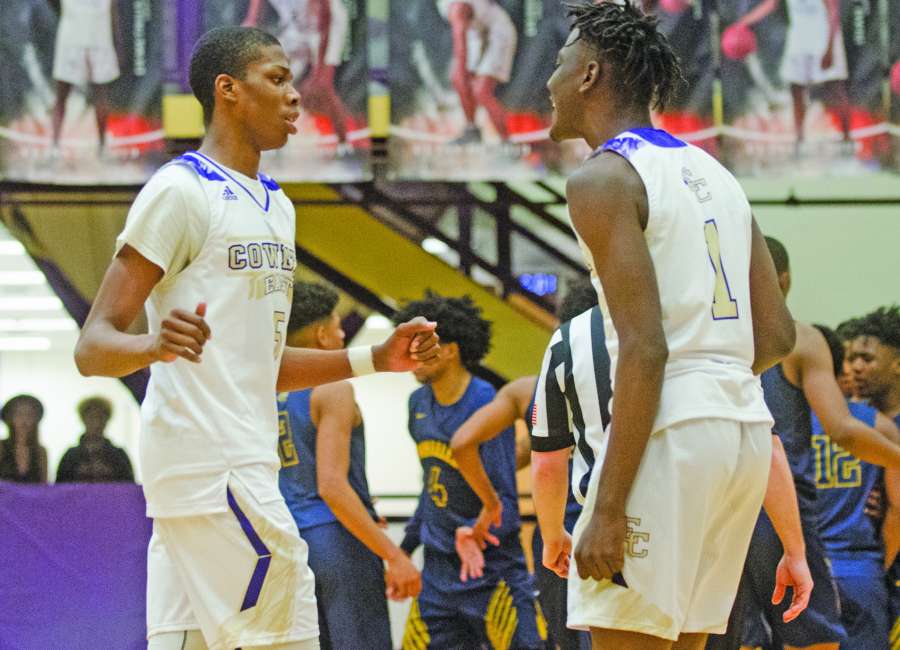 BY Chris Goltermann
Cowetascore
Another comeback against a Region 2-7A opponent equaled another victory for East Coweta's state-ranked boys basketball team on Friday at Westlake.
This time, the Indians battled back from as many as 14 points down in the second half in hostile territory for an 81-76 victory.
The Lions put forth their best effort trying to avenge an 88-74 loss at John Thrower Gym on Nov. 30.
Playing the fourth quarter with four fouls, Chris Youngblood managed to hang on to help East Coweta win its 20th game of the season in 2018-19 after the Indians opened the final period down 63-56 following a 25-point outburst by the Lions.
Both teams were forced to navigate through foul trouble and Youngblood was among the few that managed to stay on the floor while putting the final polishes on a 28-point effort.
Three key baskets down the stretch from Youngblood helped cap a comeback that featured contributions throughout the lineup. It began with an alley-oop pass from teammate Brandon Stroud that put East Coweta ahead 70-69 and gave the Indians a lead for good.
Following a pair of timeouts, Youngblood tipped in an offensive rebound to make it 74-71 and put the game away with a three-point play after being fouled to keep Westlake at bay in a 79-72 advantage.
Up front, Demetrius Freeman and Rhet Reynolds connected for key baskets in the fourth including a pair fro Freeman on assists from Youngblood and point guard Derrick Emory.
It allowed East Coweta to win its 12th consecutive game and improve to 20-1 overall as well as 6-1 in Region 2-7A to maintain a firm hold of first place.
Westlake senior Quincy Olivari, who was among four Lions carrying four fouls with just over five minutes left to play, led an upset bid against an East Coweta team now ranked in the top five in Class 7A.
Westlake seemed to have East Coweta on the ropes 63-49 with under three minutes to play in the quarter behind Olivari, who led all scorers in the first half with 17 points.
The Lions tried to set an early tone with an immediate 9-0 run while forcing East Coweta to play catch up.
The visiting Indians stayed tough, trailing 22-21 after the opening quarter and 37-36 at halftime.
Olivari wasn't done, however, scoring four quick points in a 16-6 run for Westlake to begin the third. Teammate Chase Hunter helped pace the outburst to begin the second half with a basket that provided the Lions' biggest lead of the game with just over 10 minutes left in the game.
A three-pointer by Stroud and a basket by Mandez Jones before the end of the quarter helped give East Coweta a manageable seven-point gap to make up heading into the final period.
The Indians' latest comeback followed similar efforts against opponents in 2-7A play. East Coweta battled back from 11 points in the third quarter at home to defeat Wheeler on Jan. 10, and then put together a fourth-quarter comeback five days later to beat another state-ranked 2-7A opponent —- Pebblebrook in overtime.
This year's lineup is now a perfect 12-0 when scoring at least 80 points in a game.
The win also kept the Indians in control in its attempts to secure a top-two seed in the upcoming Region 2-7A tournament and an automatic berth in the Class 7A state playoffs.
East Coweta hasn't qualified for the postseason since 2005 and hasn't reached the Sweet 16 since late head coach John Thrower led the Indians  to the state playoffs in 1995. At the time, only two teams advanced to state following region playoffs in the GHSA.
The last time the boys program posted 20 wins was back in 1964 when ECHS was a Class C school when the Indians went 20-14 and reached the semifinals. The program also went to the quarterfinals in Class C in 1971.  
At 6-1, head coach Royal Maxwell's lineup maintained a one-game lead over both Pebblebrook (14-7, 5-2) and Wheeler (15-6, 5-2).
It also pushed Westlake (11-9, 2-4) further out of contention while moving into a tie for fourth with Campbell (13-6, 2-4).
East Coweta has remaining road trips to Wheeler on Saturday and Campbell (Tuesday) before closing at home against Newnan (6-14, 0-7) on Feb. 1, during Senior Night.
The Indians defeated all three remaining region opponents in respective first meetings of the season.