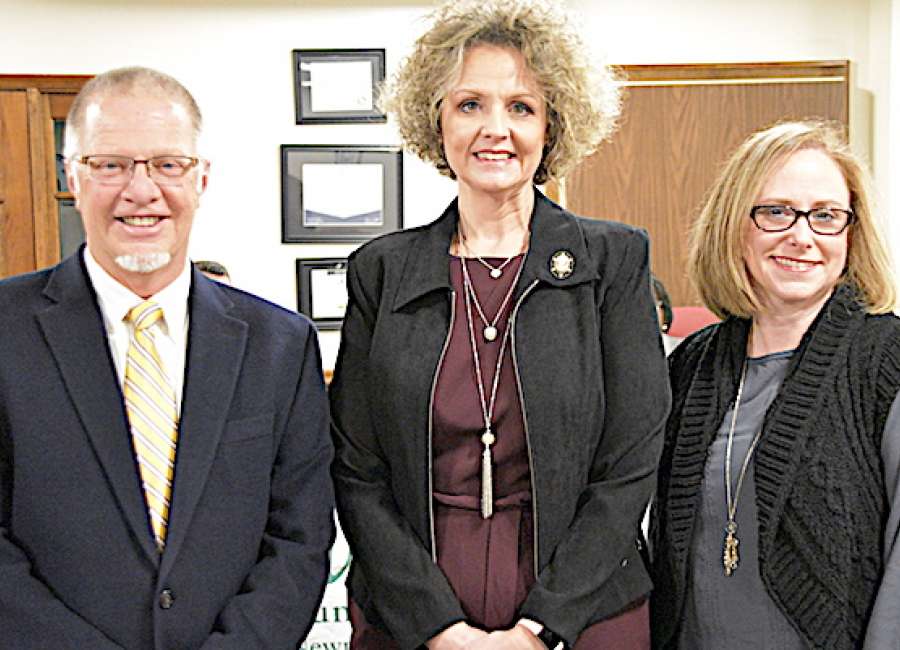 Amy Dees took her place at the head of the table Tuesday after being elected chair of the Coweta County Board of Education.

Dees is only the second woman to hold the position. The first was current board member Sue Brown.
"I am incredibly honored that she is still my mentor in this position," Dees said.
Board member Frank Farmer nominated Dees for chair, Beth Barnett for vice chair and Winston Dowdell as treasurer. The board voted 6-1 – with Linda Menk opposed – to elect the slate of officers.
Dees, who was first elected to the board in 2010, replaces Larry Robertson, who served as chair for two years. Before the two exchanged seats to continue the meeting with Dees as chair, Barker thanked Robertson.
"Mr. Robertson, I want to tell you thank you for the job you've done as chairman," he said. "You've always been available as needed. The role of chairman is a big responsibility, and you've handled it well. I just appreciate your professionalism and your willingness to do what's best for students."
Robertson said observing veteran members of the board was extremely valuable during his chairmanship.
"I learned from the best," he said. "I appreciate them serving as mentors to me, and I appreciate what all the board members have done to make this job a little easier. Thank you."
Three positions are set and are not part of the board's annual election process. The Georgia Department of Education requires that Superintendent Steve Barker serve as secretary. Assistant Superintendent of Finance Keith Chapman remains assistant secretary/treasurer, and Pat Nixon will continue in her role as the board's clerk.
The board also adopted Robert's Rules of Order (Newly Revised Eleventh Edition) as its bylaws for 2019 and approved board members' participation in mandatory training throughout the year, either in person or online.
During board comments, Dees thanked those attending the meeting for their patience as she navigated her first meeting as board chair.
"I promise that I will be a little more polished as it goes along, and I appreciate the honor that has been bestowed on me," Dees said.