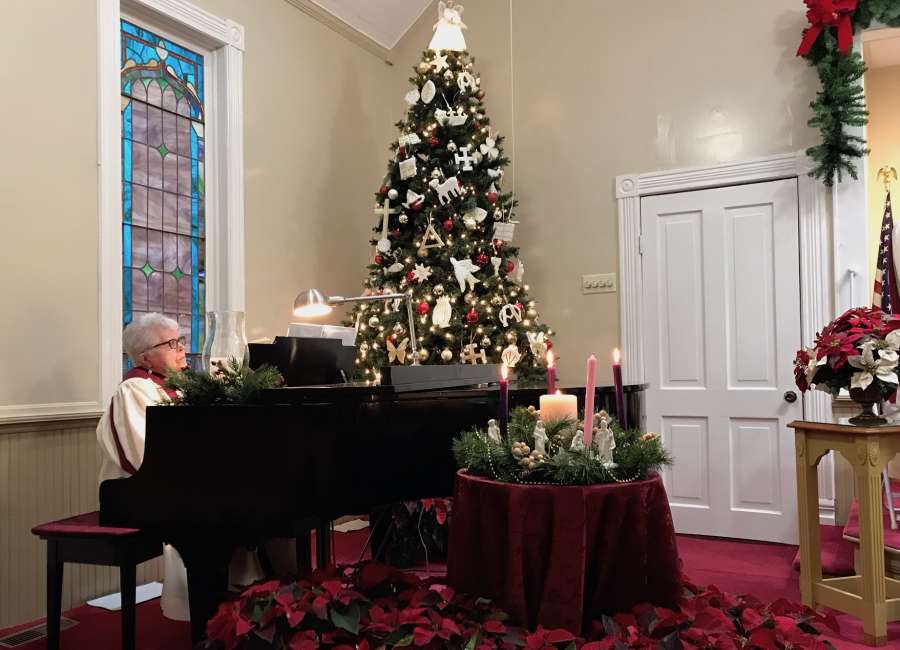 Christmas has come and gone, but the reverberation of the sacred day will linger in Coweta churches.

The two most significant holy days for Christians are Christmas, which recalls the birth of Jesus, and Easter, which celebrates his resurrection. Throughout the local area, churches had full calendars during Advent.
Many events are held annually at churches. Cornerstone United Methodist Church continued to draw crowds with its Drive-Thru Nativity early in December.
"Cornerstone's Drive-Thru Nativity is all about the greatest gift ever given, the birth of Jesus," said Paul Griffin, Project Chairman and Cornerstone UMC member. "This is Cornerstone's gift to the community. …  At Cornerstone we want to spread God's message, and what better way to do that than through telling the awesome story of the greatest gift ever given."
Father Tony McGee of Newnan played the part of Bishop St. Nicholas of Myra, upon whom the Santa Claus legend is built, and brought gifts to the children at the Christmas Eve service of the Cathedral of Christ the King near Sharpsburg.
St. Nicholas (270-343 A.D.), also known as St. Nicholas of Bari and St. Nicholas the Wonderworker, was an early church bishop in the city of Myra in ancient Greece. He is considered the patron saint of children.
"The visit of St. Nicholas to the Christ the King children has been a regular Christmas Eve tradition since about 2002," said Bishop David Epps. "The role is played by various men in the church."
A number of area churches decorated the church with poinsettias during Advent. Some – including Resurrection Lutheran Church – offered members the opportunity to place poinsettias in honor or in memory of loved ones.
Faith Creek United Methodist Church was among the churches with an Advent wreath. Readers were Jim and Kathy Madden, Robin Adams, Sonjia Lambeck, the Geeter family and Vaidas Krasauskas, the church's pastor.
Those who decorated Resurrection Lutheran – including the Christmas tree and windows in the sanctuary, as well as the narthex – were Doreen Accovelli, Peter Anderson, George and Donna Arnold, Linda Bates, Fred Buyarski, Ginny Gibson, Cheryl Hipke, Barbara Kelly, Rose Nordyke and  Barbara North. Chris Hendricks provided wreaths for the outside doors.
A Christmas program was held in the evening at Friendship House of Prayer, 194 Poplar Road, on Dec. 2. "Christmas is Jesus," a cantata, was presented at White Oak First Baptist Church on Dec. 16. These were two of many Christmas services presented by local churches.
A birthday party for Jesus was held Dec. 1 by Newnan Presbyterian Church. Children, ages 4 through fifth grade, enjoyed a pizza party at Starlite Family Fun Center.
Rehoboth Baptist Church in Luthersville offered S'mores after the Dec. 20 service.
St. Paul's Episcopal Church held a gingerbread house decorating party in the parish hall on Dec. 4. The activity brought together parishioners of all ages to begin the celebration of Advent.
An Advent wreath making workshop was also held at St. Paul's.
Many churches reached out to people in need during the holidays. Operation Christmas Child is an international ministry of Samaritan's Purse. Unity Baptist Church and Mills Chapel Baptist Church were drop-off locations for the boxes.
Resurrection Lutheran members packed 54 boxes.
The Longest Night Service in the sanctuary of First United Methodist Church in downtown Newnan offered a time of contemplation and peace for people who have lost someone during the year.
JoAn Kinrade, who recently retired as minister of spiritual formation at the church, said the gathering was "a reflective service of hope.
"This service is designed to bring comfort and peace to all," she said. "The longest night often symbolizes places of darkness and brokenness in our lives, yet we acknowledge also, that times of darkness or wilderness seasons are often times of significant spiritual growth."
Central Baptist Church's services as Christmas approached included Kathleen Duncan, soloist, on Dec. 23; and Caroline and Megan Headley, duet, and Rebecca Huster, soloist, family service, Christmas Eve. The 11 p.m. Christmas Eve service featured a Festival of Lessons and Carols with a string quartet, the chancel choir and soloists Duncan, Bill Killmeier and Tim Whitehead.