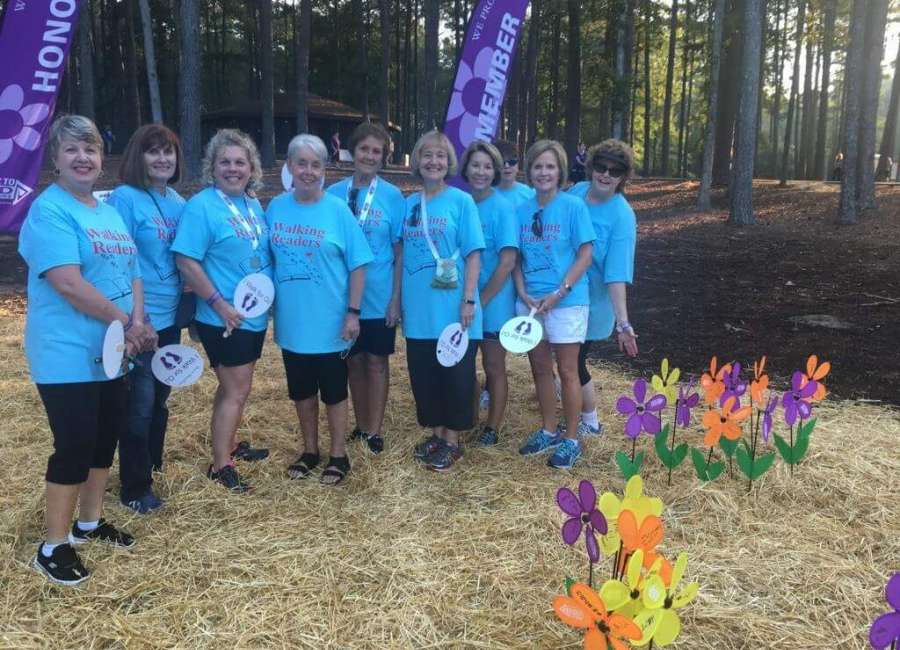 The Cottages of Summergrove Book Club raised over $8,000 for the Walk to End Alzheimer's, which helps raise awareness and funds about the disease.

The walk was held in October in Peachtree City.
Michele Parker is part of the book club. She said members take turns hosting each month, and each month the club chooses an initiative or project to give back to the community.
In the past, she said the club has collected items for back to school and collected items for new mothers, but when it was her turn to pick an initiative, she chose the Alzheimer's walk.
"My father has Alzheimer's and it's been really, really difficult," Parker said.
Parker said the other members jumped on board.
"We decided to form a team and actually walk. It really took on a walk of its own," Parker said. "We had nearly 20 walkers on the team."
Parker's goal was to raise at least $1,000 on her own. The team agreed to match whatever she raised.
She raised about $4,600. The grand total of the money raised was $8,373.
"We raised the money through Facebook and word of mouth," Parker said.
Parker works for Delta and she said her coworkers and the company helped the team raise money.
Parker said she knows any future research may not help her Dad, but she hopes the money helps fund more research to give more answers and hope to families.
"People don't know what to do for help," she said. "This has been the worst experience of my life. Unless you have lived it as a family member, you don't really understand. They (Alzheimer's patient) become someone you don't know. I do not wish this on anybody. If there is a way to find a way to slow it down or cure it, I would love to see that in my lifetime."
Parker said she enjoyed walking for the cause.
"I met so many wonderful people," she said. "It's good to know that you're not by yourself."
Georgia's death toll from Alzheimer's disease has increased by 201 percent since the year 2000, according to the Alzheimer's Association.
Alzheimer's is also a costly disease.
Nationally, it costs an estimated $275 billion dollars to care for patients with Alzheimer's or related dementia.
In Georgia, Medicaid costs of caring for people with Alzheimer's exceed $1 billion a year.
Nearly 140,000 Georgians are living with Alzheimer's. That number is expected to rise to 190,000 by 2025.
This year, new legislation is being introduced to help Alzheimer's patients and their families. The Building Our Largest Dementia (BOLD) Infrastructure for Alzheimer's Act (S. 2076/H.R. 4256), which is endorsed by the Alzheimer's Association, would create an Alzheimer's public health infrastructure across the country to implement effective Alzheimer's interventions including increasing early detection and diagnosis, reducing risk and preventing avoidable hospitalizations.